As a wood enthusiast, you're willing to go any length to ensure your woodwork products are well-maintained. Wood wax comes in handy to help you protect your wood surface from moisture and retain its color for a prolonged period.
Investing in some of the best wood wax in the market will help you prolong the lifespan of woodwork products and retain their beauty. However, you need to make sure you're choosing the best wood wax for your furniture.
This post contains a review of some of the best wood wax in the market, together with the factors you should consider when you go shopping.
Since you could be in a hurry, here is a summary of the top 11 best furniture wax you should look for. 
Let's dive in;
How Does Wax for Wood Furniture Work?
Wood wax is significant in different ways to protect your wooded surface. These are:
Protection from moisture
Maintaining the wood's color for a prolonged period.
Serving as a light lubricant.
Offering deep shine (rare in other wood products).
Wood wax usually comprises paraffin, carnauba, and beeswax, which contain different colors and other enhancers.
The blend of wax prevents moisture and resists harmful chemicals likely to damage your wood. It is also available in various colors, so you can decide to match the color of wood or get creative with other colors.
Best Furniture Wax Reviews (Updated List)
Numerous modern ways have emerged to help you in retaining the beauty of your wood. But did you know about the old legendary method of using wax? We provide you with a list of the best furniture wood wax you can use below.
1.
Best Wax for Antique Wood Furniture

-Minwax Paste

Sale
Minwax 785004444 Paste Finishing Wax, 1 lb, Natural
Minwax Paste Finishing Wax protects and adds hand-rubbed luster to any finished wood surface.
It is recommended for furniture, antiques, woodwork, cabinets, doors, paneling and accessories that do not need a hard protective coat of polyurethane.
Leaves nice polished look to any finished wood surface
Let's face it – we all love elegant wooden structures. As such, you need the best wood wax for your project. Minwax paste exhibits the lustrous look that everyone would desire in a wooden structure.
And yes, it has a smooth finish with a rich consistency. The results are also instant – noticeable soon after application. The best part? Minwax paste penetrates naturally into the wood, so it doesn't interfere with the wood's existing appearance. 
Meanwhile, you don't need an additional coating for protection, as this paste would protect your wood without obstructing its natural structure. It dries soon after application leaving behind a glossy texture.
If you intend to re-wax your wood occasionally, Minwax products are a good bet. 
Key Features
Minwax paste has a rubbery luster for wood protection
It's great for woodwork, cabinets, furniture, paneling, and antiques
The best furniture wax for antiques
It exhibits a glossy look.
PROS
This formula dries so fast
It's sticky, so it doesn't drip during application
Minwax product is durable
The best paste wax for woodworking.
It's pocket-friendly. 
CONS
Minwax paste has a slight odor
It's not recommended for kitchen stuff.
---
2.
Best Wood Wax for Doors

-Renaissance Polish
Over the years, Renaissance polish has been used by restoration professionals to preserve museum exhibits. But, as technology is advancing, it's becoming more popular in many households.
This formula doesn't become acidic with time, which is why most restorers prefer it. Also, it doesn't obstruct the chemistry of the materials applied to it. Not only that, this wax won't lose its color to the item underneath.
With Renaissance polish, rest assured of your wood's finest, natural details. You can use it on any finish, and it will manifest the silkiest of sheen, even on a hardwood.
Key Features
Gives your home the museum-like quality
It doesn't become acidic with aging
This wax does not lose its color to the items beneath
It can be used as a sealer in hardwoods.
PROS
Unlike other formulas, Renaissance doesn't become acidic with aging
It doesn't obstruct the natural chemistry of the wood
This wax does not lose color
It's durable. 
CONS
This wax isn't compatible with dishwasher stainless steel or copper sink 
It offers no protection to the wood surface. 
---
3.
Best Wood wax for Kitchen Cabinets

– Daddy Van's
Daddy Van's All Natural Unscented Beeswax Furniture Polish -...
MAKE ALL THE WOOD IN YOUR HOME BEAUTIFUL AGAIN – Natural beeswax wood conditioner renews, nourishes, and brings out the beauty in all wood types. Imparts a rich, deep glow to finished and unfinished wood.
FOOD SAFE AND BABY SAFE – Our non-toxic ingredients are safe to use on items that come into contact with food, and to keep wooden toys and baby's crib looking great.
BEAUTIFUL CHALK AND MILK PAINT FINISHING WAX - Odorless, non-hazardous, and water-resistant sealing wax is easy to apply and creates a durable matte finish.
This is a natural wood wax that protects, revitalizes, and renews your finished woodworks. This wax is government-approved and certified by the USDA, making it safe for home use.
And because it's naturally obtained, this wood furniture wax incorporates no chemicals during the manufacturing process.
When you apply unscented beeswax to your wood, you're assured of durability. Besides nourishing the wood, this wax will give your home a natural appearance while protecting wooden surfaces for years.
The best part? It leaves behind a fresh, healthy, glossy look on the finished work.
Key Features
Offers protection to all wood types
It's naturally acquired and includes no chemicals during processing
Gives your wood a rich, deep glow.
PROS
This wax is 100% natural
It helps with furniture restoration
It's compatible with any wood
This polish is great for both finished and unfinished wood surfaces
It penetrates naturally to the wood, giving it a rich, deep glow. 
CONS
It's relatively expensive
It comes in small quantities. 
---
4.
Best Multipurpose Furniture Wax

– Howard CS0014 Paste

Sale
Howard CS0014 Citrus Shield Paste Wax, 11-Ounces Neutral
Citrus shield paste wax cleans with the power of real Orange oil, and protects with a strong, hard protective coating of carnauba wax
Use citrus shield to polish your furniture to a brilliant long-lasting shine
Manufactured in United States
Howard paste is also one of the best wood wax you need to consider. It takes pride in its multi-use paste wax and durability.
Also, it incorporates real Brazilian Carnauba – the hardest natural wood wax. If your preference is to give your wood surfaces the lasting protection, Howard paste is a go-to formula. 
In addition to the lasting protection, Howard paste comes with UV protection that's great for the most fragile antique furniture. It has no traces of toluene, silicone, and linseed oil, making it favorable for worn, dried woodwork.
It comes in various colors, so you can choose one that blends well with your wood surface. The carnauba wax also promotes the waterproofing effect by creating a barrier between the wood and the wax.
Key Features of this Wood wax for Furniture
It promotes the color and the natural aesthetic of the wood grain on both finished and unfinished surfaces
It exhibits an elegant, lasting glow
It has the Brazilian Carnauba wax, which is the hardest wood wax
It contains UV protection
This formula is ideal for surfaces such as metal, marble, and concrete.
PROS
The Howard paste contains no traces of silicone or linseed oil
It comes with a UV shield
The carnauba wax promotes a waterproof barrier
It's compatible with various surfaces. 
CON
This formula isn't safe for foodstuff. 
---
5.
Best wax for dining table

– Beeswax Furniture Polish
Touch of Beeswax Wood Furniture Polish and Conditioner with...
FOR FINISHED OR UNFINISHED WOOD SURFACES – Touch of Beeswax Wood Preserver can be used on both finished and unfinished wood surfaces. We recommend using 0000 steel wool when cleaning and preserving most wood projects. However, do not use steel wool on high gloss finishes like cherry or mahogany, or on black lacquer finishes. Use Touch of Beeswax after using Touch of Oranges Wood Cleaner.
USE ON FLOORS, CABINETS, AND FURNITURE – Touch of Beeswax can be used on all kinds of wood surfaces. Use it as a conditioner for your hardwood floors. Use it to restore and protect your kitchen cabinets and other wooden cabinets. You can also use it to preserve wooden furniture. This product will reveal the natural beauty of the wood surfaces around your house.
RESTORE ANTIQUE FURNITURE – Touch of Beeswax Wood Preserver can even be used on antique woods. Our unique preserving solution will recondition tired and faded wood surfaces, restoring their original beauty. It penetrates directly into the wood to revitalize sun damaged and water damaged surfaces, leaving a lustrous, polished shine. This is the kind of shine that antique dealers dream of.
Beeswax furniture polish is another formula that's naturally obtained. It's highly effective when used to restore wood antiques to their physical structure. Also, it rejuvenates both finished and unfinished wood surfaces when soaked in it.
You don't have to fret about your wood getting damaged by water or the sun because this formula contains beeswax, carnauba wax, and orange oil that penetrates naturally through the pores.
Also, these ingredients are eco-friendly, thus safe for your household. The best part? It will prevent all your furniture from drying up. 
Besides wood restoration, this formula works perfectly well, even on new woodwork. Many woodworkers are using it to promote a professional gleam onto craftsmanship. What's more, it's a natural alternative to chemical finishes like varnish.
Key Features
Beeswax furniture is very effective with wood antiques
It's a natural alternative to chemical finishes
It's a multi-use wood wax
This formula penetrates naturally through the wood
It incorporates natural cleaning agents like orange oil.
The best wax for wood table
PROS
It's ideal for both finished and unfinished wood surfaces
It's compatible with floors, furniture, and cabinets
This wood wax is effective in antique restoration 
It incorporates orange oil as a natural cleaning agent
It penetrates ¼ inch into the wood surface.  
CONS
It's not compatible with wood floors.
---
6.
Best Furniture Wax for Scratches

-Briwax Wax
Initially, this was among the first brands to process wood wax industrially, so this is a go-to company for reliability.
This formula incorporates both carnauba and beeswax that is great for any woodwork. Also, it's highly effective when it comes to restoring antique furniture.
Applying this product is dead simple – use cotton wool to effect the process. Soon after application, use a damp cloth to wipe off the surface.
Meanwhile, repeat the process for the second time to give the wood surface a glossy look. If your wooden furniture has some cracks or scratches, this formula will come in handy to help you hide them.
And because it's a multi-use formula, you can use it to clean and polish all the woodwork in your household.  
Key Features
This formula is ideal for furniture restoration
You can use it for multiple purposes such as reconditioning, finishing, and waxing
It enhances the finishing process while preventing oils and salts from harming the polished surface
It's highly effective when it comes to hiding defects such as scratches and cracks.
PROS
The paint exhibits a smooth and consistent texture
Kiwi Grip incorporates non-slip features and comes with a roller that develops texture
The paint is available in a variety of colors
It offers the benefits of water-based paint
The formula is resistant to peels and cracks
CON
Briwax contains a slight odor. 
---
7.
Best Furniture Wax for Stains and Scratches

-Katzco Wood Wax

Sale
Katzco Furniture Repair Kit Wood Markers - Set of 13 -...
WOOD REPAIR KIT - This includes 6 Color markers, 6 paper wrapped wax sticks and 1 wax stick sharpener packaged in a blister card.
6 UNIQUE COLORS - Maple, Oak, Cherry, Walnut, Mahogany and Black markers to cover up the color of your scuffed furniture.
WOOD REPAIR MARKERS & WOOD FILLER STICKS - Our furniture markers touch up are a great way to fill in deep scratches and knicks. Katzco's wood touch up markers are the perfect home improvement tool.
We all love something convenient, and that's what you get with Katzco wood wax. It's one of the modern wax you can find in the wood industry with simple refining instructions.
Katzco wood wax is great for fast and simple refinishing, such as scratches and cracks. So if you're looking for a masking wax for wood furniture, look no further. You can find it in dozens with six different colors.
Additionally, this formula contains permanent markers that do not lose color easily. Also, the different color options let you choose one that perfectly blends with your wood surface.
While the markers come in handy to mask your wood's surface, they don't offer adequate protection. What's more, this kit is a good option if you're running on a shoestring budget. 
Key Features
This is a 13-piece kit with robust features such as paper wrapped wax sticks, repair markers, and a wax stick sharpener
Comes in up to six different colors – cherry, oak, walnut, black, and mahogany black.
It also comes with simple usage instructions.
PROS
It's much convenient
Affordable
It's great for simple refinishing like scratches. 
It's available in up to six different colors.
CON
Works best for simple scratches. 
---
8.
Best Furniture Was for Chairs-

Wood Seasoning Beewax

Back then, manufacturers would add chemical additives to the natural beeswax to process new blends and formulas. However, with the advance in technology, the wax industry has taken a unique approach. Instead of diluting its components, they are processing it naturally.

Natural beeswax often acts as a shield for moisture, molds, and mildew, which are common in humid settings. Soon after application, the built-up dirt, grime, and grease will disappear in seconds, leaving no traces behind.

Don't worry if your furniture is old and has cracks – beeswax will dampen it to make it stronger from the inside. This way, it will be able to serve you for a while.

Another excellent feature is the freshly honey scent that revitalizes your home's atmosphere. Meanwhile, sand your wood surface before applying the wax to give it a perfect glossy look. 
Key Features
It has no chemical additives
Leaves behind an ultra-fine honey scent
Offers protection against moisture and molds
A single coating is effective for accumulated dirt
Dampens your wood from the inside, preventing it from cracking.
PROS
This wood wax incorporates all-natural ingredients, hence safe and healthy for your entire household. 
Applying this wood wax is dead simple. And because it's multi-use, you can use it to clean and polish wood floors. Also, it's highly effective in eliminating years of accumulated dirt, including grease and grime.  
Leaves behind a fresh honey scent that revitalizes your home's atmosphere. 
You can use it for multiple tasks such as cleaning, polishing, refinishing antique or modern furniture, and more. 
It comes with a two-year warranty and has reliable customer support that's 24/7. Should you feel unsatisfied with their product, feel free to contact them for a refund or alternative. 
CON
This wood wax for furniture has an intense smell of petroleum oil. 
---
9.
Best Wax for Wood Floors

-Carnauba Paste
The high carnauba content makes it one of the best wood wax in the industry. And also, being the hardest wax product, it will help strengthen all your wooden surfaces like floors for an extended period.
Not only that, carnauba wax will give your wooden surfaces a luxurious, glossy appearance. This formula also performs exceptionally well on other surfaces such as leather, marble, and tiles, providing a shield for water and dust particles. 
The best part is that it takes a short time to dry and buff. Meanwhile, you can use a brush to buff the surface or even a mop head if you want to get the job done quickly. Besides, you can remove the paste wax from furniture easily in case you apply excess.
Key Features
It contains a high level of carnauba wax that makes it the hardest industrially
Dries up within seconds
It's a multi-use formula
PROS
This wood wax for furniture exhibits a durable, shiny finish
The application is dead simple
It gives your wood surface an ultra-fine finish, regardless of the stain color
This product is reliable.
CONS
It produces a slight odor upon drying
It's not safe for foodstuffs. 
---
10.
High gloss wax for wood

– Finish Wax
Ultra HIGH Gloss 33% Solids Floor Finish Wax - 1 Gallon...
HIGH GLOSS COATING: 33% high solid acrylic floor wax & sealer. Quick drying, diamond-like shine
SAVE TIME: Requires half the coats then traditional floor products. Quick and easy application
ULTRA DURABLE: Floor finish for long lasting shine with patented polymer technology
If you're looking for a product that will mask all the defects on your wood surfaces, finish wax is a good bet. This formula includes a scratch-resistant feature with ultra-fine gloss.
And because it incorporates robust components, it's compatible with various wooden structures such as cabinets, drawers, and wooden floors. 
Key Features
It contains an ultra-fine gloss that dries faster
This product is easy to apply, thus saves on time
It's manufactured under polymer technology that makes it durable
High gloss wood wax
It's great for masking scratches on your wooden structures.
PROS
It is quick-drying
This finish wax isn't slippery
It's reliable in multiple stores and affordable compared to its competitors
It contains an ultra-gloss feature that requires no buffing
The application process is easy and to the point.
CONS
This product isn't safe for kitchen use
Leaves behind watermarks soon after application. 
---
11.
Best for Scratches and Marks

-Satin Finishing Wax

Sale
This product boasts its natural satin finish, easy application, and reliability. Satin finishing wax is available in large quantities, so you can use it to cover a significant area of your wooden surfaces without worries.
This formula is also thick, so a single coating is enough to give your wooden surfaces a bright tone upon drying. It does well on surfaces with slight stains or minimum paint shades. It dries so fast, leaving behind a water-resistant sheen that hides scratches and simple defects.
You can use a cloth or brush on its application since it contains no traces of linseed oil. Meanwhile, buff your wooden surface once you're done with the application.
Key Features
This product is easy to apply
Available in large quantities
Creates a sheen that's water-resistant.
PROS
This product is pocket-friendly
Applying this formula is dead simple
It gives all your wooden surfaces a soft, satiny sheen
It exhibits a durable finish
It doesn't lose color to your wood
Contains no traces of linseed oil. 
CON
This product is not recommended for foodstuffs. 
---
Best Furniture Wax | Best Wood Wax Buying Guide
Beeswax vs. Carnauba Wax – The Difference
We have talked about beeswax and carnauba as the best types of wood wax, but what sets them apart? Let's find out…
Beeswax is an edible material produced by bees to make honeycombs. It is used to make wood wax because of its water and dirt-resistant qualities to protect the wood. Even more, beeswax is quite simple to spread and creates a soft finish to protect the wood from damaging and losing its color. Check beeswax wood finish pros and cons article for more information.
Carnauba is more compact than concrete. And because of its ability to protect wood surfaces even from extreme heat, carnauba is a bit more prized than other types of wood wax. Any wood wax with carnauba will guarantee you a scratch-resistant and durable wood.
Wood Wax vs. Oil – The Difference
As a wood-savvy person who wants to protect your wood products, you have two options – either to wood wax or wood oil your furniture.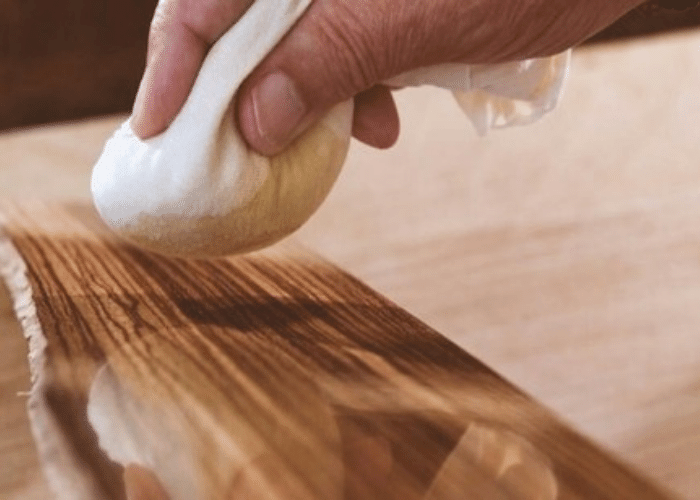 Wood oiling doesn't offer mechanical protection like in waxes, but quite straightforward to apply. Oiling is mostly suitable for rougher timber.
Wood waxing is a little demanding but will protect your wood from dust and water penetration if the procedure is well followed.
How to Wax Wood Furniture: Step by Step Procedure
You need to be extra careful when applying wood wax to your furniture. Follow precautions and instructions to get the best out of the wood wax you want to use.
Below is a simple step-by-step guide on how to wax your furniture.
Step 1: Protect yourself
Make sure you are fully protected. Wear gloves to prevent chemicals from getting into contact with your skin and a dust mask to prevent fumes in wax solvents from getting into your eyes or nose. Finally, you need to make sure that you are kneeling in the most comfortable position.
Step 2: Clean your wood 
Clean the wood as soon as you're set with your protective gears. This will help remove any residue that may affect your desired results. You can sand the wood surface using sandpaper or oil it. 
Equally, you can use a polish remover as a way to remove paint without sanding to make your wood surface smooth and ready for waxing.
Step 3: Apply the wax
You have your protective gear on, and you've just concluded cleaning your furniture, so what next? The next step is applying the wax to your furniture.
Here, use a clean piece of cloth or a wax brush. Apply the wax in a circular all round for the best results and to make sure you don't miss any spots.
Step 4: Allow to dry
Let the wax dry for a few hours as you check and remove any excess wax. Next, you need to polish with a soft and clean piece of cloth to give it a final touch, and that's it. Now, it is essential that you re-wax your furniture from time to time.
How to Protect Wood After Waxing
Waxing offers a short-term solution to keeping your furniture durable, so expect to do a lot more if you want to maintain your woodwork's attractive look. Below are ways you can protect your furniture after you have waxed it.
1. Regular cleaning
It is recommended you vacuum-clean or mop your hardwood floor at least once a week. Mopping or vacuum cleaning your hardwood floor will remove any unwanted particles and dust from your floor.
Strictly dry clean and refrain from using wet mops to prevent your woodwork project from damaging. If, by any chance, liquid spills on the woodwork, clean immediately with a clean, dry piece of cloth. 
2. Repeated waxing
Overdoing an activity may ruin desired results. However, you might want to re-wax your woodwork after some time to maintain the look.
Make sure you have a reasonable interval to follow when re-waxing your woodwork. Finally, don't cover your wax because the chances are that wax could build up. 
3. Leverage rugs or carpets
Use a rug or carpet to maintain any part of your hardwood floor that is exposed. The more friction you subject your hardwood floor, the higher chances it's likely to damage over time.
To minimize such damages, add a protective layer over the wax. 
4. Install protectors on your furniture
Well, you can use rugs and carpets, but what if there are better options to prevent your furniture from damaging after waxing it? Protectors are excellent substitutes for rugs and carpets and would serve your floor or furniture exceptionally well.
When moving from your apartment, consider covering your furniture with a furniture protector to minimize scratches and damages. 
Best Furniture Wax Brands
There are many wood wax brands in the market, and knowing which of them is best can be a nightmare for you, especially if you are new in the industry. Below are some of the best wood wax brands you need to pay attention to when purchasing any wood wax products.
1. SC Johnson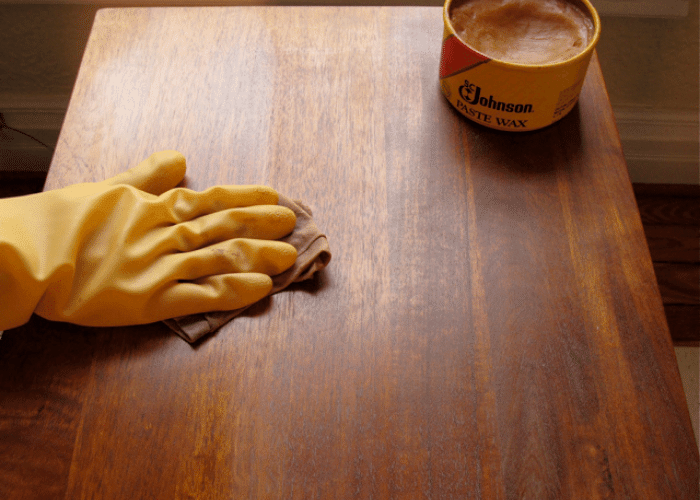 SC Johson's products have always met the customers' expectations – from house cleaning, shoe care, scents to food storage. However, SC Johnson is never left behind when it comes to their furniture products.
As you'd expect, their furniture products are easy to apply, dries fast, and gives your furniture that beautiful look you want. 
2. Howard products
Howard products from the United States have been around for a while. The founder Douglas H. Howard brought this reputable brand to light in 1969 to treat wood in a variety of finishes.
Several years later, Douglas decided to introduce products that would also play a role in protecting wood, and this is also when he founded the world's first wood – feeder. 
3. Minwax
Minwax is a Brooklyn-based reputable brand that has been in the limelight since 1904. Minwax was tipped to care for the Egyptian monument, and this is one of their biggest wins apart from solving construction problems.
After several years of serving their clients well, Minwax decided to help its customers maintain and protect their wood. And this is how the brand became popular and is now used in most American homes. 
4. Renaissance
The Renaissance is relatively new in the market, but its roots could be traced back to the 1950s. The Renaissance is one of the best woodworking brands that produce high-quality wood wax to maintain and protect wood.
Their products are available globally, and you can purchase any on Amazon. 
Waxes for Wood FAQs
What kind of wax do you use on wood?
Carnauba wax is the most preferred wax for wood since it's the hardest wood wax. It's often used for finishing wood structures, though any of the above wax can still be used.
Should you wax wood furniture?
For furniture that wears easily, we recommend waxing twice a year. However, you can wax durable furniture every three to four years. If you're unable to buff your wooden surface, it might be time to re-wax your wooden surfaces.
How do you treat waxed wood furniture?
Use a soft cloth to dust your waxed wood regularly. For sticky stains, use a cloth wrung out of a warm, mild, soapy solution to wipe. Make sure not to over-wet as this may damage your wood. Once you're done wiping, apply a wax polish using a soft cloth. Repeat this every year to maintain a water-resistant sheen.
Is it better to oil or wax wood?
Oiling is most preferred to waxing as oiled wood tends to last for extended periods compared to waxed wood. Also, wood oils are easy to use and repair; however, they take time to dry. Wood varnish, on the other hand, is the strongest of all the wood finishes available. Often, they form a seal on the wood surface for protection.
Does pledge ruin wood?
Pledge contains silicone, which is safe for wood. However, you'll find difficulties during repairs or when you need to perform some refinishing on your wood item.
What is the hardest wax?
Like mentioned before, carnauba wax is the hardest wax for wood you can find. It's one of the naturally obtained waxes with a durable sheen. Not only that, it has a high melting point that promotes oil retention. It's considered a stable emulsifying agent with an exceptional polishing feature.
Can you apply varnish over waxed wood?
No, applying varnish over waxed wood is not recommended. This is because solvents in varnish will soften it, giving it a tacky finish, rendering wax the role of preventing water from damaging your furniture completely useless.
Can wax be applied over varnish?
Yes, you can apply wax over varnish or any other finish, including paint, stain, and oil. However, it is recommended that you test with a small area and see if it's something you'd like before applying wax over tarnish.
Do I need to strip off old wax coatings before applying a fresh wax?
Yes, you need first to strip off the old wax coating before you can apply fresh wax. However, there is no harm in applying sealants once you polish the paintwork. Polish is responsible for the finish but does not protect it.
How long can wood wax last?
Wax does not stay for a long time, and that is why you need to be re-waxing your woodworking project from time to time. However, wax offers protection to your furniture and reduces the chances of it scratching or water damaging it.
How long does it take for wood wax to dry?
It takes 30 minutes for wood wax to dry. As the wax is drying, you will notice that it turns from a shiny color to a dull color. It is also important to note that it could take much longer when you are in a cold or poorly ventilated area.
How long does it take for wood wax to cure?
Wood wax will take between 5 and 21 days to cure, even though it takes 30 minutes to dry. However, you also need to understand that the number of days wood wax will take to cure depending on the ambient temperature of where you are.
What is the Best Furniture Wax?
The best furniture wax for wood tables, floors, and cabinets is the Minwax 785004444 Paste Finishing Wax. Woodworking projects are undoubtedly beautiful, and that's why most people are opting for more elegance, beauty, and ways to protect their woodwork finishes within their homes.
Wood wax helps to protect your furniture both chemically and naturally. They also help increase the durability of your woodwork project. 
The above list of the 11 best wood wax should help you make the right pick. And because it can still be a little hard choosing the best out of the summarized list, we recommend that you draft your list of priorities before making your pick.
Above all, check out some of the features we outlined in the buying guide to remind you of what you should keep an eye on.