One of the things they don't warn you about enough when you buy a rifle is how much maintenance it needs. Sure, you were told to clean it, but you may not have been told that the wood stock needs regular work.
If like me you prefer the easy route, then the best gun stock finish for rifle care is just what you need. While you may also use polyurethane, these products are the easiest to apply and maintain.
So, let's get into this list and make sure you check the buyer's guide to help you find the right one.
Best Guns Stock Finish for Rifle
Best Gun Stock Finish for Rifle Product Reviews (Updated List)
1.
Editor's Pick

– Birchwood Casey Complete Gun Finish Kit
The problem with a multi-purpose finish is that it can do different tasks well, but not great. Fortunately, that is not what we have here.
Behold, the ultimate gun finish kit that will help you preserve every single part of your rifle and leave it looking newer than the day you bought it.
This complete gun finish kit comes with; walnut stain, tru-oil finish, stock & sheen conditioner, Perma blue liquid gun blue, blue and rust remover, cleaner – degreaser, gun cloth, a refinishing guide, and a sponge.
The only thing missing from this kit is sandpaper and steel wool, which is extremely impressive. With this, you can finish a brand new gun from wood stock to bluing or refinish an old one by cleaning, staining, and oiling.
As long as you are patient and follow instructions, you will get great results with this formula.
You'll also get all of the individual stain and oil finish benefits, such as water resistance, protection from UV and temperature changes. It also does not yellow, crack or get cloudy.
PROS
It can take care of the whole gun
Easy to apply (comes with some applicators)
It does not yellow, crack or scratch easily
The oil finish is eco-friendly
CON
You may not need all the accessories.
---
2.
Best All-Purpose Kit

– Flitz KG 41501 Mixed Knife and Gun Care Kit

Sale
Flitz KG 41501 Mixed Knife and Gun Care Kit
EVERYTHING YOU NEED: Each complete gun and knife cleaning and care kit contains (1) 1. 76 ounce polish (1) 1. 76 ounce gun, rifle, and knife wax, (1) 1. 7 ounce tactical matte finish cleaner and (1) 16 inch x 16 inch microfiber cloth.
TACTICAL MATTE FINISH CLEANER: Anti-smear degreasing formula is perfect for stainless steel and nickel firearms and knives. It is safe on the interior and exterior of the bore. Non-toxic, non-abrasive, non-flammable formula.
GUN + KNIFE WAX: This premium white carnauba and beeswax formula provides incredible results on gunbluing, polished or hand-rubbed stocks, stainless and nickel firearms. Non-toxic, non-abrasive, non-flammable formula.
FLITZ POLISH: Easily clean your stainless steel, nickel or hot blued gun. Effortlessly removes powder, fingerprints, rust and more without damaging the surface. Non-toxic, non-abrasive, non-flammable formula.
MADE IN THE USA: Developed with German ingredients and proudly made at our headquarters in Wisconsin. Flitz is a 42-year-old family owned company and we stand by all of our products with a 30 day money back .
When you have several firearms and knives, a complete gun care kit like this one comes in very handy. The Flitz KG comes with a tactical matte finish cleaner, gun and knife wax, and a polish. You can use the formula on wood and metal pieces with ease.
The gun + knife wax is a unique blend of White Brazilian Carnauba and Beeswax, which is easy to apply and safe for the environment. Whether it is polished or hand-rubbed, you can use the wax with ease.
If you mistakenly apply this on the metallic parts of your rifle, it won't damage or stain it, which is unique for a gun stock finish. It is also non-flammable, which is crucial for a firearm.
There is also a microfiber cloth inside the pack, which you can use to buff the wax once you apply it to the stock.
One drawback about this is the wax does not go as deep into the wood as some alternatives; thus, it is not recommended on bare wood. However, if all you want to do is revive your existing finish, Flitz KG great product.
PROS
Suitable for all parts of the rifle
Easy to apply
It comes in a convenient package that's ready to use
CONS
Not suitable for bare wood
Microfiber cloth is not the best quality
---
3.
Best Wood Stain for Gun Stocks

– Birchwood Casey Walnut

Sale
Birchwood Casey Walnut Wood Stain, 3-Ounce
Water-soluble stain is sun-fast, true-to-color and non-bleeding. - See more at: https://www.birchwoodcasey.com/Refinishing/Wood-Finishing/Walnut-Wood-Stain.aspx#sthash.sdoCeH3f.dpuf
Produces a clear, rich color without grain clouding or smearing
Rich brown walnut
Rich brown walnut
Perfect addition to any gun maintenance kit
Nothing brings out the color and beauty of wood like a stain, and no other formula does it better than Birchwood Casey walnut wood stain. This extraordinary product is a rich dark brown color that immediately brings life to the dull bare wood in just a matter of minutes.
Whether you are refinishing an old piece or working on a new gun stock, this stain will help you achieve the desired result with minimal effort. This wood stain is easy to apply and is water-soluble.
You also don't have to worry about the grain being cloudy or smearing, as this applies fine and smooth while also being true to color.
Even though most of the reviews of this product are positive, you will find some debate on how to get the right shade you want. However, we've found you can easily add a bit of water at a time to get a lighter coat or add more coats to make it darker.
The Birchwood Casey walnut wood stain also dries fast, so you can move on to other aspects of the application.
PROS
Easy to apply
Water-soluble
True to color
Doesn't bleed or smear
The small quantity lasts a long time
CONS
It doesn't come with the applicator kit
You need several coats to get it really dark
---
4.
Best Oil Gun Stock Finish

– Birchwood Casey Tru-Oil
Here is a product that has been tried and tested for years and has yet to disappoint. The Birchwood Casey Tru-Oil is an oil gun stock finish made from linseed oil and other natural oils. The result is a long-lasting, water-resistant finish, easy to apply, and does not cloud.
As you would expect from the best oil finish for rifles, you can apply this formula with your fingertip to get a smooth finish. However, unlike wax, this product is meant for unfinished wood – you would need to strip the finish before using this.
Despite the small size of the bottle, you can get many coats on your wood stock. The oil takes about 8 hours to dry between coats, which is decent for an oil finish. Not only that, but this formula also won't yellow over time, another rarity for an oil finish.
In terms of weather protection, this finish prevents UV light from ruining the wood and can handle temperature changes without cracking.
You can use this as a sealer for under-butt plates and recoil pads to provide extra protection to your stock as a bonus feature.
PROS
Made from natural oils so is eco-friendly
Water-resistant
It does not yellow, crack or get cloudy overtime
CON
It cannot be used on finished wood.
---
5.
Best for Routine Gun Cleaning

–Milsek Gun Cleaner & Oil
Milsek Gun Cleaner & Oil, 8-Ounce, GS-8, clear
Regular gun cleaning is vital to keep your firearm operating safely and correctly
Contains no harmful wax or silicones - does not contain the sticky, greasy lubricants that cause miss-fires or jams
Thick enough to protect against metal to metal abrasion, but thin enough so it won't accumulate powder residue
For use on rifles, shotguns, handguns, barrels, gun stocks and even antique collectibles
Simply apply gun cleaner to patch and run through barrel, use a soft cloth for stock - if necessary buff off with dry cloth
Everybody likes convenience, and that's why we like this formula. The Milsek Gun Cleaner & Oil is a straightforward finish that will help you clean and refinish your gun in one application.
This finish does not contain wax or silicone, making it is easy to apply, and does not leave a greasy build-up that can ruin your piece or cause a misfire. Additionally, this cleaner and oil come with a multi-purpose cloth that will allow you to apply this on a rifle, gun stock, shotgun, handgun, or barrel.
You can use this oil to remove rust and restore the sheen and color of your gun stock, whether it is synthetic or wood.
The manufacturer of this formula, Milsek, is known for creating multi-purpose cleaners that are some of the best in the market. Therefore, it is not surprising they've been able to create a cleaner and oil that works.
One other feature you'd love is that this mixture repels dirt, water, and rust. The only obvious limitation is that you can only use it on finished wood.
PROS
Easy to apply
It can be used on a wide range of guns
It does not contain harmful wax or silicone
It is not greasy
CONS
It can only be used on finished wood stock
The protection doesn't penetrate the wood
---
6.
Best for Small Projects

–Lin-Speed Gun Stock Finish
Lin-Speed Gunstock Finish and Care Oil
Lin-Speed is an extreme grain revealing finish oil
Used on Guitars, Gunstocks, Knife handles, pens, Bar Tops, Furniture, Fine Wood work
Lin-Speed is simple to use
Lin-Speed works within the wood
Lin-Speed makes wood grain glow, enhancing the beauty of your cherished guitars.
If you're a fan of the old school, then you're going to love this formula. The Lin-speed gun stock finish and care oil uses virtually the same formula it did nearly seven decades ago when the company first started.
While it was initially designed for gun stocks, other artists and artisans have discovered it also works great on guitars, furniture, knife handles, pens, and bar tops.
Unlike polyurethane, this oil finish dives deep into the wood and is extremely grain raising. As a result, you won't have any build-up on the stock, so you'll feel the wood directly.
As the oil penetrates the wood, it freezes any raised grains, making it easy to sand before a recoat. This product is easy to apply and gives a gentle glow, which almost looks transparent in sunlight.
You can apply this with your fingertips or with a sponge brush when working on numerous rifles at a time. The small 2-ounce jar can handle 5-gun stocks.
All in all, Lin speed Finish is a durable product with a quick drying time of between 2 to 6 hours. This makes it easy to touch up your gun stock when you notice any abrasions.
PROS
Easy to apply
Penetrates the wood for a gentle glow
Extremely grain raising
Durable and convenient for retouching
CON
It comes in a smaller pack than its competitors
---
7.
Best for Antique Rifles

–Minwax Antique Oil
Minwax Antique Oil Finish, Pint
Minwax Antique Oil Finish may be used over finished and unfinished wood
Antique Oil Finish is recommended for interior wood surfaces such as cabinets, tables, paneling, doors and trim
Works by penetrating the wood
May be used over wood stained with Minwax Wood Finish, or other Minwax wood stains, or applied directly to bare wood to enhance its beauty
Antique oil finish
Now we come to the fastest drying product on our list. The Minwax Antique Oil is designed for all wood in need of a protective penetrating finish. The oil seeps into the wood, and the surface dries in just five to ten minutes to provide a hard, durable finish.
You can use this oil finish on gun stocks, antique furniture, tabletops, doors, cabinets, and any other wooden surface where a natural feel is preferred, rather than the plastic feel.
While the manufacturer recommends using only 2 to 3 coats, you may choose to use more when applying on a gun stock finish for rifle.
Just like gun stock varnish, you can apply this antique oil with your hand, and it can be used on finished and unfinished wood.
One thing we love about this is the sheen you get when you apply it. If you prefer a milder look, simply wipe away any excesses as you smear it with a cloth.
Although this product won't provide as much water resistance as some other finishes, this is still very durable, easy to maintain, and highly resistant to stains.
PROS
Easy to apply
Easy to maintain
It can be used on finished and unfinished gun stocks
It can be used on a wide range of wooden tools and furniture
CONS
It raises the grain of the wood
It does not offer adequate weather protection
---
Best Gun Stock Finish Buyer's Guide: How to Choose the Right Finish
With so many options, how do you narrow down the best wooden gun stock finish? Here are a few things to consider in order of importance:
1. Type of Finish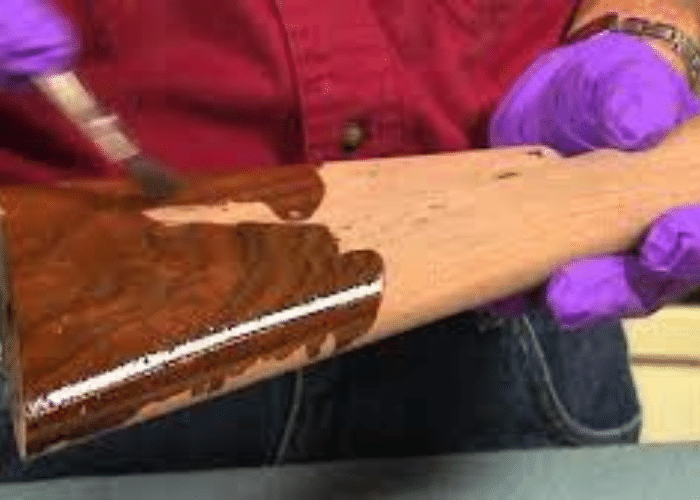 Oil – the most popular finish for gun stocks is oil-based, as this can easily be applied and yields a more natural feel. It is sold in small jars as a small quantity goes a long way. It could be made from linseed oil, tung oil, or other natural oils.
Polyurethane – this is a slightly thicker finish and sits on top of the wood instead of penetrating the surface. While this is the most water-proof option, it feels like a pile of plastic, so it might make handling the rifle more uncomfortable. This could be a water-based or oil-based finish.
Wax – this type of finish adds a water-proof and weather-resistant cover on wood. It is also easy to apply. Wax is usually applied over an oil finish and can be reapplied as often as needed. These products are usually made of carnauba and beeswax.
All of the products on our list are either oil or wax. We left off polyurethane because of the plastic feel, which many users dislike.
2. The Color of the Finish
The next thing to consider is the color of your gun stock. Unless you want to change your old finish, you should choose a finish that is most likely to accentuate the wood grain. Some finishes yellow over time, so this is something else to consider.
Besides the Birchwood Casey walnut wood stain, all of the other finishes on our list can be applied to a variety of wood colors. If your gun stock looks too dark upon application of any of these, simply wipe off the excess before it dries.
3. Durability
The purpose of the wood stock finish is to protect your rifle, so what use is a finish that doesn't last? The right finish should stay on for at least a year without cracking, fading, peeling, or clouding.
While you are mentally prepared to take care of your firearms, you shouldn't have to do so every month.
4. Method of Application
There are several ways to apply an oil finish: cloth, brush, spray, or fingertips. The traditional method for an oil finish is using your fingertips. You would need a cloth for wax application and a brush for polyurethane.
Applying with your fingertips will help you feel the grain raising, any dents on the stock, and other imperfections that will need to be sanded.
5. Drying Time
The drying and curing times are two important factors if you're in a hurry. The drying time refers to how quickly you can apply a second coat, while the curing time is how long it takes for the gun stock to be ready for use.
6. Size of the Product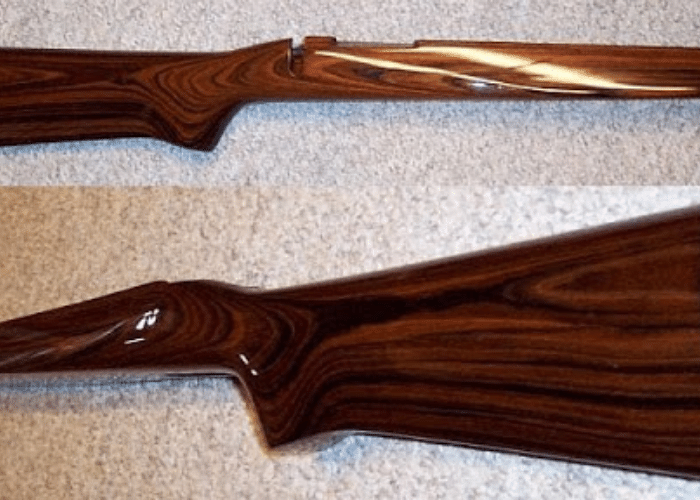 Oil finishes are often sold in smaller quantities than wax. However, oil finishes can sometimes cover as many stocks as wax, sometimes even more. You may also factor in each product's price and the size to establish which is the more economical option.
Extras
As you have noticed, some of these on our list come with additional products to help with other parts of your gun or knife. Some can also be used on other products. If it means being able to kill two birds with one stone, why not?
How to Refinish a Gun Stock?
In order to refinish a rifle stock, there are a few steps you should follow to get things right:
1. Look for Damage
The first thing you should do is look for any signs of damage. When too much damage is done, restoration won't be enough, and you will need a replacement. But if it's in decent condition, you can follow the next steps.
2. Get Rid of the Old Finish
Remove the old finish by taking off the rifle stock and using some finish remover on it. Rubber gloves and a mask are necessary during the process. You may want to "wet" the surface using mineral spirits.
3. Use a Scrub Pad
Sometimes, you will need a scrub pad as finish remover will not be enough, and steel wool would only rip the grains.
4. Scrub with a Toothbrush
Use a toothbrush to scrub off any leftover grime or grease. Prevent scratches by scrubbing in the checkering groove direction.
5. Apply Heat
Next, take a hairdryer and remove the excess oil in the stock by placing the hairdryer on one spot. Wipe it away with a dry cloth afterward.
6. Sand
When the stock is finally dry, you should sand it. Prevent accidental checkering sanding by covering this part.
7. Swipe, Burnish and Dust It
Swipe the stock with a fine mesh scrubbing pad, then use a dry cloth to wipe the stock and remove dust.
8. Fill the Grains
Apply some French Red in order to fill the grains and obtain a nice look.
9. Get Rid of Excess Filler and Let Dry
Allow the stock to dry, after which you can get rid of the excess filler. You can also add more filler if some areas require it.
10. Use Some Finish
Use some good linseed oil on the surface to obtain a classic appearance that lasts for a very long time.
How to Make Scratch Repairs on Your Old Gun Stock?
Scratches can ruin the look of your gun. Luckily, there are a few things you can do to remove them:
Dampen a paper towel piece with some vinegar and wipe the stock a few times with it
Allow it some time to fully dry
Grab some G96 hi-speed linseed oil and dampen a soft cloth with it
Rub the stock with this cloth in circular motions, but gently, as this will allow the minor scratches to get filled as well
Keep rubbing in areas that still have scratches, especially after taking some more oil in the cloth
After the oil builds up for several minutes, do the process once again, and the scratches will disappear after 2-3 applications
Allow the rifle to sit and dry overnight, and get rid of the excess oil you see on the stock the following morning
Best Gun Stock Finishes-FAQs
What is the Best Finish to Put on a Gun Stock?
The best finish to put on a gun stock is an oil finish. It is easy to apply, durable and can be used on finished and unfinished wood. Oil finish is also water-proof, prevents UV light from damaging the wood, and can last for several years.
Can You Use Polyurethane on Gun Stock?
Yes, you can use polyurethane on gun stock. However, many gun users don't like the feel of polyurethane on gun stock. Polyurethane has a plastic look and feel that sits on wood instead of penetrating it, which can make the rifle harder to grip.
What is in Tru Oil Gun Stock Finish?
Tru oil gun stock finish is made of a mixture of linseed oil, oil varnish, and mineral paint thinners. How exactly the main components and other additives are mixed is a well-guarded secret. There may also be tung oil in Tru oil.
Is Tung Oil Good for Gun Stocks?
Yes, tung oil is good for gun stocks as it is durable, penetrates the wood grain, and is relatively weather resistant. Tung oil is also a natural, non-toxic product, so you don't have to worry about VOCs when applying it.
Is Boiled Linseed Oil Good for Wooden Gun Stocks?
For people who prefer to make their own finish for wooden gun stocks, boiled linseed oil is an excellent alternative or even the best alternative. It can be hand rubbed into wood to provide a durable, water-proof, and non-toxic finish. Boiled linseed oil is usually used on bare wood.
Why Should You Sand Between Applications?
When you sand between the Tru-Oil coats you apply, it will allow you to get rid of imperfections including bubbles, runs, and others. Specialists use 400 grit sandpaper when they notice any runs. In other cases, they go for the 0000 steel wool.
Finishing a Gun Stock Should be Easy
With so many ways to finish a wooden gun stock, it can be hard to find the right one. Unless, of course, you read a guide that summarizes it for you.
That said, the best gun stock finish for rifle maintenance is the Birchwood Casey Complete Gun Finish Kit. Besides providing an excellent oil finish, it also comes with extras for bluing, cleaning, and staining rifles.
The kit is also easy to use thanks to the accompanying DVD, so what more could you want?
But hey, if you are not happy with our list and would like some polyurethane options, check out our guide to the best exterior polyurethane.