With so many woodworking spray guns on the market, picking the right one can be daunting.
You need to consider many factors such as:
What type of finish do you want to apply?
How much finish will you need to use at a time?
Do you need a spray gun with variable pressure settings?
Do you need a compressor compatible with your specific sprayer and vice versa, or can they share one?
Luckily, we've researched the best HVLP spray gun for woodworking that will help get the job done quickly and efficiently. But, of course, just like any other tool, the best spray gun will depend on your specific needs.
Our Top Picks
Best HVLP Spray Gun for Woodworking
Best HVLP Paint Sprayer Reviews
When researching these woodworking spray guns, we considered all the important factors, from user convenience to compatibility with different paints and maintenance.
We also gathered real customer feedback to ensure that the wood finishing spray guns we recommend are well-loved.
1.

Overall Best Hvlp Spray Gun

– Fuji 2203G Semi-PRO 2 – Gravity HVLP Spray System, Blue
Fuji 2203G Semi-PRO is one of the best HVLP spray guns for woodworking for a good reason.
It is a non-bleed spray gun which means it produces an even coating without any traceable lines. In addition, this paint sprayer is lightweight and portable for a truly DIY-friendly experience.
The swivel nozzle spray gun is easy to put in smaller areas and hard to reach places that traditional brushes can't access.
This Fuji 2203G Semi-PRO is perfect if you want to get into painting without spending a fortune on a compressor.
For better results, don't begin spraying with oil-based paint. It's a mess and hard to clean. Instead, start with latex or a water-based topcoat.
Fuji Spray comes with a Ford viscosity cup and a chart that will tell you the layup time for thinning the paint. So, you can use it to spray thin paints.
What We Liked Most
Beginner-friendly
Affordable
Super quality
Great value for money
What Could Be Improved
Some people dismiss it for the price thinking it's low quality.
---
2.

2nd Runner-up Best Hvlp Gun Spray

– Earlex HV5500 HVLP Spray Station Paint Sprayer for Woodworking
Earlex HV5500 HVLP Spray Station Paint Sprayer for...
SEMI-PRO PAINT SPRAYER: The Earlex Spray Station 5500 is designed for serious woodworking, light contractor and automotive enthusiasts. Ideal for use in the workshop, around the home or on the job site
ACHIEVE THE PERFECT FINISH: The professional metal spray gun and 650 watt turbine provide a superior finish on small to medium sized jobs such as doors, cabinets, spindles, decks, furniture, cars and more
ADJUSTABLE SETTINGS: This HVLP paint spraying unit features a flow control dial and a fast push-and-click spray pattern changing system to change your pattern to round, horizontal, or vertical
The Earlex hv5500 spray station is designed specifically with contractors in mind. However, pros who are just starting can also use it because there is no learning curve for this easy pump sprayer's 3-speed motor.
This professional HVLP spray gun for woodworking is the ultimate tool for furniture. For most wood furniture projects Earlex HV5500 is tall enough to accommodate oversized pieces plus small crafts with accuracy and ease.
This spray station has a patented cone-shaped air cap that you can adjust or remove depending on the material you're working on. In addition, it has a wide mouth opening for more oversized paint trays, so there's no need to refill often.
Also, it has 125 degrees vertical and horizontal adjustment, the professional option of finishing quality nozzle coverings.
What We Liked Most
You can use it on oils, urethanes, shellacs, thinned latex, stains, etc.
Adjustable settings for changing spray patterns
The best spray gun for furniture
Portable
What Could Be Improved
---
3.

Best High Power Power HVLP Spray Gun

– REXBETI Ultimate-750 Paint Sprayer
REXBETI Ultimate-750 Paint Sprayer, High Power HVLP Home...
( kindly notice : totally there are 4 nozzles, the 2.5mm black nozzle has already been installed on the gun. ) High power & superior finish - With high power, the ultimate-750 provides a precise spray pattern,creating the smooth and superior finish.With 1000ml high-capacity container,it will be your best electric paint sprayer for tables, chairs,fences,interior walls and crafts
3 spray patterns & 4 nozzle sizes - The ultimate-750 paint sprayer can be adjusted to 3 different spray patterns ?¨ºohorizontal, vertical and circular ,equipped with 4-size nozzles(1.5mm/2.0mm/2.5mm/3.0mm) for any painting projects.1.5mm, 2.0mm and 2.5mm nozzle are great for thin paints like sealers and varnish. 3.0mm nozzle is great for spraying latex paint,chalk type paint and milk type paint.And 5-pcs paint strainers is great for you to filter particles in paint
Adjustable flow control - Regulate your paint output by adjusting the flow control knob on the sprayer to get different paint output, suitable for edges, corners and broad interior surfaces of various work
REXBETI Ultimate-750 Paint Sprayer is the ultimate tool for any serious DIYer who wants to spray flawlessly to get a professional finish.
This electric paint sprayer will provide a quality paint job with less hassle with its high-power spraying and precision patterns.
For detailed home or office renovation, use the 1000ml high-frequency container/filter for prolonged usage between refills.
The feature comes in handy when you are undertaking large-scale renovations like painting furniture. This adjustable spray is better than the conventional spray gun available in the market.
The adjustable 3-pattern nozzle creates a finely delicate finish, making it ideal for interior and exterior applications.
What We Liked Most
You can use it to spray different types of paint due to its high-efficiency air cap.
This sprayer has excellent quality in every detail
The spray gun comes in three striking colors, along with three different power settings.
It has a long cord enabling you to spray in vertical, horizontal, and circular motions.
What Could Be Improved
It's not ideal for big projects.
It's not ideal to use in warm, dry climates.
---
4.

Best Gravity Feed Hvlp Spray Gun

– NEIKO 31216A HVLP Gravity Feed Air Spray Paint Gun
Sale
NEIKO 31215A HVLP Spray Gun Paint Sprayer, 1.7 mm Spray...
HEAVY-DUTY PAINT SPRAYER: Each spray gun is a one-piece all-steel gun body, rust-resistant stainless-steel nozzle and solid brass cap for durability and longevity.
HIGH VOLUME LOW PRESSURE HVLP: The gravity-feed fluid delivery design smoothly feeds your paint sprayer and works together with three adjustable valve knobs for precise paint application.
1.7 MM NOZZLE: Color coded yellow 1.7mm nozzle size is perfect for base coat, clear coat and a variety of automotive and household painting projects
This Air Spray Paint Gun is one of the best HVLP paint sprayers if you need a long-lasting system. The durable steel body sets it apart from other woodworking paint sprayers on the market.
You'll use this spray gun without having to worry about rust developing. However, if you're looking for a paint gun that can handle the abuse (and look good doing it), the NEIKO 31216A HVLP Gravity Feed Air is perfect for you!
Your work will look so good with the unique stainless steel nozzle and solid brass cap combo that'll last forever.
And don't worry about your messes: The gravity-feed fluid design keeps overspray to a minimum – preventing any adverse side effects or wasted time in cleaning up.
What We Liked Most
It does an impeccable job.
It's durable and easy to clean.
The best gravity feed spray gun
It's ideal for a small job.
What Could Be Improved
You need a compressor which can be pricey
It's not suitable for massive projects 
---
5.
Best HVLP Paint Gun for the Money

– Fuji Spray 5175G – T75G Gravity Spray Gun
Fuji 5175G - T75G Gravity Spray Gun
Professional Spray Gun features convenient side pattern control knob to adjust size of fan pattern from small to large
Non-Bleed Spray Gun for less blowing around of shop dust
New sleek lightweight design
The NEIKO 31216A Gravity Feed is your new best friend if you need to complete your project fast and embark on something else.
It starts with two different nozzle sizes at 600cc, making spraying easier than ever-even you are not yet a pro. Then, just attach this gravity feed-spray gun to a 2 1/4″ factory air nozzle, and you are good to go.
The adjustable fan pattern control knob allows you to effortlessly switch from a small fan pattern to a large fan pattern. So, it's great for furniture spraying projects.
It can be boring to stick with just one project for some time. That's where this woodworking paint sprayer comes in as a savior. With the new Fuji Spray 5175G – T75G Gravity Spray Gun, you can quickly start tasks efficiently.
The springless metal knobs make it easy to turn and clean after use, plus they're easier on your hand. Most of its features are made of stainless steel.
But the most appealing features include 100% Stainless Steel fluid components, Stainless Springs, Metal Knobs, Rear Rotating Nipple for pressure tubes, and an Ergonomic Stay-Cool Handle.
It is Installed with a 600cc cup suitable for small and medium-sized projects. In addition, its paint cup comes in four different sizes.
The 1.3mm air cup is pre-installed since it is the appropriate size for most fine-finishing. The T-Series provides superb atomization and ultimate control.
What We Liked Most
It sprays fabulous patterns that are even and fully atomized.
It's easy to control, and it lays out the product exceptionally
The best HVLP paint gun for the money.
It's lightweight, so the operator doesn't get overly exhausted
It's a very well-made gun that is simple to use and convenient to hold
What Could Be Improved
It's pricey so that most people can turn their heads away from it
It's not ideal for massive projects
---
6.

Best Multi-purpose Spray Gun

– HomeRight C800971.A Super Finish Max HVLP Paint Sprayer
Sale
HomeRight C800971.A Super Finish Max HVLP Paint Sprayer,...
PAINT SPRAYER FOR COUNTLESS DIY PROJECTS: The HomeRight Super Finish Max paint sprayer offers the ultimate DIYing experience. It's great for applying a great finish on small to large projects like fences, decks, furniture, cabinets, dressers and more.
ADJUSTABLE SETTINGS TO SUIT ANY PROJECT: You can adjust the air cap to spray horizontal, vertical, and round. You can also adjust the material flow control knob to quickly increase or decrease the material output
MORE POWER=SPRAY MORE MATERIALS: Offers 450 watts of powerful spraying experience. It sprays a wide variety of paints and stains such as chalk type paint, milk paint, latex paints, enamels, primers, clear sealer, polyurethane, stain and varnish
The homeright c800971 Max HVLP paint sprayer can cover a wide array of different coatings with less thinning and hassle than other spray guns on the market.
You'll use it extensively, and you'll be happy with it. You can use it on furniture, cabinets, fences, and walls.
With its more capable tank and high-output pump, this paint sprayer can handle all sorts of jobs with ease.
And unlike other paint sprayers, you don't need to fill the Cup so often! Instead, add a little water and then pour in just enough paint (up to 25% less) for any painting session.
Cleaning up is easy too. Its dishwasher-safe parts make cleaning such a breeze. You can use it to spray water-based and oil-based materials hassle-free.
Are you tired of all the mess and hassle? The Homeright c800971 Max HVLP paint sprayer tackles any project quickly with less thinning to give you a smooth finish.
No more tiring hand stretching or masking; just spend time where you want to be. Painting. Don't let your paint cans pile up.
Spend less time thinning out and more time painting with this spray paint gun for wood! With this easy-to-use machine, you'll get all those projects finished in no time.
Just load in the coating, sync it to your compressor's PSI setting for even coverage and head off on that home improvement adventure!
What We Liked Most
You can use it for various projects
You do not need an air compressor
It's simple to use and saves you a lot of time
What Could Be Improved
You may need to thin extremely thick paint slightly.
---
7.

Best Most Durable Hvlp Spray Gun

– Wagner Spraytech 0518050 Control Spray Double Duty HVLP Stain Sprayer
Wagner Spraytech 0518050 Control Spray Double Duty HVLP...
SUPERIOR PERFORMING HVLP SPRAY GUN: This HVLP sprayer utilizes a two-stage, indoor/outdoor rated air turbine to provide a fine finish on your surface.
PERFECT FLOW EVERY TIME: Adjust the material volume by turning the regulator on the trigger of the spray gun to achieve a smooth material flow. You can also adjust the spray pattern to spray horizontal, vertical or round
USE WITH A VARIETY OF MATERIALS: Applies thin materials such as stains, sealers, urethanes, varnishes and lacquers
This stain sprayer will undoubtedly make your painting projects faster and more efficient. In other words, it delivers high-end results without any fuss or muss.
It gives you three spray patterns at your disposal- horizontal, vertical, and circular. In addition, the regulator nozzle offers you complete control over the fluid volume, so you can always get what you need, no matter how heavy or light!
You can use this item and get professional results even if you are an amateur. It's easy to use, and you'll love it even if you hated it at first.
Take your time and figure it out, and you won't regret spending a penny on it. You'll be grateful that you bought it because it could be one of your best purchases ever.
Whatever your project requires, this product is up to the task. It comes with a 1-quart container for smaller interior projects and a 1.5-quart container for larger exterior projects.
You can use it to apply light materials such as urethanes, varnishes, lacquer stains, and sealers.
What We Liked Most
It gives you a professional finish even if you are a beginner
It saves you lots of time, money, and frustrations that come with overspray and runs
It's affordable and long-lasting
You can easily adjust the spray angle, the volume of the stain with a quick little twist.
What Could Be Improved
It's not ideal for massive outdoor projects.
---
HVLP Spray Gun for Woodworking Comparison Table
Education: Things to Consider When Buying the Best HVLP Paint Sprayer
HVLP spray guns are a great alternative to conventional spray guns. Many people who work with wood use HVLP because they can get better coverage using a little paint.
That means there is less waste of materials and money, which is always a plus!
However, Hvlp spray guns differ in prices, quality, functionality, and features. You should know some things before buying one to ensure that it will be compatible with your needs and budget.
If you're looking into getting an HVLP spray gun, this buyer's guide will help you find the right one for your particular project and price range. Here are some of the things you need to consider when selecting a spray brush.
1. User Convenience and Ease
Before making a purchase, it is critical to conduct thorough research. There are various aspects to consider based on the available budget and how you intend to use the spray gun.
First of all, ensure you buy a spray gun you can use hassle-free. Go for a spray gun you can use to spray paint horizontally, vertically, and circularly.
It should be lightweight so that you can move around quickly without breaking your arms and back. It should also have a flow control knob and extra-long power cord.
A metal gun with a changeable spray nozzle enables you to restrict or broaden the spray. For bigger or smaller surfaces, this might be crucial for DIY enthusiasts.
Based on the paint, you may also require a different-sized nozzle. Thinner paints can use smaller apertures, whereas thicker paints, such as latex and chalk paints, require more significant gaps.
The size of their apertures will sort the nozzles. Latex paints require a nozzle larger than 2.5mm; otherwise, the paint must be watered down.
2. Cleaning and Maintenance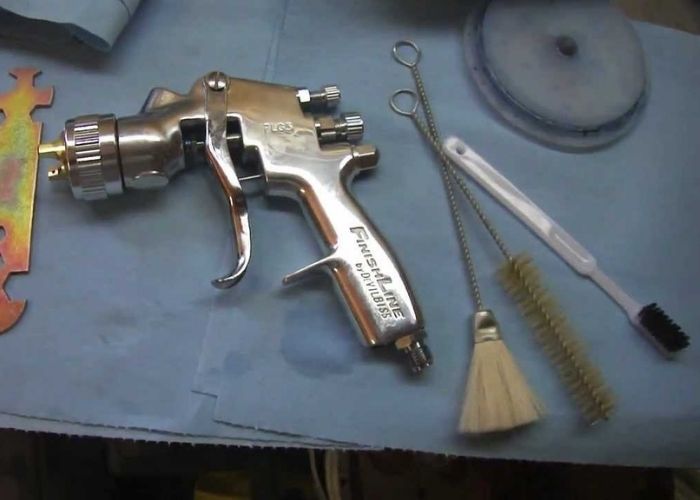 Look for a spray gun that you can easily clean its parts after each use. That's so because if you fail to clean it shortly after every use, the paint will clog on the inside rendering the spray gun ineffective.
Cleaning it might be challenging at first, but it'll get easier with time after you master the art of doing it. You should buy a spray gun whose parts you can easily dismantle and assemble.
When it comes to cleaning your wood spray guns, it's critical to use the right cleaner. To appropriately unclog accumulated lacquer and varnish residues from your paint sprayer and paint cups, you need a strong substance.
Some people go for acetone due to its paint stripping properties. However, using acetone as a spray gun cleaner can be hazardous to your health.
Acetone is a dangerous organic compound that is explosive, harmful to the environment and you. Look for other safe alternatives on the market. Cleaning and maintaining your painting gun enhances its durability.
Recommended Reading: How to get spray paint off of your hands?
Compatibility with Different Types of Paints
Choosing the best for your needs isn't easy. There are dozens of different brands competing for your business, and not all of them offer the best value. Remember, HVLP stands for High Volume, Low Pressure.
This is a description used to describe how quickly a spray gun works — the faster you can fill up and shoot a can, the better your results will be.
If you're looking for a tool to paint walls quickly and efficiently, you may want to consider a high-pressure spray gun that supports fine lines and smooth finishes.
Get a spray gun that can work with different paint materials for woodworking projects. If you're working on a piece of furniture, here's the best paint sprayer for furniture that I recommend.
Go for a gun with adjustable controls or one that comes with varying sizes of the nozzle so that you can keep changing nozzles as needed to put on paint for different projects.
Hvlp sprayers are pricey, and you can't afford to buy a new one each time you use other types of paints and stains. In short, buy a gun that can work with water-based, oil-based, and latex stains or paints.
Spray Patterns and Options – HVLP Spraying Tips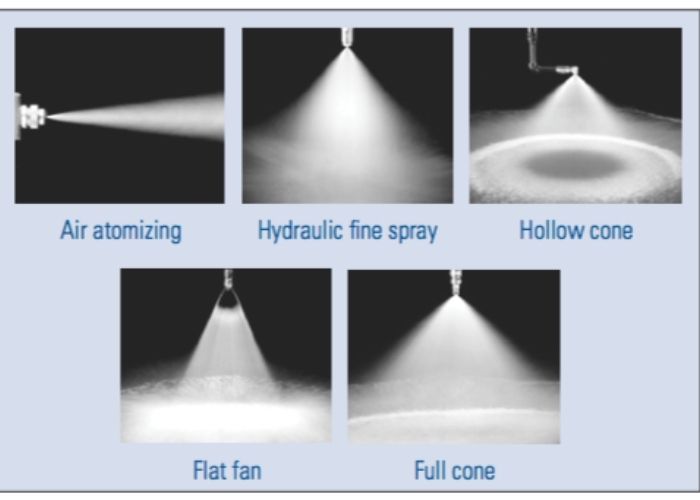 You may be buying a spray gun for a specific project or simply to add to your toolbox. In any case, your best bet is to search for a spray gun with interchangeable nozzles.
When shopping for an HVLP spray gun, pay close attention to nozzle sizes. Nozzles have a variety of uses, one being to help you paint larger and smaller surfaces.
The size depends on the thickness of your paint- thinner paints can use narrower nozzles, while thicker ones may need more comprehensive options.
You manipulate spray patterns by changing the orientation of your sprayer nozzle. This is useful if you expect to use a single gun for various projects.
It allows one tool to complete multiple jobs without any hassle or inconvenience.
If you need to paint a range of things like walls or fences, this is helpful because nozzles differ depending on what type of project they are used for.
For example, some sprayers have an adjustable feature that allows them to shoot horizontally. In contrast, others can only go vertically and in circular motions due to their design.
Tips and Needles
When using an HVLP gun, make sure it's the correct size for your project. For example, if you want to paint a small panel such as a motorcycle fuel tank, then use a smaller spray gun than you would use on your truck.
You can still use bigger equipment, but it will be wasteful and messy, and you'll have a lot of cleaning up to do.
In short, try out different-sized guns depending on what kind of task at hand is! Also, consider how thick/thin the paint or primer you are using.
When choosing an automatic painting tool, you need to consider your spray gun's fluid tip and needle. The right hvlp spray gun nozzle will give you speed, efficiency, professional results, and simplicity of cleaning.
Most spray guns have several nozzle openings of varying sizes, and each nozzle has a corresponding needle.
Atomization Technology
Atomization is the process of breaking up fluid into tiny droplets and giving those droplets a sense of direction using compressed air to apply it to whatever target surface we are trying to coat with paint.
Note. To be deemed as a good HVLP spray gun, all HVLP spray guns must operate at air pressures ranging from 0.1 to 10 psi (at the air nozzle) and guzzle air volumes ranging from 6 to 30 cfm.
Even though some HVLP guns with internal limitations can exceed ten psi air pressure, you must follow regulations as needed. Buy a spray gun with an adjustable control knob for ease of paint flow.
Quick and Simple Adjustments
An HVLP spray gun can be challenging to use at first. Spraying any clear varnish or paint with a cup gun can be a little bit tricky when you are just starting.
But with practice, using this kind of paint and spraying equipment will become second nature. An HVLP system is ideal for spraying a wide range of interior paints, primers, and clear wood finishes.
The result is difficult to replicate using other equipment or by hand. Most HVLP spray guns can produce three different spray patterns: round, vertical, and horizontal.
Even though vertical and horizontal ways are simple to grasp, you should be aware of the pitfalls of round patterns.
The round designs pack more material into a smaller space. For the round pattern, you must adjust the volume differently.
Almost all HVLP spray guns allow you to adjust both the air volume and the material volume.
Generally, you want to use as little material and air volume as possible to avoid overspray and thick-looking finishes. So, buy a spray gun you can easily adjust to suit the project at hand.
Durability
Buy a spray gun whose parts will last you for some time. It may be costly, but your investment will be worthwhile.
After all, you do not want to buy a spray gun every time you have a paint job. It's costly and time-consuming. Many hvlp spray guns have parts made of steel which enhances their durability.
Get a spray gun you can easily wash its parts with the appropriate materials as cleaning them extends the life of your hvlp spray gun by a considerable margin.
In other words, invest in a durable spray gun that you can clean easily. It will pay off for the long-term, as it'll save time and money down the line from having to buy replacements or new guns frequently.
Why Use HVLP Paint Sprayer
HVLP spray guns are the new and improved version of paintbrushes. They are an excellent choice for people looking to cover lots of ground quickly with minimal effort.
These tools come in many shapes, sizes, and colors. So, anyone can find one that works best for them while eliminating their main fears- runny finishes or wasted time cleaning up a mess later on.
The HVLP is much cheaper than buying pricey equipment like air compressors. Some of the benefits of using an HVLP spray gun are:
It saves on paint and cash
With the HVLP spray gun, you can cut costs by as much as 30%. This is due to several factors.
First of all, this type shoots paint better and more efficiently than other types of guns, so it requires less manual labor for cleanup after painting.
Additionally, with a reduced amount of overspray, there's also lower waste which saves money as a small amount of paint will cover a vast area.
They are Relatively Safe
HVLP spray guns are highly efficient and safer than other types to use since they create less overspray. Some states have made them mandatory for auto refinishers.
They make the workplace much safer while still protecting people from breathing in harmful fumes. However, you'll still have to use a face mask.
FAQS
Below are some of the questions people ask about the Best Hvlp spray gun for woodworking. Read on to get a better understanding of HVLP gun sprays.
What Does HVLP Stand For?
HVLP is an abbreviation for "for High Volume Low Pressure which means a high volume of air (10-25 CFM) at a reduced air pressure (10 PSI/0.7 Bar or less).
In comparison to a traditional Airspray gun, these specifications minimize overspray pollution and material waste.
Can You Spray Latex Paint with an HVLP Sprayer?
HVLP systems are not intended to spray thicker-bodied latex paint. However, with a bit of understanding, you should be able to do so.
The viscosity or the thickness of latex paint makes it more difficult for spray guns to atomize the stain completely.
So, it's hard to break the material up into tiny particles to achieve an exceptionally smooth surface with a reduced pressure turbine unit.
Should an HVLP Sprayer Be Cleaned Between Coats?
Generally, you don't have to clean the guns between coats when using water-based paints. However, If you're changing from paint to lacquer or need to use a different type or color of paint, make sure to clean your spray gun between coats.
Is one coat of semi-transparent deck stain enough?
People prefer a semi-transparent wood stain for deck over a solid one because it allows the more natural grain to show through.
There's nothing worse than applying a thin coat of stain on your furniture only to have it fade quickly. You don't want that, so start with the highest performing wood stains you can find and apply as thinly as possible for the best results.
Does tip wearing affect spray gun performance?
Yes. After using a paint sprayer for some time, the tip will wear down and become less effective. The edges of the fan size in each throw will be softer, which results in more paint being used to cover an area with similar coverage as before. In addition, it'll result in uneven patterns on whatever you're spraying because one part may get hit by all three jets while another only gets two or one.
At what distance should I hold my HVLP spray gun?
While using the best paint sprayer for woodworking, hold it 6 to 8 inches from the surface. But with traditional firearms like a gravity feed or airless paint sprayer, keeping your distance is more important and usually better at around 10-12 inches away.
What is the Best HVLP Spray Gun for the Money?
We have come to the end of this detailed list of the best HVLP spray gun for woodworking. All the options discussed here work great according to your unique project.
However, our top HVLP spray gun is Fuji 2203G Semi-PRO 2 – Gravity HVLP Spray System, Blue.
It is durable, affordable, easy to operate, and gives you professional results even if you are a novice in painting.