There are many different types of deck stains that look the same, and it can be challenging to figure out which one will work best for you.
We all know that stain can be frustrating because it never seems to come out just right. But when you're using the best semi-transparent deck stain, then this isn't an issue.
Even so, choosing the right semi-transparent exterior stain is difficult, especially if you are new to woodworking.
That's why we compiled a list of our top-rated semi-transparent stains. You can choose the colors that perfectly match your home décor. We even have options for those who want their decks to be more environmentally friendly.
Our Top Picks
Best Semi Transparent Deck Stain
Semi Transparent Deck Stain Review (Updated List)
Based on our research, here are the best-rated semi-transparent deck stains. In addition, we've reviewed some top options in our guide below so that you can find your perfect semi-transparent stain color match.
1.
Best Overall Semi-transparent Deck Stain

– Ready Seal 512 5-Gallon Pail Natural Cedar Exterior Stain

Sale
Ready Seal 512 5-Gallon Pail Natural Cedar Exterior Stain...
Requires no primer. Ready Seal is darkest when first applied. It reaches its true color in approximately 14 days. Do not apply Ready Seal over painted or newly stained surfaces. Sealed surfaces inhibit penetration.
May be applied using sprayer, roller or brush onto the woods surface.
Requires no back brushing and will nerver leave runs, laps, or streaks.
When it comes to staining decks, there are two things people care about most – appearance and ease of application.
That's why this oil-based stain is made with advanced technology that provides superior coverage while still allowing the natural beauty of the wood grain to show through – even after multiple coats.
With Ready Seal stain, you'll get a gorgeous finished deck without any hassle. And if that wasn't enough, it's designed with special UV rays blockers, so it resists fading from the sun.
How to Use the Product
Don't apply Ready seal to newly stained wooden surfaces as fleshly sealed surfaces impede penetration.
Apply it to your wood deck using brushes, rollers, or sprayers – and don't wet-line or back brush.
One of the fascinating facts about this product is that you do not have to contend with laps, runs, or streaks on the surface during application.
Two in one
It doubles up as a stain and sealer hence excluding extra costs and saves time during application. It is appropriate for all exterior wooden surfaces.
Perfect Finish
The ready seal is easy to apply and it dries quickly, so you can enjoy your beautiful new look in no time.
Apply two thin coats. Wait for at least forty-five minutes between each application, and give it two or three days to dry completely.
There is no need for a primer. When you first apply it, it will be very dark and take approximately fourteen days to reach its final color.
What We Liked Most
Regardless of the color you choose, you will be pleased with the results
It also serves as a sealant for the wood.
It will not stain your hands.
When you apply it with a small spray tip, it dries evenly with no runs.
It is biodegradable when it comes in contact with water
Even if you have no prior experience, it is simple to apply.
The best oil based semi transparent deck stain.
It can stay for two or more years before you hose it off.
What Could Be Improved
Blemishes may show through the stain; therefore, thoroughly clean the deck before application.
---
2.
Best Waterproofing Deck Stain

– DEFY Extreme 1 Gallon Semi-Transparent Exterior Wood Stain
DEFY Extreme 1 Gallon Semi-Transparent Exterior Wood Stain,...
Water-Based Semi-Transparent Wood Stain – This water-based deck stain allows the wood grain to show through with a beautiful semi-transparent, natural matte finish. It's great for staining wood decks, fences, siding, playsets, outdoor patio furniture, and more.
Fortified With Zinc Nano-Particle Technology – It's like sunscreen for your wood. Tiny zinc particles dispersed throughout the stain reflect damaging UV rays, preventing premature graying and color loss.
Durable Quality That Lasts – DEFY Extreme wood stains are made with the highest quality resins available that have better resistance to fading and darkening.
Defy extreme semi-transparent wood stain highlights the beauty of natural wood by letting the wood grains show through.
You can use it for staining your sidings, decks, fences, and outdoor patio furniture to keep them looking excellent for a long time. Also, check out the best stain for cedar siding.
This extreme wood stain protects your exterior wood surfaces such as fences and siding from harmful UV rays, thus preventing them from aging prematurely.
Also, it prevents them from darkening and fading. Apply on cloudy days for best results. And, once you've begun staining, don't stop until you've finished the entire length of the wood.
Understand that the stain may appear lighter than you expect. Still, it will eventually darken over time and give you the color you are looking for.
Based on the area of your residence, you might not need to do a second coat at all. And, if necessary, apply within the first twenty minutes of finishing the first coat.
Avoid direct sunlight when using this stain, as it will make the stain dry faster before penetrating your wood as needed.
When using this product, follow the manufacturer's instructions keenly. Do not overlook even the tiniest details.
Staining wood is never that easy, and it is the little things that matter to give you superb results.
What We Liked Most
It can take up to three or more years before reapplying.
You do not need to strip or sand down the wood. You only need to brighten it up.
It is affordable and durable. 
What Could Be Improved
You can only use it on cloudy days to get exceptional results.  
---
3.
Best Rated Semi transparent Stain for Cedar

– 1 Deck Premium Semi-Transparent Wood Stain
#1 Deck Premium Semi-Transparent Wood Stain for Decks,...
PROTECTS AGAINST COLOR FADE AND PREVENTS GRAYING - #1 Deck Protects Wood From Damage Caused By Exposure to the Elements. Can Be Used On Pressure Treated Pine, Cedar, Fir, Redwood, or Most Other Softwoods. Hardwoods Will Require More Frequent Maintenance Coats.
BOTH A DECK STAIN & DECK SEALANT IN ONE - #1 Deck Stain Is a Dual-Purpose Stain & Sealer. It Adds Color to Your Wood and Seals it, Preventing Damage Caused by Water Penetration.
ALLOWS THE WOOD GRAIN TO SHOW THROUGH - Available in 5 Beautiful, Semi-Transparent Deck Stain Colors That Dry to Flat, Natural Looking Finishes That Will Enhance the Beauty of Your Exterior Wood.
Deck premium is a 2-in-one semi-transparent deck stain suitable for pressure-treated pine, redwood, cedar, pine, and almost all softwoods.
It prevents your exterior wood surfaces from fading and getting wet hence prolonging their life. In addition, it seals the wood while enhancing its natural beauty.
This stain is super friendly to the environment and cleans up with just ordinary soap and water. The beauty of this product is that it saves you a lot of waiting time between cleaning and staining.
In other words, you do not have to wait for the wood to dry completely before staining. So, you can use it on damp wood. Then, once the wood looks a bit dry, you just stain and still get excellent results.
Use a quality brush to apply this stain as it works much better than the roller as it can get into tiny crevices and cracks.
What We Liked Most
It is easy to clean up.
It works even on dump wood.
It is easy to clean up.
It is easy to put on using a brush, a roller, or a stain stick
It gives you a nice uniform finish.
It dries up pretty fast.
What Could Be Improved
---
4.
Best Durable and Affordable Semi-transparent Deck Stain

– KILZ L832111 Exterior Waterproofing Wood Stain
KILZ Waterproofing Wood Stain, Exterior, Semi-Transparent,...
WATERPROOFING WOOD STAIN: KILZ Waterproofing Wood Stain is a semi-transparent exterior stain that offers long-lasting UV protection and waterproofing that helps maintain the integrity and beauty of wood in variable outdoor conditions.
ADVANCED FORMULA: Our 100% Acrylic formula protects wood from rain, snow and sun damage. This stain is warrantied up to 3 years on decks and up to 5 years on fences and siding
MULTIPLE USES: Use on properly prepared new to moderately weathered and unsealed exterior wood surfaces (0-10 years exposure) including decks, shingles, wood patio furniture, railings, siding, shakes and fences.
KILZ L 832111 is an excellent semi-transparent wood stain you can use to protect your wood from water damage, snow, and the sun.
If you want a semi-transparent stain that will serve your deck for long without reapplying, the Kilz exterior is a great option.
Once you use it on your deck, count three long years before staining again, and if you use it on fences and sliding, it will take you five years. Hence, it helps you solve the problem of removing old stains now and then before staining a deck.
You can also use this product on railings, wood patio furniture, porch, floor, etc. It has low VOC ( volatile organic compound), so, it's environmentally friendly.
For superb results, shake or stir the stain thoroughly before applying. Let the surface dry for a day before applying the second coat—sand lightly between the coats to get rid of the fuzz.
Use a nylon or polyester brush or a good quality pump sprayer to put on the paint. The stain is simple to maintain.
With some sanding, it can make your deck and other wooden surfaces look new even if you have used them for a while.
What We Liked Most
It goes on well, and you get great colors.
Its quality is second to none.
You use a quarter of the paint for two coats. So, you have left-overs to use next time.
It is durable
3-year warranty on decks.
5-year warranty on fences and siding
What Could Be Improved
It is thicker than other standard paints- so you need to order a few gallons of water to water it down a bit.
---
5.
Best Semi Transparent Patio Stain For Pressure Treated Wood

– THOMPSON'S WATER SEAL TH.042851-16 Semi-Transparent Waterproofing Stain
This product excels at safeguarding your wood against water damage. It also brings out the beauty of the wood while preventing it from fading. It's also mildew resistant.
You can apply it on a freshly painted surface and still get great results. So, it saves you waiting time to finish up painting and move on to other things.
When it starts raining or snowing, you will not have to worry about the durability of your exterior wood surfaces if you have used this product to seal them.
You can use Thompson's water seal even on your pressure-treated deck, as it's one of the best semi transparent deck stains for pressure-treated wood you can buy.
Be sure to follow the manufacturer's instructions, and this stain will work out fine. Clean your deck with thirty-second cleaners before applying.
Then, apply this product each spring to keep your deck in superb condition.
What We Liked Most
It's simple to apply with no runs or drips
One coat is enough to give you excellent results
It has superb coverage and repels all water
It goes on smooth and gives you nice colors 
What Could Be Improved
You have to reapply every year
---
6.
Best Spray For Semi-transparent Deck Stain

– Krylon K03604000 Exterior Semi-Transparent Wood Stain
Krylon 03604000 is an exceptionally high-quality semi-transparent stain you can use on your deck to give it top-notch protection from water damage.
It also protects the deck from fading brought about by being exposed to the sun for an extended period.
Krylon exterior wood stain is the only spray-on exterior wood varnish. It is beautiful and sturdy and applies smoothly, leaving a perfect finish to withstand the harshest conditions.
Kyrlon is one of the best deck stains you'll ever find. Moreover, it's VOC compliant, so it's safe to use.
This product works out great and is easy to apply. You get no clumps and no runnings. The stuff is fantastic for old siding or any other Superdry ancient wood that won't stain well with a brush.
While applying, wear a respirator or mask to safeguard your lungs.
What We Liked Most
The colors are spot-on regardless of the one you pick.
The colors will not fade even if you use them on high-traffic surfaces.
It is easy to apply, even for beginners.
It protects the wood from water and fading. 
It gets to all crevices and cracks, and it's easy to maintain
It makes an old piece of wood appear new
What Could Be Improved
It might take longer to dry than expected, depending on the humidity and temperature in your area.
It is expensive, but it makes up for the price in quality and durability.
---
7.
Best Premium Semi-transparent Deck Stain for New Wood

– Cabot 140.0016337.007
Cabot Semi-Transparent Stains are linseed oil-based stains that penetrate profoundly and prevent exterior wood from weather elements.
These thinly pigmented stains bring out the natural features of the wood by permitting the grain, texture, and color differences to shine through.
It is available in two formulas; Acrylic water-based and oil-based stain. Cabot is one of the best exterior wood stains on the market.
You only apply one coat and keep the rest for next time. When you use it correctly, you won't deal with blistering, peeling, or cracking.
Apart from using this product on the deck, you can use it on fences, shingles, and outdoor furniture.
The color you get matches the stain, and the texture is excellent. This product is superior to any other product you may have tried in the past and could outlive your one-time purchases by far.
What We Liked Most
It beads up and repels the moisture completely.
It also protects the exterior wood from strong UV waves, water damage, and snow, so you'll never battle mold. 
Though one coat is enough, applying a second one will make your neighbors envy your deck.
It is easy to clean up even after using the oil-based formula.
It is simple to apply.
It is durable
It will make your deck look brand new, even if it is a couple of years old. 
What Could Be Improved
---
8.
Best Coverage Semi-transparent Deck Stain

– Olympic Stain 56500-04 Maximum Waterproofing Sealant 570/4.4
Olympic Maximum Wood Sealer For Decks, Fences, Siding, and...
Weather-ready application allows you to clean and stain on the same day in temperatures down to 35 degrees fahrenheight, deck is ready for rain in 8 hours
Penetrating formula delivers enhanced protection; clear waterproofing deck and fence sealant
Easily clean up with soap and water
Suppose you are looking for a semi-transparent stain that has offered superb UV protection to wooden surfaces. In that case, your search stops with this product.
The Olympic stain has been in the market for close to two centuries doing what they know how to best- protecting your wood from weather elements while magnifying its beauty.
The stain is also resistant to mold. To get good results, keenly follow the instructions on the can to the latter.
Before staining, ensure that your deck is free of algae, mildew, mold, and dirt. Seal off the surfaces that you do not need to stain.
Avoid direct sunlight as it will cause the stain to dry too fast and not penetrate the wood well. If you use a semi-transparent toner, start applying a light coat with a roller, paint pad, or a good quality brush.
Do not forget to treat the joints and edges of the wood for great results. Also, pay close attention to the weatherman.
What We Liked Most
Its price is reasonable, and the quality is good.
It stirs very quickly and goes on nicely.
It has superb coverage and is very accurate.
It is durable, and the surfaces look great.
It protects the wood from weather elements such as rain and UV rays. 
The stain color matches the color you see on the front of the can.
It is affordable
What Could Be Improved
---
9.
Best Semi-transparent Wood Stain for Old Deck

– DeckWise Ipe Oil Hardwood Deck Semi-Transparent 100 VOC Natural Finish
DeckWise Ipe Oil Hardwood Deck Semi-Transparent 100 VOC...
RESTRICTED: Ground Shipping ONLY! VOC emissions are compliant in all Contiguous US states including the California South Coast AQMD jurisdiction.
The low 100 g/l VOC formula of Ipe Oil minimizes bothersome and harmful odors.
For use on Ipe, Tigerwood, Cumaru and other exotic hardwoods on decking, railing, fences, outdoor furniture and all other exterior wood surfaces. Also compatible with American hardwoods.
DeckWise Ipe oil is suitable to use Ipe, Cumaru, and other tropical hardwoods on outdoor furniture, fences, railings, and decks.
It penetrates the wood well, giving it exceptional protection from water and other weather elements.
This wood stain outdoor furniture lowers the chances of cracks and warps occurring. This product enhances the natural wood grain and lets it show beauty. DeckWise Ipe oil also works with American hardwood.
One gallon is enough to cover a distance of three square feet. This product works exceptionally well, but be cautious and wear a good quality mask. Its fumes are somewhat intense.
But the good news is that you can spend a few bucks and go for the no smell formula. When applying, do not allow it to pool.
Otherwise, you'll grieve at the mess it creates to clean it up. It is easy to apply, but you have to wipe it off after ten or fifteen minutes, depending on how dry your wood is.
You'll have to deal with a sticky film if you don't. It is a good quality product, but it may stain darker than expected.
What We Liked Most
It is easy to work with
It has good coverage.
One gallon can cover 300 square feet- so if your deck is smaller, you'll have some leftovers for next time.
What Could Be Improved
It's damn expensive
It'll not be very durable in the wet climate.
---
Semi Transparent Deck Stain Comparison Table
How to Choose the Best Semi transparent Stain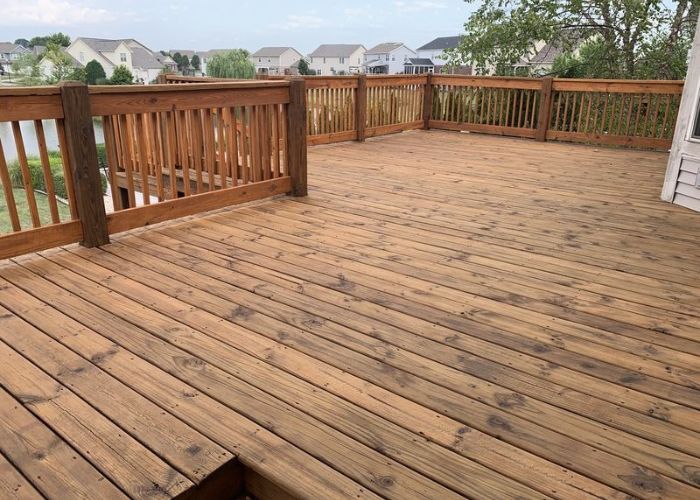 The correct deck stain can bring out the natural beauty of wood grain while prolonging its life by safeguarding it from sun and water damage.
But with so many semi-transparent deck stains flooding the market today, how can you pick the one appropriate for your unique wood?
We understand it can be tricky, and that's why we have created this buyer's guide to help you grab the correct product for your wood.
Here are the factors you need to consider when buying a semi-transparent wood stain.
Type of the Wood
Before buying the best deck stain for your project, think about the type of wood used in your deck. Is it hardwood? Is it softwood?
If it is softwood, buy a stain appropriate for softwood and follow the manufacturer's instructions when staining.
Odor and VOC Level
The last thing you want to do is develop respiratory diseases due to the smell emanating from the stain after finishing the job.
Therefore, it would be best to look into a semi-transparent stain with a minimal odor and VOC level.
You find this info on the can or on the website under the product description section if you are buying online.
Color
The best semi transparent deck stain color is clear because it lets you see the natural beauty of wood.

The many different shades and textures in nature make for an interesting background that will add character to your deck without compromising on durability.
Think about the color of your deck before settling on any semi-transparent wood stain. You want to buy a color that will make your deck stay in harmony with the rest of your wood in the home.
Consider the color of your trim. This method will make your deck stick out against the field of your house, creating a harmonious look that still magnifies the design of your deck.
Age of the Wood
It is good to understand the age of the wood you need to stain before investing in any stain. Also, understand that a newer deck works perfectly with semi-transparent deck stains.
Nonetheless, if your deck is old, go for darker stains. Darker stains easily conceal flaws brought about by years of staining plus wear and tear of the wood.
The coverage area and the size of your deck
A deck's average size ranges between three hundred and four square feet. So, consider the size of your deck when choosing a deck stain because it will determine the number of gallons of paint you need to buy.
Also, the number of coats you need to apply will determine how much stain you need to use.
Selecting the perfect wood deck stain for your deck is dependent on a variety of factors, including the age and condition of the deck, plus the type of stain that has previously been used.
You should also think about how long you want the new stain to last and how much time and effort you're willing to put into the prep work and application.
Advantages of Using Semi-transparent Stain
.You can see the wood grain without compromising the protection your deck requires to withstand elemental damage.
It fills in the tiny gaps that enable moisture to permeate wood and decay it from the inside.
They protect your wood from rot, mold, and mildew. They also protect the wood from moderate to mild UV rays, which causes the wood to break and fade prematurely.
They do not peel off as paints eventually do.
Semi-transparent stains are usually appropriate for decks, chairs, and tables that will be forever outside because they possess an anti-fungal aspect that inhibits mold and algae.
Semi-transparent exterior stains are durable and easy to apply. It's relatively easy to clean up after use, and some of them do not stain your hands.
They are affordable and come in a wide range of colors to give you many options to choose from.
They dry up a bit faster and save you a lot of waiting time. In addition, these stains are odorless and non-toxic.
How to Stain a Deck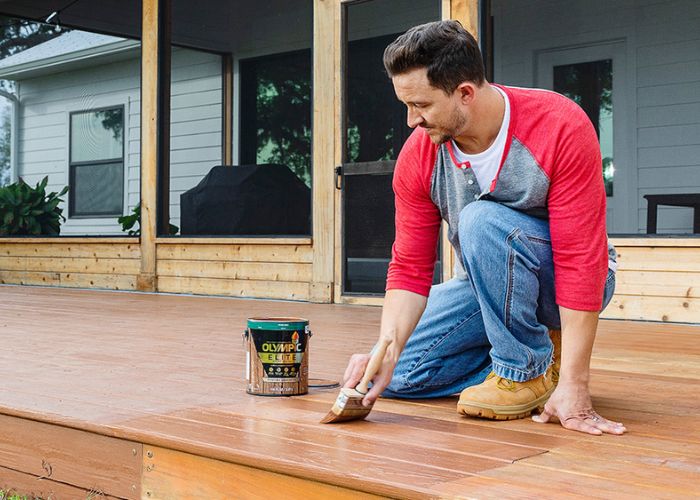 Your deck is constantly exposed to adverse weather conditions such as sunlight, rain, snow, and frequent red wine spills, and barbecue sauce year in year out.
Staining your deck plus occasional refinishing are crucial steps you require to keep your deck looking fabulous for years to come.
Here's how to stain your deck.
Materials Needed
One or more gallons of high-quality deck stain.
Broom.
Dropcloth.
paint-pad tray
3" paintbrush
painter's tape
paint pad.
Paint pole.
paint stirrer
pressure washer for old decks
Step 1: Sweep the Surface Thoroughly
Before staining the deck, ensure it is free of debris and all types of dirt. You should start the process on a sunny day with no rain forecast for at least two days. This is because some stains do not do well on damp surfaces. Wait for the deck to dry before you start staining.
Use a broom to sweep the deck.
If your deck is old, you must pressure wash it before staining using the lowest achievable pressure setting.
Step 2: Develop A Staining Plan
Establish a starting and stopping spot allowing for easy entry and exit from the deck. This removes the chance of becoming stranded in a deck corner while the stain dries.
Step 3: Seal Off the Areas You Do Not Need to Stain
Shut off any area you do not want to stain. After all, you just want to spoil the deck only.
So, tape the zones where your exterior wall meets the top of the deck with painter's tape. The tape will shield the walls from the staining of your deck.
Step 4: Start Staining the Tray
Place a drop cloth over the deck section that you intend to stain last. Put down a paint pad tray and a gallon of your chosen stain on the drop cloth.
Blend the stain with a paint stirrer to certify that the stain is mixed correctly.
Step 5: Connect the Pole to the Paint Pad
Attach a paint pole into the back of your paint pad. To get the most remarkable results, make sure the fit is snug.
Step 6: Use a Paint Pad to Stain the Deck
Immerse the paint pad into your tray and start applying a solid coat of stain to the whole area of the deck. After completing the surface, start applying the stain to the sides of your deck using the paint pad.
If your paint pad is not covering the interior spaces between boards, try a one-inch paintbrush for better coverage.
Note. Even if you choose the best semi-transparent deck stains, you will need to refinish your deck regularly. To keep your deck looking nice, refinish it when the first indications of deterioration appear.
Simple Tips to Consider When Applying the Best Semi-Transparent Exterior Deck Stains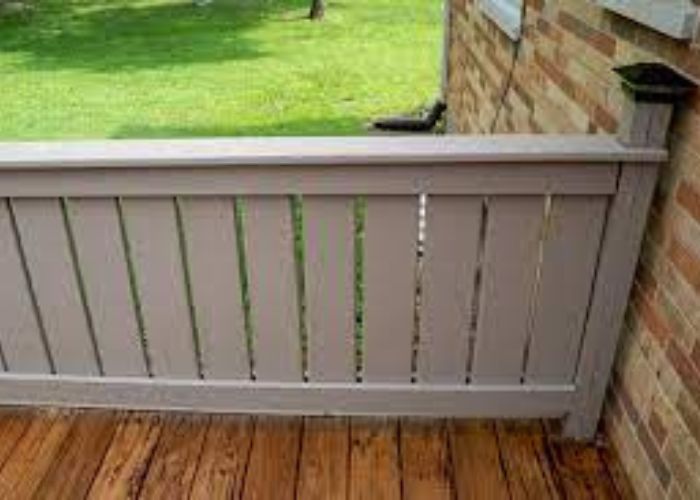 Water, whether it's hammering rain or truckloads of snow, wreaks havoc on the finish of your wood deck. If your deck stain resists moisture, it means it is still protecting the wood. If not, the time to stain again is ripe.
You do not want to invest your money, time, and effort in staining your deck and then watch your hard work go down the drain. Instead, you need to reap the benefits thereof. Use the tips below to help you enjoy the fruits of your labor.
Examine the Weather Forecast
Wood stains will not adhere well to moist wood and may crack or peel. The best time to apply the stain is when it has not rained for a few days, and the weatherman calls for at least three days of dry weather.
Moderate to low humidity fosters rapid drying. Know that staining your deck in direct sunlight also has its fair share of problems. The sun causes the stain to dry too fast, and the wood will not absorb it as needed.
Also, prep your surface well, buy a stain that matches your wood type and apply thin coats.
What Are the Types of Stains You Should Use For Staining A Deck?
Your deck is one of the most famous and desired additions to a home's exterior. It expands your living space and provides you with a place to entertain the guests or relax during the summer months.
Many products are available on the market for building a deck. Still, wood is the best option due to its undeniable beauty and durability.
However, wood alone does not generally withstand the elements excellently. An untreated, exposed deck can rust or rot with time. That's why it is critical to treat and stain your deck frequently.
So, the question is, which types of stains should you use for staining a deck?
Well, let's find out.
You can use either water-based or oil-based stains.
Water-Based Stains
Although most water-based stains do not penetrate wood well, they are long-lasting. Nonetheless, some brands use supplements to fix this problem and curb cracking and peeling.
Some water-based semi-transparent deck stains last for three or more years. However, the refinishing process can be challenging as you have to sweat it out, removing the old stain before reapplying.
Oil-Based Stains
Oil-based stains contain special oils such as linseed, tung, and soy.
They are also easy to maintain. Nonetheless, oils are different.
Oils such as linseed are food for mold, encouraging the mold to grow. So, it is critical to combine linseed oil with mold-resistant chemicals or use a different oil, such as tung.
Oils permit the stains to permeate the wood, enabling them to adhere to the wood more effectively.
Though you need to reapply the stain after a year or two, you do not have to think about getting rid of the old stain. You only need to clean it and do the touch-ups as required.
FAQs
These are the questions that people frequently ask regarding the best semi-transparent stain.
Which Transparent Deck Stain lasts the Longest?
Solid, semi-transparent wood stains or transparent wood stains are the most resistant to weather and durable. Semi-transparent stains have a hue similar to sap from a tree, allowing some of the natural color of the wood to show through the stain's shade. To assist you in making an informed decision, we've prepared a comparative guide on solid deck stains vs semi-transparent deck stains.
What is the best stain to use on wooden deck, transparent or semi transparent?
Choose clear, transparent, or semi-transparent stains for newer wood to allow some grain to show through. Semi-solid stains are a good bet for decks that have seen their fair share of barbecues. You'll still see the grain, but you'll be able to conceal more of the wear and tear on your deck.
Can I Stain A Deck Without Power Washing
Whether it's a new deck or an ancient deck that's been exposed to the elements and needs restaining, you must clean up all the wood thoroughly before staining. If there is a pile of old stains on the deck, the job becomes more complicated, but you can still stain it.
Is One Coat of Semi-Transparent Stain Enough?
It depends on the type of wood surfaces and the quality of the stain you are using. Also, it depends on the color you want to achieve. So, one person can apply one coat, and another can apply three coats and be satisfied with the results.
How Long Should I Let My Wood Weather Before Staining It?
You should not wait for it to waste away for a long time before showing it some love. Instead, stain it when you notice the first signs of deterioration to give it more years to live.
How Do I Know It's Time to Restrain My Deck?
The frequency of staining your deck depends on the type of wood used and the staining products. To decide whether the deck needs total restaining or Thin-layer chromatography ( TLC), pour some water on it. If the water just beads up and rolls away, the great is in excellent condition. However, if the water gets absorbed and stays on the wood, apply a sealant immediately, or begin a new protection layer. If the water absorbs and sticks to the wood, apply sealant or stain to begin a new layer of protection.
Learn more here on staining a deck that is already stained.
What is the Best Semi transparent Deck Stain?
Our top pick for the best semi-transparent stain for decks is the Ready Seal 512 5-Gallon Pail Natural Cedar Exterior Stain and Sealer for Wood.
It is affordable, durable, easy to apply, and offers superior protection against water, mold, mildew, and UV ray damage. Plus, the stain is waterproof and it won't fade or discolor over time, so your wood will always look its best.
Wrap Up
As you've seen from your review, semi-transparent exterior stains are a good option for those who want to see the wood grain through their finished product.
This is a popular trend because it can make an older deck look new again, and you don't have to worry about painting over any of the natural materials. Let us know what your experience has been with these semi-transparent wood stains!