To protect your exterior wood furniture and enhance their appearance, you'll want a stain that offers protection against mold, mildew, and moisture while preventing fading.
However, exterior wood stains come in different types, colors, and transparency. As a result, finding the perfect one that meets your needs is no walk in the park.
Here is a quick guide to help you find the best stain for outdoor wood furniture.
Our Top Picks
Best Stain for Outdoor Wood Furniture
Best Stain for Outdoor Wood Furniture Reviews
1.
Best Overall Exterior Wood Stain

– Ready Seal Exterior Stain and Sealer

Sale
Ready Seal 512 5-Gallon Pail Natural Cedar Exterior Stain...
Requires no primer. Ready Seal is darkest when first applied. It reaches its true color in approximately 14 days. Do not apply Ready Seal over painted or newly stained surfaces. Sealed surfaces inhibit penetration.
May be applied using sprayer, roller or brush onto the woods surface.
Requires no back brushing and will nerver leave runs, laps, or streaks.
If you are after the best stain for your outdoor furniture, look no further. Unlike other stains, this oil-based formula by Ready Seal doesn't need prior priming.
This makes the staining process easier. Don't apply this product to painted or stained wood since they limit penetration. Also, the finish doesn't require a wet-line application and blends well with the surface.
Moreover, it works in any temperature range, allowing you to use it in any outdoor condition. It features easy maintenance without sanding or stripping the surface when reapplying.
Depending on the outdoor weather, the finish takes 48-72 hours to dry. Use a roller, paintbrush, or sprayer to apply the finish on surfaces. The formula doesn't need back brushing, so you won't have laps, streaks, or runs to deal with.
For spray applications, you don't need to thin or dilute the stain. While it will deliver a dark finish when first applied, the actual stain will reveal itself within two weeks of drying.
This product penetrates deep into wood fibers, making it resistant to water and sun damage. Besides its goof-proof application, it features anti-mildew and anti-mold properties.
Use this option to protect your outdoor furniture and fences against UltraViolet rays.
What We Liked Most
Protects against sun, mold, and water damage
Doesn't leave laps, streaks, or runs
Offers great surface coverage
High penetrating ability
No primer required
What Could Be Improved
Lengthy drying time
Difficult to clean
---
2.
Best Budget-Friendly Exterior Wood Stain

– MINWAX Wood Finish Stain
1 qt Minwax 70009 Cherry Wood Finish Oil-Based Wood Stain
RICH EVEN COLOR – Minwax Wood Finish is a deep penetrating, oil-based wood stain that provides beautiful color and enhances the natural wood grain in one coat. It's perfect for interior staining projects such as wood furniture, cabinets, doors and more.
QUICK DRYING – Staining interior wood has never been quicker. The special formula allows it to deeply penetrate wood pores within 5 minutes of application, resists lapping, and dries in two hours, making all your wood projects quick, beautiful and easy.
EASY TO APPLY – Use a clean cloth or wood stain brush to apply this wood stain in the direction of the grain. Wait 5-15 minutes and wipe away excess stain. The longer you wait, the darker/richer the color. Reapply coats for deeper color.
This is the finish for you, especially when you're working on a fixed budget, This oil-based product provides a rich, even color, and enhances the natural wood grain.
With this single-coat formula, staining outdoor furniture has never been easier. Besides featuring a fast-drying time of two hours, it also penetrates wood fibers easily, and resists lapping.
The product leaves your outdoor wood projects beautiful, appealing, and long-lasting. Moreover, this finish features an easy application process using a stain brush or cloth.
Apply in the direction of the wood grain and wait for 5 to 15 minutes before wiping the excess stain away. Minwax wood finish comes in 8 different colors.
This makes it the perfect choice for your deck and porch, among other outdoor furniture. Besides its affordable price, you can use it on both stripped and bare wood.
Not only does it emphasize the original surface color, but also delivers a matte finish. Since 1904, Minwax has been a leading producer of wood care and wood finishing products.
While you can use it on unfinished wood exteriors, this product delivers a lighter coat. As such, you'll need several coats for superior effects.
Besides outdoor furniture, you can use this product to refurbish weathered indoor structures.
What We Liked Most
Fast drying time
Easy application
Comes in various stain colors
Great for both indoor and outdoor wooden surfaces
What Could Be Improved
Features a lingering odor
Requires several coats
---
3.
Best Fade-resistant Exterior Wood Stain

– THOMPSONS WATERSEAL Stain
Thompson Waterseal stain has established itself as a reliable waterproof furniture stain. The product features a unique all-in-one formula, which serves as a stain and sealer.
With this finish, you don't need a separate sealer, which saves you money and time. Since it adds some color to the wood, use this option to restore the original appearance of faded wood.
I recommend this finish for all types of outdoor wood. It delivers a reddish color which turns brown as the finish dries out.
Despite the slight tint in color, the surface maintains a natural look with visible grains. The product requires 1-2 hours of dry time, depending on the weather conditions.
After drying, it offers protection against water, mold, and UV damage. To apply this finish, use a brush or roller. For perfect results, prepare the wood using a fine-grit sandpaper and wash with soap and water.
This will prevent peeling of the formula while ensuring an even finish. Since the stain works on both damp and dry wood, you can apply it immediately after preparing the wood.
This semi-transparent formula comes in five vibrant colors. They include cedar, acorn brown, maple brown, harvest gold, and sequoia red.
Each color delivers a natural hue and protects your furniture without hiding the grain.
What We Liked Most
Fade-resistant
Wide range of colors
Easy application
Fast drying time
Protects against water and UV damage
What Could Be Improved
Wood preparation required
High VOC
---
4.
Best Range of Colors

– Olympic Stain Maximum Wood Stain
Olympic Maximum Wood Stain And Sealer For Decks, Fences,...
Weather-ready application allows you to clean and stain on the same day in temperatures down to 35 degrees fahrenheight, deck is ready for rain in 8 hours
Durable formula features advanced SunBlock UV defense and enhanced water proofing protection
Exclusive Scuff Guard technology and cleans easily with soap and water, eliminating the need for harsh chemicals
Olympic Maximum Wood stain offers the best value for those aiming to get the most out of a gallon of stain. This all-in-one waterproof stain and sealer prevents wood from cracking whenever it freezes.
Use this product on vertical and horizontal surfaces to protect against fading and UV damage. Despite its price, a single gallon can offer great coverage.
You can achieve up to 350 square feet for siding, deck space, and furniture with several coats. Moreover, it maintains the natural beauty of surfaces.
With its sealer properties, the finish protects wood surfaces from sun and water damage. Its unique formula allows you to use it even in temperatures below 35 degrees Fahrenheit.
Since it easily penetrates damp wood, you can use it even after a downpour. The finish comes in six ideal colors and several transparencies to suit different projects.
This product displays a distinct warm look with the perfect tone for restraining wood while displaying the grain. It is viscous enough to prevent fading that results from extended exposure to the sun.
The product is an easy applicant and doesn't drip from the brush. Use mineral spirit or a similar solvent to clean up spills or messes. Prepare and sand the surface before applying the first coat for perfect results.
What We Liked Most
Great coverage
Vibrant color options
Easy application
Thick formula
Protects against fading, UV, and water damage
What Could Be Improved
Spills are hard to clean.
Requires properly prepared surfaces
---
5.
Best Eco-friendly Exterior Stain

– DEFY Extreme Semi-Transparent Exterior Wood Stain
DEFY Extreme 1 Gallon Semi-Transparent Exterior Wood Stain,...
Water-Based Semi-Transparent Wood Stain – This water-based deck stain allows the wood grain to show through with a beautiful semi-transparent, natural matte finish. It's great for staining wood decks, fences, siding, playsets, outdoor patio furniture, and more.
Fortified With Zinc Nano-Particle Technology – It's like sunscreen for your wood. Tiny zinc particles dispersed throughout the stain reflect damaging UV rays, preventing premature graying and color loss.
Durable Quality That Lasts – DEFY Extreme wood stains are made with the highest quality resins available that have better resistance to fading and darkening.
This water-based product delivers a semi-transparent, natural matte that reveals the grain. Its formula features high-quality resins to resist the darkening and fading of wood furniture.
It features a unique zinc nano-particle formula that protects exterior wood against the elements. Don't apply it on stained or painted surfaces. Instead, I recommend using it for new projects.
Besides being easy to maintain, this product doesn't demand prior sanding or stripping of surfaces. Moreover, it is 250 VOC compliant, making it the best eco-friendly option.
Unlike other options, this formula requires a single coat even when the wood shows signs of wear. Use this high-quality stain to enhance the durability and lifespan of your furniture.
Despite being transparent, this product comes in seven distinct colors. This includes Cedar Tone, Crystal Clear, Light Walnut, Driftwood Gray, Redwood, Natural Pine, and Butternut.
The wide color range is long-lasting and allows you to take your creativity to the next level. The stain features an easy cleanup with soap and water only.
What We Liked Most
Eco-friendly
Water and UV resistant
Easy to clean and maintain
Doesn't need stripping or sanding
Durable
Fade, mold, and mildew resistant
What Could Be Improved
Doesn't work on painted or stained surfaces
Requires a wood brightener before staining
Takes a long to dry
---
6.
Best Fast-drying Exterior Paint

– SaverSystems #1 Deck Premium Semi-Transparent Stain
With SaverSystems #1 Deck Premium Wood Stain, protecting exterior wood surfaces has never been easier. This low-VOC, water-based formula offers easy application, cleaning, and maintenance.
Apply this product on pressure-treated cedar, pine, redwood, and fir, among other softwood projects. Like with most other stains, you'll need several coats for hardwood projects.
With its excellent coverage, you can use a single gallon to cover up to 100 square feet with two coats. The product penetrates wood surfaces, protecting from within.
Use it to protect outdoor wood furniture from graying from extended sun exposure. Moreover, its unique formula protects against rain and snow.
This deck stain finish comes in five colors, including cedar, light walnut, dark walnut, driftwood, and natural. This all-purpose product includes a sealant formula to prevent water from penetrating wood fibers.
It also dries quickly to the touch, leaving a flat, natural finish that enhances the beauty of exterior wood. Another major perk of using this product lies in its eco-friendly option for our planet.
With lower than 50 g/L of Volatile Organic Compound (VOC), it poses fewer respiratory risks. It is also easy to clean with just soap and water.
Since it works on damp wood, you needn't have to wait longer after cleaning before applying the stain. You are ready to go once the surface is visibly dry.
SaverSystem guarantees protection for your wood furniture with its state-of-the-art technology.
What We Liked Most
Easy cleanup process
Eco-friendly
Works as both stain and sealer
Vibrant color finish
What Could Be Improved
For outdoor use only.
Long application process
---
7.
Best Cover Range

– KILZ Waterproofing Wood Stain, Exterior, Semi-Transparent,
KILZ Waterproofing Wood Stain, Exterior, Semi-Transparent,...
A good exterior wood stain offers long-lasting protection, waterproofing that maintains the integrity and beauty of wood in variable outdoor conditions
Our 100% Acrylic formula protects wood from rain, snow and sun damage. This stain is warrantied up to 3 years on decks and up to 5 years on fences and siding (see label for details)
Use on properly prepared new to moderately weathered and unsealed exterior wood surfaces (0-10 years exposure) including decks, shingles, wood patio furniture, railings, siding, shakes and fences
This reliable exterior wood stain is the best option for those looking for a finish with the best coverage. A single gallon can cover about 250 square feet on the first coat.
When recoating, you can achieve up to 500 square feet, making it an efficient option for a tough job. Moreover, this waterproof formula protects against rain, mold, and mildew.
Similarly, being 100% acrylic, it protects exterior surfaces against the elements. Use it to preserve the beauty and integrity of wood projects even in varying weather conditions.
Use this product on moderately weathered or unsealed surfaces such as decks, fences, and patio furniture. To achieve satisfying results, stir or shake the contents before application. Use a brush, paint pad or pump sprayer to apply this finish.
Before staining, sand the target surface lightly and wash afterward to get rid of blemishes and irregular fibers. The stain displays an attractive even color that accentuates the natural wood grain.
Although it has a thick formula, the product penetrates the wood surface, protecting it from within. While KILZ offers a wide color range, redwood and cedar are the more popular options.
These colors produce a light color tint, exposing the grain. The stain comes with a 3-year warranty for decks and a 5-year warranty for siding.
What We Liked Most
Great coverage
Fast drying formula
Protects against water and UV damage
Easy to clean
Vibrant color options
What Could Be Improved
Lengthy application process
---
Best Stain for Outdoor Wood Furniture Comparison Table
Types of Stains
We can group wood stains based on their transparency and color. Also known as opaqueness, transparency indicates how solid the wood stain colors are. Here are the different types;
Opaque exterior stain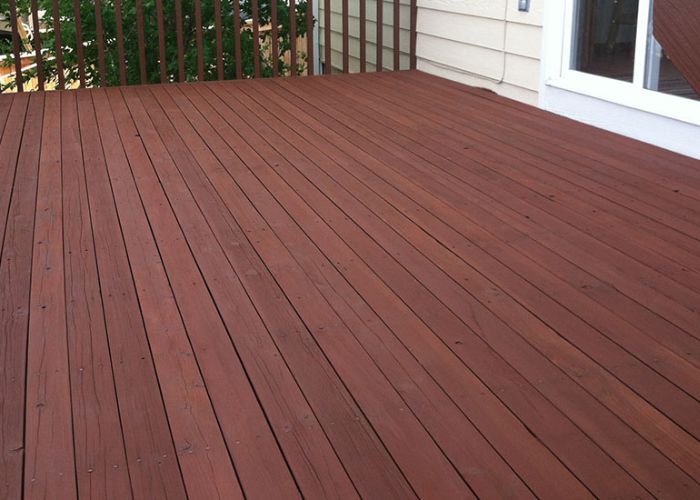 Opaque exterior stains are highly pigmented, durable, and offer more protection. When applied correctly, your solid finish should last for 3-5 years.
Similar to flat paints, applying several coats of this formula forms a film on the wood surface. This is a major downside since the film can crack and peel when exposed to high traffic.
I recommend using solid stains on old weathered outdoor wood furniture. Do not use it if you wish to enhance or maintain the beauty of wood.
It will obscure the original color and hide the wood grain, delivering a new appearance.
Semi-opaque exterior stain
Semi-opaque or semi-solid exterior stains are not highly pigmented as their solid counterparts. As such, they only hide the original wood grain partially.
Applying several coats of this stain type will achieve the same effects as opaque wood stain. So, to achieve the desired results, consider using a single coat.
This finish lasts between 3-4 years before they need recoating. Semi-solid stains perfectly blend various wood grains without getting rid of the texture. They are also long-lasting.
Semi-transparent exterior stain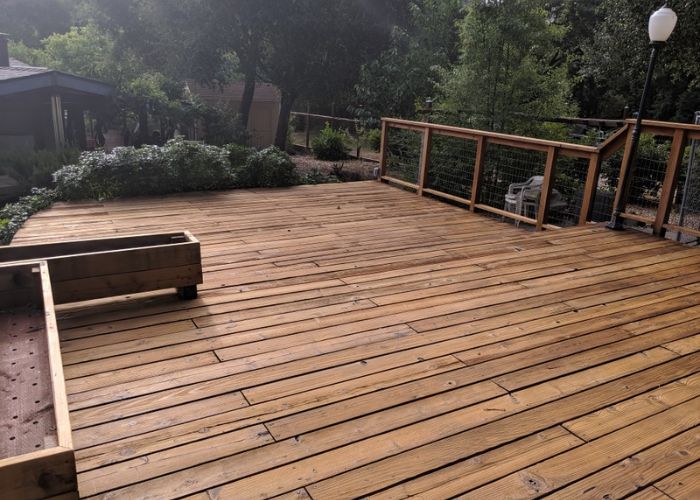 Next on the line are the semi-transparent stains. This type of finish contains enough pigments to change the color of wood surfaces but does not hide the grain.
While the surface takes on a different hue, the wood grain remains visible. They blend in blemishes better than transparent stains.
Semi-transparent exterior wood stains are the best option for protecting the wood surface. It guards against water, UV rays, and mold damage while showcasing the natural beauty of the wood.
Unlike opaque stains, the transparent formula doesn't form films on the surface and can't peel. They are quite long-lasting but will require you to reapply every 2-3 years.
Clear toner exterior stain
Also known as transparent stains, clear toner stains contain little to no pigment. While they still offer high water-repelling ability, they don't change the original color of the surface.
Instead, they allow the wood grain to show even after applying several coats. This makes them the perfect option for highlighting the natural beauty of wood, especially for new furniture.
Besides new wood, use the transparent finish on structures such as tables and desks with unique grain patterns. Also, being entirely see-through, clear toner stains are excellent for expensive exotic exterior wood.
They also work well on common types of wood. Since they feature little pigment, this stain offers less protection against the elements.
However, since they are not long-lasting, you'll have to reapply once every year.
How to Choose The Best Stain For Outdoor Furniture
There are several factors to consider when shopping for the best outdoor wood stain. This includes the transparency of the product and the intended use.
This section focuses on the most vital aspects to keep in mind to achieve the best staining experience.
Wood type
Stains work differently depending on the type of wood surface. Some work well for softwoods, while others are better off used on hardwoods.
Unlike hardwood projects, softwood furniture tends to absorb more. This results in a darker look on surfaces after applying a single coat.
Hardwood surfaces such as oak and mahogany are less absorbent and require several coats for a darker look. So, figure out the type of wood you have before settling for a stain type. You can check out the best stains for oak here.
You can determine the wood type by observing the grain. While softwoods have uneven wood grains, hardwoods tend to have a consistent and even wood grain.
Are you looking to stain your log wood? Here is the best stain for log cabin.
Oil or water based?
Besides their opacities and color, we can classify wood stains depending on the base formula. The base formula is the liquid used to mix the pigments and protective particles. Stains can be water-based or oil-based.
Water-based/ acrylic stains consist of water as their base liquid. They come in numerous color options and dry faster compared to oil-based products.
They emit less odor and feature an easy application and cleanup. As a result, they are safe for the environment and do not aggravate respiratory diseases.
On the contrary, oil-based stains take longer to dry, and messes can be hard to clean. You'll need a cleaning solvent such as mineral water to tidy up.
However, they offer longer-lasting protection by penetrating deeper into the wood fibers. Use this stain type to enhance the wood grain's beauty.
A major limitation with oil-based stains is their tendency to irritate the respiratory system. As a result, take the necessary precautions and wear a mask when applying the product.
Purpose and intended usage
How you intend to use the finish plays a huge role in determining the best stain for your needs. Use an exterior-grade stain for outdoor wood surfaces such as chairs, decks, fences, or siding.
Unlike interior stains, these products can preserve the wood in varying weather conditions. Similarly, some stains thrive well on flat surfaces such as decks, while others don't.
Horizontal surfaces are more exposed and thus susceptible to UV rays and standing water. Pick a more penetrating stain if you subject the surface to high foot traffic.
Most outdoor furniture use wood featuring attractive grain patterns. As a result, I recommend using transparent stains to amplify the grain patterns on the wood. They do not block out the grain.
Surface coverage
Pick a stain that provides the coverage upon determining the surface area you wish to cover. Ideally, to avoid inconveniences halfway through the project, pick a stain that offers maximum coverage.
As a rule of thumb, the higher the quantity, the larger the area it can cover Similarly, the stain's viscosity also determines the surface coverage.
Stains that require you to apply fewer coats offer great coverage compared to stains that require you to recoat the surface severally.
While it depends on the brand, a single gallon can of stain covers around 100 square feet for the first coat. There is no harm in purchasing the largest gallon available if you aren't sure of the size.
Besides being cheaper than paint, you can always store any excess stain for future use.
Color
Wood stains come in various colors that will determine the hue of the target surfaces. While you can choose a color that meets your aesthetics, ensure that it matches the original décor.
Although darker colors absorb a lot of heat, they are easier on the eyes and tend to last longer. On the other hand, brighter colors are more reflective and uncomfortable to behold in bright sunlight.
However, they absorb less heat and remain cooler. Similarly, applying a lighter color stain on your fence would brighten the backyard, while a darker finish might make your yard feel cozier.
While aesthetics are important, they shouldn't be the sole motivation for picking wood stains.
Related Post: How to Make Wood Stain Darker
Existing finish
The existing finish on the surface also plays a fair share in determining your choice of stain. For bare wood surfaces, use any kind of stain. However, previously coated surfaces require you to use a similar finish.
For instance, if you had previously used a transparent stain to coat the wood, it is best to use a clear toner or semi-transparent finish.
This also applies to the base liquid. In any case, you could sand the surface to get rid of the existing finish.
Budget
If you are working with a fixed budget, you'll have a limited range of options available to pick from. While this can help you save money in the shorter while, it can be costly in the long run.
Prioritize on quality over price to ensure you get the value you deserve. However, avoid high-end, ridiculously overpriced products since they deliver as much effect as the budget-friendly options listed here.
Fortunately for you, all the products on our list are affordable and of superior quality.
Steps on Staining Outdoor Wood
After purchasing your exterior wood stain, it's time to apply it to your outdoor furniture. Here is the recommended process to follow when staining wood projects.
Step 1: Safety first
Working with exterior wood stains poses several hazards. So, wear protective gear prior to application. Use rubber hand gloves, protective glasses, and a respirator mask to protect you against toxic fumes.
If you aren't working outside, say in a garage, ensure the workspace has good air circulation. Oil-based stains are flammable when wet, so dry used rags well before discarding them.
Step 2: Prepare the surface
Prepare the wood surface adequately before applying the finish. Use a brush to wipe off loose dirt and wash with mild soap to get rid of fatty or grease residue. For softwoods, use a pre-stain conditioner to enhance absorption and achieve an even finish.
Prepare all the materials for the project, including a brush and rug. For oil-based stains, use a brush with natural bristles. Synthetic bristles work well with water-based products.
Step 3: Stripping old stain
When striping old stains from the wood surface, do it in an area with adequate ventilation. You can use a sander or a chemical stripping solution to do this. For curved or hard-to-reach areas, use a fine grit sanding sponge.
Spare about 20 minutes for the stripping solution to sink in before using a scraper tool to strip the old stain from the surface.
Step 4: Sanding
Remember to sand the wood to achieve a smooth surface. Use fine-grit or coarse-grit sandpaper depending on the level of smoothness you wish to attain. Use fine-grit sandpaper for hardwood to ensure maximum absorption of the finish.
For an even appearance, sand along the wood grain. Afterward, use a dry cloth to remove the sanding dust before staining the surface.
Step 5: Start staining
This is the primary step in the entire staining process. Once you adequately prepare the surface and have the perfect finish, you can apply the stain. Unlike painting, staining is more of a DIY process that doesn't require professional experience.
Use a brush or rag to apply the stain evenly on the surface. Start with the upper part of the furniture, working your way downwards.
Tips For Applying Exterior Wood stain
When applying your outdoor furniture stains, here are essential tips to keep in mind for the desired outcome.
Apply the stain in the direction of the grain for an even finish.
Use a pole sweeper if you are working on a larger surface on the ground. With its long handle, you won't have to kneel or bend all the time, which might strain your back.
Dry the rags thoroughly, especially after using an oil-based formula. Oil stains are highly combustible and the rags could easily catch fire.
To avoid creating a blotchy appearance, don't use water-based formulas on highly absorbent wood such as pine and cedar.
Remove the old finish and sand the wood surface before applying a fresh coat of stain.
What Are The Benefits Of Using Exterior Stain For Outdoor Furniture?
Besides accentuating the look of outdoor wood furniture, wood stain offers many benefits. Here are the top reasons for using wood stains on your outdoor furniture.
Prevents rotting
Exterior wood tends to rot with time, especially when not sealed. Besides affecting the visual appeal of the outdoor structure, rotting wood poses a higher risk of collapsing. Rot may occur as a result of mold, mildew or termite attack.
Since there is no foolproof method to stop the rotting process once it starts, coating and recoating wood projects with reliable staining products will prevent the scenario altogether.
Protects against sun and water damage
Wood can rot, crack and break when the absorbed water freezes. This may cause extensive damage to your outdoor furniture.
Similarly, unsealed wood is prone to fading and discoloration due to extensive sun exposure. Use wood stain to seal the wood and maintain its appeal.
Durable for surfaces subject to high traffic
Wood decks are prone to high foot traffic, which results in wear. While painting the surface can help, paint is not durable and will crack or peel with time.
In contrast, sealant requires little maintenance, lasts longer, and does not flake away. Use it to protect your wood surfaces.
Related Post: How Long After You've Stained a Deck Can You Walk on It
Preserve wood aesthetics
Unlike paint, wood stains do not cover the grain of wood furniture, thus, revealing its natural appeal. Since wood furniture comes in attractive patterns, use the corresponding tint of stain when customization is needed.
FAQs
Do stains protect exterior wood?
While staining highlights the natural wood grain and creates a rich color, it doesn't offer long-term protection. Without a protective sealer, wood surfaces can be damaged when it comes into contact with water or sharp objects.
How often should I reapply a wood stain?
Depending on the product brand and type, reapply the wood stain every 1-3 years. A good rule of thumb is to check for signs of fading, wearing or peeling to know when to reapply.
How many coats of stain do you need to apply?
I recommend using two coats of stain for outdoor wood furniture. However, most dense hardwoods can absorb a single coat only. Depending on the wood and stain type, apply as much as is absorbable.
Read: How long between stain coats
How long does It take for wood stains to dry?
Typically, wood stains take 24-72 hours to dry and cure fully. However, this depends on the type of wood, outdoor temperatures, and the brand of stain used. You can always recoat after only four hours of applying the first coat.
Do I need to apply a sealer after staining?
Yes, seal your wood furniture after staining to prevent damage and discoloration. While wood stain offers protection from sun and moisture damage, it mainly functions to color natural wood.
Conclusion
Your outdoor furniture will soon wear when exposed to harsh environmental elements. Use a reliable stain brand to offer adequate protection and prevent loss of visual appeal.
With the above information and recommended brands, you can easily find the perfect stain for your needs.