Plywood is a versatile material you can use in different applications. It is available in various thicknesses and grades, and you can choose the type of Plywood to use based on your plywood project.
You need a primer for Plywood to ensure durability and avoid home improvement challenges.
Failure to get the suitable primer for your Plywood puts you in a constant battle with flooring challenges such as stains, warping, and mildew growth.
You also need a good primer when painting plywood edges and not just the entire surface. But with so many options available, how do you pick a plywood primer ideal for your plywood surfaces?
We've curated a comprehensive list of primers for Plywood to help you zero in on the best popular options. Take a look.
Our Top Picks
Top 7 Best Primer for Plywood Reviews
1.
Best overall plywood primer

– Rust-Oleum Deep Green 207007 Topside Paint
Rust-Oleum Marine Coatings is a long-lasting coating resistant to abrasion and severe weather conditions. The paint, made of an oil-based formula, is flexible and easy to apply, with great leveling.
The primer dries to the touch in as little as one to two hours so that you can move on to the next thing on your to-do list. It's only suitable for fiberglass, wood, and metal surfaces above the waterline.
It has exceptional gloss retention and sleek finish that help to keep your plywood surfaces waterproof and elegant for years. The paint works as advertised. However, it emits strong fumes. So, work in a well-ventilated area.
If you buy it for interior use, open the doors and windows and wear protective clothing such as a face mask and gloves. Rust-Oleum is a brand that never disappoints.
You can use a roller to apply the paint and use a paintbrush for minor touchups. It is a really good plywood paint finish that's completely waterproof.
The most important aspect of this product is the primer coat. It won't matter if there is already paint on your surface.
Just scuff it with sandpaper before applying the primer and ensure that the primer coat is flawless by lightly sanding it. Another thing to keep in mind is that you should wait 24 hours between coats after buffing.
The shine on the surface will last for six years. It'll take a month to cure fully, and it'll be tough to scratch. Be gentle with it before it cures fully to avoid scraping it off the surface.
What We Liked Most
It's simple to use even if you're not a professional painter
It's affordable
It's durable
What Could Be Improved
It does not clean up well
---
2.
Primer for plywood walls

– Rust-Oleum 207014 Marine Wood Primer
If you are looking for a top-of-the-range primer for Plywood, you could be in luck with this product. It's a good primer ideal for fiberglass and wooden surfaces.
It dries to the touch in an hour or two but leaves it to dry overnight to cure fully. One can cover 100 square feet, but it'll depend on the surface you are working on.
It sands easily. You can use the primer on bare wood surfaces and previously painted areas. Use this primer when painting Plywood, and you will be happy with your choice.
Though it's an affordable paint, it performs better than most expensive paints. It would help if you had a lot of patience when stirring it.
Scrounge the settling staff at the bottom as the paint cures exceptionally well when you mix it for five to ten minutes. It's a super primer you can use for filling holes. Remember, this is an oil-based primer.
So, it has a strong odor. Use it in well-ventilated areas at 66 degrees Fahrenheit. It sticks well to the surfaces, even on aluminum trim. When fully cured, it won't scratch off that easily.
The primer is easily sandable and gives you a nice uniform finish. You need three or four coats to conceal dark colors, and one or two thin coats will be enough to cover light colors.
What We Liked Most
It's easy to use
Affordable
It sands lightly
What Could Be Improved
Not ideal for surfaces below the waterline
---
3. Best primer for plywood cabinets – Black Epoxy Undercoat Primer Mix
Sale
Stone Coat Countertops Black Epoxy Undercoat – Epoxy Paint...
UNDERCOAT FOR EPOXY PROJECTS – Paint 2 coats of Epoxy Undercoat onto your surface before pouring your epoxy! The Undercoat will seal and bond a firm foundation for your surface, giving it a thicker and denser look, while also helping it last longer!
1 QUART (32 FL OZ) OF EPOXY-BASED PAINT – Every can of Epoxy Undercoat comes with enough paint to coat multiple kitchens! Two coats will cover up to 40 Square Feet of surface, enough for a 2 Gallon kit of Stone Coat Countertops epoxy!
USE ON A VARIETY OF SURFACES – Use Epoxy Undercoat on counters, table tops, bar tops, cabinets, appliances, MDF, plywood, and so much more! Undercoat can be easily rolled onto your substrate using a Microfiber Roller Kit!
Black Epoxy Undercoat is a unique sealant that you can use as a base for your surface, giving it a solid and denser look. It also helps the surface last longer.
This product contains a unique resin mixed with black pigment and then applied to the surface. Simply wait for it to dry and let the epoxy harden before using the surface.
Each can of Epoxy Undercoat contains enough paint to coat several kitchens. Still, it will largely depend on the size of the kitchen. Two coats of this primer will cover up to forty square feet of the surface.
And the good news is that you can use it on multiple surfaces, including cabinets, counters, tabletops, bar tops appliances, on MDF, Plywood, etc.
Use a microfiber roller kit to apply this plywood primer onto your substrate. This plywood paint gives your DIY project the classy look it deserves.
The primer is friendly to your health and easy to remove. If you notice some clumps in the paint, stir it vigorously until it's smooth. It'll complete the project at hand.
If you need to redo your dining table or bathroom cabinets, you can use it as base paint. It'll give you a nice color, and you'll be proud of your project for years.
This product is simple to apply, has a low odor, is tough, and works well as a base coat for most epoxy pours. When using it, you won't see any roller lines, and the epoxy adheres to the product beautifully when cured.
What We Liked Most
It's suitable for filling small holes
You can paint over it
It has a thin consistency
Simple to apply and odorless
What Could Be Improved
It's a relatively thin paint
---
4.
Best primer sealer

– KILZ 2 Multi-Surface Stain Blocking Sealer

Sale
KILZ 2 All-Purpose Primer, Interior/Exterior, 1 Gallon
A good primer makes paint stick better to surfaces, makes paint color truer, and lets you use less paint. KILZ 2 blocks mild to medium stains, hides previous colors, and has a mildew resistant film.
KILZ 2 Latex blocks mild to medium staining from water, grease, ink, pencil and felt marker and is ideal to hide previous colors. It seals porous surfaces and offers strong adhesion for new paint.
Use this versatile primer-sealer-stainblocker on interior/exterior surfaces including brick, painted metal, properly prepared glossy surfaces, drywall, paneling, stucco, masonry, plaster and wood.
Suppose you are looking for a good primer that enhances paint adhesion to surfaces, increases color consistency, and enables you to use less paint. In that case, your search could end with this product.
KILZ 2 is a fantastic paint containing mildew-resistant film that blocks stains and conceals previous colors. It saves you the trouble of removing existing paints to apply them.
When using this primer, you won't worry about stains from felt markers, ink, grease, and pencil, as it has a divine ability to block them. The primer seals porous surfaces and provides a strong bond for new paint.
You can use it for indoor and outdoor projects. Use it on drywall, plaster, brick, painted metal, properly prepared glossy surfaces, paneling, stucco, masonry, and wood for outdoor projects.
But do you have to paint over Kilz 2? Paint the topcoat with latex-based paints or oil-based paints. You can use this primer for almost all your home improvement projects.
It has superb coverage. One gallon will cover up to 300- 400 sq, but it'll depend on the surface you are working on. Use it on clean, dry surfaces free of dust, grease, chalk, mold, rust, and flaking paint.
Before using, stir it thoroughly to mix all ingredients. Use a brush, roller, or spray to apply. The product dries in thirty minutes and is ready to recoat in an hour.
What We Liked Most
It works as advertised
It has different application methods
You can use it on multiple surfaces
One coat is enough to give you the results you need
What Could Be Improved
Waterly but works excellently
---
5.
Latex primer for plywood

– Zinsser 02004 Bulls Eye 1-2-3 All Surface Primer
ZINSSER 1 qt 02004 White, Bulls Eye 1-2-3 Water-Based Stain...
Interior/exterior use on new or previously painted drywall, concrete, wood, masonry, metal and glossy or difficult surfaces
Water-based formula seals uniformly and will stick to surface without sanding
Dries to the touch in 35 minutes, ready to topcoat in 1 hour and covers up between 87-112 sq. ft. per quart
Suppose you have been looking for a water-based primer to seal your surfaces uniformly and adhere to the surface without sanding. In that case, your search could end with this product.
It's a high-end primer ideal for outdoor and interior use. The primer is specifically designed for use on previously painted surfaces, masonry, wood, metal, painted Plywood, glossy, and other surfaces that may be challenging to paint.
It's advisable to apply a thin layer several times instead of one thick layer to avoid painting issues. It'll dry to the touch in forty minutes, and you can recoat in about an hour.
The beauty of this product is that it has excellent stain-blocking abilities, and you can use it with any oil or latex paint. One coat of this primer will save you loads of cash and time.
That's so because it'll save you sanding trouble and enhance topcoat adhesion, letting you use less paint and still get professional results. You can use it even on varnished wood and be satisfied with the results.
Be sure not to skip the sanding step and use a damp rag to wipe off the excess primer. Please note that the quality of your final results will only be as good as your preparation.
Use it on a piece of wood that you think is beyond repair. It'll inject a new life into it and stay that way for ages.
What We Liked Most
It works even on the most challenging surfaces
It gives you nice uniform color
Affordable and readily available
What Could Be Improved
You've to prepare the surface thoroughly for spectacular results
---
6.
Best primer for plywood outside

– KILZ Premium High-Hide Stain Blocking

If you've been looking for a water-based primer that can double up as a wood filler, you may be lucky with this product.

This is a solid stain-blocking formula you can use to fill nail holes and conceal medium stains and previous paints. It adheres excellently to most surfaces. You can use it on most plywood surfaces, including plywood floors.

Apply a thin coat and let the first coat dry before applying the second coat. Lightly sand between coats before applying a top coat.

Before you start painting plywood, ensure the surface is clean by wiping off dust created when sanding the rough surface.

KILZ Premium has exceptional consistency for a smooth, level finish that seals most porous surfaces and fills in minor imperfections. It has mildewcide protection to keep mildew and mold at bay.

It's one of the best plywood paint you can use over latex or oil-based paint. Light sand the surfaces extensively and ensure they are free of flaking paint, grease, dust, mold, and chalk for excellent adhesion.

Because it contains no VOCs, has a low odor, and is simple to clean with soap and water, it is suitable for use in homes and workplaces.

Use it on interior and exterior drywall, plaster, woodwork, paneling, masonry, and brick because it has excellent adhesion to most surfaces. The primer is suitable for high-humidity environments such as bathrooms and laundry rooms.

It's such a nice base coat, and one coat is all you need to get great results. This is an excellent primer. It flows smoothly, levels well, and seals the surfaces like a beast.

What We Liked Most
Works as advertised
It's easy to use even if you're not a professional painter
You can use it on multiple surfaces
What Could Be Improved
You need to use a brush you don't mind losing 
---
7.
Primer for plywood floor

– Liquid Rubber MultiPurpose Primer and Deck

If you are looking for a kit containing primer and a deck coating, this could be your product. The bundle contains One Gallon of Liquid Rubber Multi-Purpose Primer and one gallon of Misty Gray Smooth Polyurethane Deck and Dock Coating.

The Liquid Rubber Multi-Purpose Primer enhances adhesion to a wide range of substrates, mainly wood and concrete. You can use it on multiple surfaces, including concrete, wood, high-density polyethylene, etc.

The high-quality Primer is freeze/thaw stable and quick drying. You can apply it effortlessly with a standard brush or roller. You might also spray paint it on the plywood floor.

Apply one-two coats based on the surface you are working on. Topcoat within twenty hours when the surface is tack-free. Liquid Rubber Multi-Purpose Primer is water-based and non-poisonous.

It contains no solvents and has low VOC levels. So it's safe for humans and pets. Even so, keep it away from pets and kids. Use it on surfaces free of dust, debris, oil, and all dirt for professional results.

Keep an eye out for the weather, and do not use it if the weatherman says there's rain on the horizon. Use it only when there's no rain in the forecast for a couple of days for excellent results.

What We Liked Most
Easy to use
No mixing needed
It saves you money since you buy different items at once
It has an excellent coverage
What Could Be Improved
You have to depend on the weather to use it
---
Primer for Plywood Comparison Table
Education – Factors to Consider When Buying Primer for Plywood
Plywood surfaces are often susceptible to scratches and stains that diminish their appearance. Primer can help protect your wood surface from damage.
Primers work in two ways. They seal the wood so that it doesn't absorb too much paint, and they provide a good surface for the color to stick to.
You use a primer to help you get a good paint finish. A primer also blocks smoke stains, water, tannin, or grease that could show through the topcoat and ruin your results.
You use a primer to enhance topcoat adhesion, so your paint lasts longer and looks better. It is crucial to choose your primer based on what kind of project you are doing.
For example, if your project requires hiding imperfections in the wood, you would want an oil-based primer. If you want something more durable, water-based primers may be better suited for you.
Some primers contain latex enamel that enables them to dry faster and give surfaces a semi-gloss appearance. Here's the drying time of primer paint.
Before Buying A Primer for Plywood, Consider the Following
Nature of your project
Not all primers are the same. Choose the best paint primer for the job to solve prevalent painting problems. If you're painting both inside and outside, an interior/exterior primer is a good choice.
Otherwise, go for separate primers specifically designed for indoors and outdoors. Your project and the paint you want to use will determine the primer ( basecoat) you use.
Exterior paint is more durable than interior primers. If you are working on an outdoor project, go for a primer designed for outdoor use. It'll safeguard the surfaces from mildew and reduce cracking and erosion.
Related: How Much Weight can 1/2 Plywood Hold?
The final color you want to achieve
You may need to apply some coat of paint to conceal the existing dark color. The top primer to hide dark stain depends on the results you need to achieve.
Buy a white primer if you plan to paint your walls light. Use a tinted base coat or add paint to the white primer if you need the primer to be similar to the final wall color.
Your budget
Buy a primer that fits your budget. But know that you get what you pay for most of the time. High-quality primers are pricey, but they are durable.
Cheap primers may wear off faster, forcing you to redo your project earlier than expected. If you invest in a good primer, you save money and time in the long run.
Consider the coverage, consistency, and opacity before settling on any of them.
How to Paint Plywood
Painting plywood is an easy way to make your home look amazing for a price that's within reach. It doesn't take much time, and you can do it yourself with just a few supplies.
You'll have the satisfaction of completing the job in just one day. If you want to get started right away, here are some tips for painting plywood!
Step 1: Fill holes and cover imperfections
You do not have to be a professional painter to paint Plywood. It would be best if you were prepared beforehand, and you'll do it like a pro.
Begin your painting procedure by filling in gaps, nooks and crannies, cuts, and nail holes brought about knotting or deformations in the wood's surface.
You'll be using a high-quality wood filler for this purpose. Use a good scraper or gloved hands. Smooth them over so they are at the same level as plywood surfaces.
Based on the temperatures and the product you're using, let the wood filler set for 45 minutes to one hour—sand down the wood filler that's no longer flush with the plywood surface.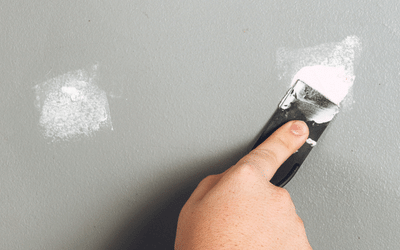 Step 2: Remove the sharp edges, sand, and clean the surface
If you value your plywood workpiece, you should think about rounding its edges. This provides you with some additional protection against damage when moving the furniture.
This also enables you to specify how round you want your edges to be. You could use power sand use fine-grit sandpaper to smoothen out the edges.
If you do not have a finish on Plywood, apply joint compound on the face of each wood plus the edges. You can use a putty knife to apply the compound and spread it evenly.
Then cover also all the holes you filled with Plywood wood filler. Let the joint compound dry for 24 hours.
Step 3: Apply the Primer
Once the surface is clean, apply the primer. You can use a brush or a paint sprayer. If you're going to use an electric spray gun, make sure it's primer-safe. Apply two coats of primer to plywood surfaces.
Let the layers dry for four to six hours. lightly sand the plywood surface between the coats to stop the dust and other particles from contaminating the surface before applying the paint.
Keep in mind that if inhaled, plywood primer can be toxic. As a result, wear appropriate protective equipment and work in a well-ventilated area.
Step 4: Apply the paint
Whether you are spray painting plywood or staining it by hand, it's critical that you clean or replaces your paint sprayer or brush after applying the desired primer.
That's so because contaminating your paint with primer might have terrible consequences on the appearance of your masterpiece. Spray painting plywood is just like painting other wood, where practice makes perfect.
If you're using a spray gun, make quick, smooth, uncut passes while sustaining coherent trigger pressure throughout the process. Again, painting plywood is similar to painting any other traditional hardwood. Ensure you the best paint for plywood for the perfect outcome.
The only difference is that you must prepare the surface thoroughly to get a smooth, uniform finish. This way, even though the execution may be challenging, your painted Plywood will look impressive.
FAQS
Do I need a primer for Plywood?
Yes, it would be best to have a primer when painting Plywood. The primer prevents the Plywood from absorbing the pigment in the paint, which would require you to apply multiple layers of paint and could result in muted colors.
How do you seal plywood?
It's advisable to seal Plywood to safeguard it from decay and water damage and ensure a durable finish. After sealing it, finish it with polyurethane or paint. Here's how to do it. Sand the sides with fine-grit sandpaper, wipe off plywood dust with a clean rag, Apply sanding sealer, lightly sand the surface, apply a final coat of the sanding sealer and let it dry.
Do I need to prime plywood before painting?
You have the option of priming or not priming your plywood project. Priming, on the other hand, is usually advised. You use primers to seal the wood's surface. Unlike paint, they will not soak as deeply into the wood but will dry faster, hence sealing the wood grain.
Final Thoughts on the Best Plywood Primer
Now that you understand how to paint Plywood, how paints engage with wood fibers, and why primer is essential, it's time to put your knowledge to the test.
Always prepare plywood surfaces before applying the primer and use a paint sprayer for professional results. You use primer for Plywood to seal the wood grain.
A good primer restricts bleed-through from tangles and other organic blemishes, as well as coloration in the bare wood.
It aids in the concealment of joints or seams and improves adhesion since primers chemically bond the paint to the wood surface.
Our top pick is Rust-Oleum, Deep Green 207007 Marine Coatings Topside Paint. It's easy to use and works as marketed.