Hands up if you love having to stain your deck every couple of years! Not even the geekiest woodworkers love this process (unless we're being paid for it, of course).
That is why you need high-quality stains to lengthen the time between applications. However, your excellent stain can be ruined by using the wrong applicator. That is why you also need the best applicator for deck stain!
Given the different ways to apply stain, we have picked the best of each and provided a guide to help you pick the right one.
Our Top Picks
Best Applicator for Deck Stain
Reviews of the Best Deck Stain Applicators
To come up with these wood stain applicators, we considered the type of stain, deck condition, budget, and skill level.
Whether you're looking for a brush, roller, or deck stain pad, we've got you covered. Read on to find out which one is right for you!
1.
Best Paint Sprayer for Deck Stain

– Wagner Spraytech 0529091 FLEXiO 5000

Sale
Wagner Spraytech 0529091 FLEXiO 5000 Stationary HVLP Paint...
PERFECT FOR A VARIETY OF PROJECTS: The FLEXiO 5000 paint sprayer is great for applying a superior finish on furniture, walls, ceilings, cabinets, trim and more
PORTABLE PAINT SYSTEM: The turbine sits on the ground, keeping the weight on the floor and reducing hand fatigue for long projects. It then delivers air power through the hose to spray unthinned coatings
TWO NOZZLES INCLUDED: New spray nozzle provides an improved spray finish and is ideal for spraying larger jobs. The Detail Finish Nozzle is best for small projects and fine finishing. Spray patterns include horizontal, vertical, and round
When working on a large deck, nothing beats the speed of a paint sprayer. So, if you have a small deck, you probably shouldn't get a paint sprayer unless it's the Wagner Flexio 5000.
This is one of the rare high volume low pressure (HVLP) sprayers that is great at precision work. This applicator comes with two nozzles.
The Spray nozzle can handle large objects like your deck boards, while the detail finish nozzle is perfect for railings and posts.
You also get three spray patterns: horizontal, vertical, and round, which means that you can spray in between the boards with ease.
One problem you often find when using a brush or pad to apply deck stain is applying too much at a time.
The Wagner Spraytech combats this issue by giving you the ability to control the airflow and the material content in each blast. This will allow you to get just the right amount of stain on your deck.
Another advantage this unit has over other applicators is that this places very little stress on your arms. The turbine sits on the floor, so you only have to wave around the sprayer, which you can easily do with one hand.
One more thing we love about this is that the parts can be broken into smaller sections for easy cleaning. If we have any complaints is that we wish the hose connecting the turbine was a bit longer and the warranty too.
What We Liked Most
It works on both small and large projects
You can adjust the content amount
Easy to use – not heavy on the arms
Easy to clean
What Could Be Improved
The hose can be longer
Has only one year warranty
---
2.
Best Lambswool Applicator for Deck Stain

– Wooster Brush Floor Applicator
When it comes to deck stains, nothing beats the uniformity you get from a lambswool applicator, and this one is no different. The Wooster brush is made from 100% lambskin and is made to apply different wood finishes and stains with maximum ease.
This shearling floor applicator is made by one of the oldest companies in the business, which is why it is so good. While the company boasts about it being naturally shed-resistant, it isn't entirely accurate.
You will still need to remove any loose fluff with masking tape and make a few passes with a shop vac before use. Afterward, you won't have to worry about any fluff on your finely stained decks.
Wooster offers a 10-inch and a 12-inch option, but we recommend the 12-inch, ½ inch nap for decks. The larger surface will help you cover more ground quickly.
To make this easier to use, this applicator comes pre-drilled and works with a standard screw-in mop handle. There is a lot to love about the finish you get with this applicator.
While it is faster than brushing, the prep time is a bit longer, but that is the price of beauty.
What We Liked Most
It leaves an even, streak-free finish
It comes in two sizes
It is much faster than a brush
It is 100% lambskin
What Could Be Improved
It takes a while to prepare it for cleaning
It does not come with a pole
---
3.
Best Roller for Staining Deck

– Purdy Jumbo Mini Golden Eagle Roller

Sale
When it comes to brushes and rollers, it's like Purdy can do no wrong. Their Golden Eagle stain roller is no different, delivering the ease and functionality you would expect from such a terrific manufacturer.
These rollers are made of high-density polyester fabric and are suitable for both oil-based stains and water-based stains. What makes these products truly stand out is how much moisture they absorb and release.
As this deck stain roller holds larger amounts of stain than its competitors, we recommend using it for an old deck that needs a lot of stain. They also come in handy for large projects.
Of course, the main downside is that this roller for deck stain isn't great around edges, so you will still need a brush. In terms of convenience, this roller fits on all jumbo frames. Perhaps its best attribute is that you can use it on very rough surfaces.
So, if there's a chance your deck isn't perfectly smooth or has a lot of dents, this is the applicator for you.
What We Liked Most About Roller for Deck Stain
It holds a lot of stain no wonder it's the best roller for stain.
It can be used for any type of stain
It is great on rough surfaces
Great on thirsty wood
What Could Be Improved
It is a bit tricky to clean
---
4.
Best Stain Applicator for Small Decks

– Cabot Wood Stain Pad Applicator

Sale
Now, we come to the first product that was actually made for applying stain. The Cabot Wood Stain Applicator was designed to make deck staining easy, and it has surpassed its goal.
This applicator for deck stain soaks up a decent amount of stain and works it into the wood in a simple sweeping motion. It glides over the deck, helping you cover ground much faster than a brush and a roller, as you don't need a brush for the latter.
Unlike most applicators, this comes with an extendable handle. You can use it as it is for small decks or when you want to be close to the action or attach a standard extension handle (not included) for faster application.
It is difficult to find a product that gives a smoother, more uniform coat than this wood stain pad applicator. The major downside is they are best used once. By the second application, a lot of the fibers will shed.
You also can't use this on rough surfaces, as this will also ruin the fibers.
What We Liked Most
It works really quickly
It yields a very smooth finish
It can be used for small and large projects
Easy to use
What Could Be Improved
It does not work well on rough surfaces
It is best for single-use
---
5.
Best Deck Stain Brush

– Deck BOSS by Perdura

Sale
Deck Stain Brush Applicator - Deck BOSS by Perdura - 7 inch...
✅ USE the BEST - Stain your deck in HALF the TIME and SAVE YOUR BACK in the process - The DECK BOSS is FUN to use and the PROVEN PERFORMER in the U.S. professional deck staining market. - Load up, back brush and coat between cracks in the one action - SUPER FAST application of all paints, stains, sealers to rough or smooth surfaces. (pole not included)
✅ PROFESSIONAL MONEY MAKING MACHINE - In the hands of a Professional, the DECK BOSS will save lots of time while providing a higher level of finish. This means more money in your pocket and is an absolute weapon that all Professionals and DIY's should have at home or in the work van.
✅ #1 RATED DECK STAIN/PAINT BRUSH ON THE MARKET - A must have coating tool for any professional or DIY - See what our Professional and DIY customers are saying about DECK BOSS from the reviews.
Next, we have a brush that was made for decks. Deck Boss stain applicator was made for professionals who want the efficiency of a brush and the speed of a roller.
The 3-inch long filament allows you to soak up a lot of stain in one dip, while the 7 x 2-inch brush covers a lot of deck with every stroke. With this deck stain brush applicator, you are able to cover the stain and the cracks in one swoop.
That is why some users boast that they have been able to reduce their work time in half, compared to rollers, some pads, and even spraying. The best way to use this is by attaching it to a pole, although you can also hold the brush directly.
However, using a pole is what helps you save time. As this product was made for decks, it can handle rough as well as smooth surfaces.
While this brush is significantly more expensive than most, it is reusable, and it has great coverage, so it will save you money in the long run.
The only issue you might have with this deck stain brush applicator is that the bristles are a bit soft, so you might experience a bit of dripping.
What We Liked Most
It covers large areas quickly
It saves time during the application
It works on both rough and smooth surfaces
Works with an extension pole
What Could Be Improved
It has soft bristles that run
Not suitable for small decks
---
6.
Best Deck Stain Pads

– Mr. Long Arm 0350 Woodmates 12-Inch Premier Stain Applicator
When you think of deck staining pads, you should think of speed. Yet somehow, Mr. Long Arm has found a way to kick it up a notch!
This 12-inch wide applicator allows you to coat two boards in one pass, making it one of the fastest and most efficient products on the market. To make your job even faster, this applicator soaks up more stain than its competitors.
The main problem you will find with stain pads is that they can't stain between the cracks, but not this baby. This applicator can be turned on its side to finish between the deck boards with nearly the same precision as a paint brush.
When working on large projects, you'll be glad to know that this applicator is replaceable. It has a hook and loop system to make it easier to swap pads.
However, you can also rinse the pad and reuse it. As this is tear-resistant, you can use the applicator on rough surfaces. One other nifty feature is that the pad wraps around the front.
The edging guide will prevent you from applying stain on sidings. You can use this product as is or with an extension pole to make work quicker.
The one drawback is that the head swivels a lot when you need it to be straight, although you can solve this issue with a temporary screw.
What We Liked Most
It covers two boards at once
It holds more stain than others
It is tear-resistant
It is replaceable
What Could Be Improved
The end swivels a lot
The body is all plastic
---
7.
Best for Railings

– Mr. LongArm 0360 Woodmates Contour Stain Applicator
Stain applicators are great for decks but not so much for railings and spindles. Or at least that is what it was until the Woodmates Contour stain applicator came along!
This proprietary design combines the efficiency of a deck stain pad with the dexterity of a paint brush. You can flex it into stain spindles and flex out to use as a brush. It also has soft touch grip areas for better control.
The contour stain applicator is made from the same material as its deck stain applicator. It holds more stain than the competition, making it the most efficient way to stain railings and get a smooth, streak-free finish.
This applicator is tear-resistant, s don't worry about it snagging on chips. It is also replaceable, thanks to its hook and loop system. The only complaint I have is you need a paint tray instead of dipping it directly into the bucket, unlike a paint brush.
What We Liked Most
It holds a lot of stain
It is tear-resistant
It is replaceable
It works on any contoured surface
What Could Be Improved
---
Best Applicator for Deck Stain Comparison Table
Education: How to Choose The Best Applicators for Deck Stain
Let's discuss the factor to keep in mind as you shop for the best wood stain applicator and you will be sure to find the perfect fit for your project.
Different Types of Applicators for Deck Stain
Which applicator should you use to stain your deck? There are a few different types of applicators that you can choose from, each with its own benefits and drawbacks. Here are the four most common stain applicators.
Hand brushing
This is the original way of applying deck stains, although it has faded a bit in popularity. Hand brushing requires the fewest tools, as all you need is the stain bucket and the brush – no paint tray or additional resources.
This is also the only method you can't do without. At the very least, you need a hand brush for cutting in along edges. You can also use it on spindles, posts, and other hard-to-reach areas.
They are also easy to clean with mineral spirits and detergent. One advantage brushing has over other applicators is that it uses the least amount of stain.
You can apply a single coat and get a great finish, unlike most sprayers. However, brushing by hand is tedious and painful on the knees. That is why we have not included any hand brushes on our list.
Flooring brush or hand brushing with an extension pole
One way manufacturers have tried to overcome the challenge of hand brushing is by making a stain brush for deck that can work with an extension pole. With this method, you get all of the advantages of a hand stain brush, mainly great coverage.
A flooring brush, like the Deck Boss, will allow you to cover a lot of ground quickly. One advantage this has over most of the other applicators is that you can use it on rough surfaces.
This is particularly good for old wooden decks or when you can't be bothered to sand the entire deck to a smooth surface.
It is also particularly effective when applying solid stain. The major drawback, though, is that it is still not as fast as the next option on our list.
Deck stain pads
As the name implies, these applicators are made for decks, which is why they yield the best deck stain results. A deck stain pad is made of a sponge-like foam that absorbs generous amounts of stain and glides on your deck.
Deck staining pads can also be used on stairs, but they are too wide to be used on spindles. Unlike rollers, a pad won't need you to back brush after application. You can use them with solid stain and penetrating stain.
The one downside is they aren't great at deck staining between boards. However, the Woodmates replacement pads have a nice swivel feature that allows you to do that.
Stain pads are not reusable like brushes, and they also don't work great on rough surfaces. Again, the Woddmates stain pad is one exception, as it is tear-resistant.
You will still need a brush to cut in the edges, though.
Deck Stain Roller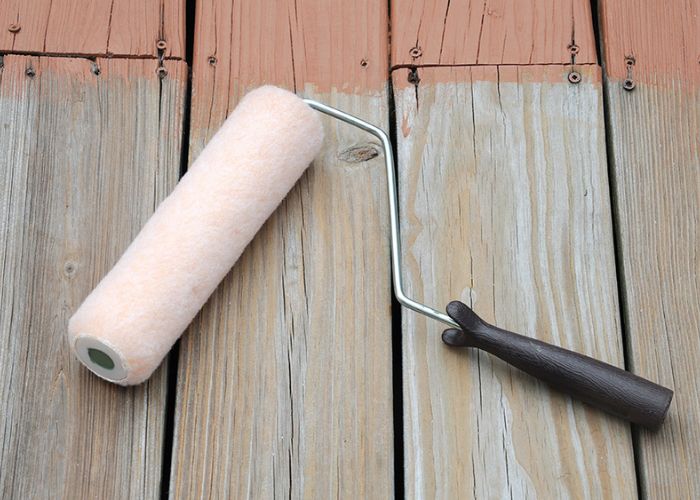 Stain rollers are another popular method of applying deck stain. The best roller for deck stain should be comfortable to use and can cover two decks at the same time. The problem is that to get the best results, you need to back brush.
Rollers are great and fast when you have two people working at the same time – one to roll, the other to back brush. If it's just you, then check the stain you want to use to know if it can be applied with a roller.
Chances are you'll be able to make do without back brushing. Alternatively, use the Purdy Golden Eagle. It absorbs more stain per application, works on rough surfaces, and applies a smooth coat.
Paint sprayer
Finally, we get to the only gadget on our list. Paint sprayers are remarkable for their speed and simplicity, especially if you use a Wagner with the turbine on the floor.
Sprayers are great for extra-large decks. Some people combine spraying with back brush, which makes it last a little longer. However, this combination will prevent you from having to apply a second or even third coat.
As a result, spraying consumes the most amount of stain. When choosing a sprayer, find one without metal, as the transparent stain can make it rust.
Related read: Best HVLP sprayer for woodworking.
How To Choose a Deck Stain Applicator
With so many ways to stain a deck and so many great products under each category, choosing the right deck stain applicator can be challenging. The steps below will help you narrow the type of applicator to use.
The size of the deck
The most important thing to consider before any project is how large the deck is. Deck Staining requires a lot of preparation that can take days, so you need an applicator that will help you move faster.
If you have a large deck, your best options are a sprayer or a pad. If there are two of you working on the project, you can use a roller.
For smaller decks, a brush on a pole is great because it works fast enough, and the brush is reusable. However, a stain pad will still be quicker.
The condition of the deck
Old decks tend to be rougher than new ones, naturally. They have seen a lot of wear and tear, and chances are you won't want to sand the entire surface before staining, only the parts with visible blemishes.
In that instance, you need an applicator that can handle rough surfaces such as a sprayer or a brush. Most stain pads and rollers can't handle rough decks. If it's not too rough, a decent replacement stain pad will work.
Everything works great on a new deck, so you don't have to worry much there.
Skill-level
The more experience you are, the more options you have. You can make any tool work for you. However, if you want to keep things simple, stick with a stain pad. It is easier to use than a roller and a sprayer.
A flooring brush is also good for beginners because it works the transparent stain into the deck without much effort, and you don't need any extra tools.
Price
Finally, you can sort out your options by how much they cost, although this is easier said than done. When factoring in the price, you need to think about the durability of the product, i.e., how far will you go before it needs a replacement?
You also need to think about efficiency. Brushes use less stain than sprayers, so that's straightforward. However, if you're working on a large project, it might be worth spending extra so you can finish on time and move on to the next one.
FAQs
What type of applicator is best to apply stain?
In general, the best applicator for deck stains is a stain pad. It is the quickest way to stain a deck and gives a buttery smooth finish. However, stain pads don't work well on rough surfaces, so a brush on an extension pole would be better in that instant. So when torn between a deck stain roller or pad, you know what to go for.
What is the best brush to use for staining a deck?
The best brush for deck staining is one with an extension pole. Brushing on your knees will get painful after a while, and it is a very slow process. A flooring brush like the Deck Boss will help you cover a lot of ground quickly and painlessly.
Is it better to brush or roll stain on a deck?
Using a brush is a much better way to roll stain on a deck, but it is much slower. Rolling won't give you a smooth finish unless you go over it with a brush, which almost defeats the aim. Brushes have better coverage and can stain between boards, which is a challenge for rollers.
Can you use a roller to stain a deck?
Yes, you can use a roller to stain your deck. Get a high-quality roller designed for staining and follow the manufacturer's directions for application. When staining a deck with a roller, use a wide 18-inch roller so that you don't miss any spots and avoid creating lap marks.
All Staining Tools on Deck
There is a lot to despise about staining a deck. Moving, cleaning, waiting, and cleaning again is time-consuming. That is why a fast and efficient strain applicator is necessary.
So, without further ado, the best applicator for deck stain is the Mr. Long Arm Woodmates Stain Applicator. It is fast, tear-resistant, replaceable, and can stain between boards. What more could you want from an applicator?
Our second-best pick for DIYers is the Deck Boss, and for pros, it is the Wagner Spraytech.
Now that we have that covered, it is time to pick the best semi transparent deck stain.