A pergola expands your outdoor space and increases the time you can spend outside relaxing or entertaining friends. Pergolas come in different types and sizes.
Choosing wood pergola is a great idea because it's sturdy, and you can stain or paint it to match your favorite color. Western Red Cedar is the best wood for pergola and outdoor wooden structures.
Cedar is a popular choice for outdoor pergolas because of its natural beauty, resistance to rot, and repels insects. It can withstand harsh outdoor elements and therefore requires less maintenance.
There're other wood options you could use for your pergola.
What is the Best Wood for Pergola?
Pressure-treated wood and western red Cedar are the best for pergola construction. Wood for pergola needs to be durable, have an unmatched ability to repel insects, and resist rot, scratch, and moisture. These woods fit the bill because they have these qualities.
The Best Timber for Pergola
1. Western Red Cedar Pergola
Western Red Cedar is a popular material for pergolas and any outdoor structure as it is resistant to insect damage.
It is the right wood for outdoor furniture and outdoor pergola because it contains natural oils that fortify it against insect infestation. It has incredible natural beauty.
It has a magnificent reddish-brown color, and if you leave it untreated, it'll turn grey as time passes. Another undeniable beauty of this wood is that it takes stains and paints exceptionally well.
So, you can add paints or stains to it to keep the original color or make it any color you want. It is the wood to go for if you prefer rustic looks.
Western Red Cedar is also a popular wood for outdoor decking, outdoor furniture, and playground equipment due to its non-splintering nature.
Western red cedar Pros
It resists cupping, warping, and shrinking
It's fire-resistant
It is durable and gorgeous without being painted or stained
Cons
Cedar is more expensive than other wood options
It fades to weathered gray, which could be unpleasant to some folks
---
2. Pressure-treated wood for the pergola
Pressure-treated timber is created by placing the wood under a vacuum and forcing preservatives into the wood.
There were concerns about the environmental impact of this type of wood, but new rules enacted a while ago mean that this is no longer an issue.
This type of wood is sturdy and can withstand loads of force. So your outdoor structures will be very sturdy. Pressure-treated pine is resistant to fungal decay and insect damage, lasting years before decaying.
It is also very low maintenance, as there is no need to constantly paint or stain the wood to safeguard it from the elements.
Pressure-treated lumber is a cost-effective viable option as it comes at different prices to help you stay within your budget.
Pros
It resists moisture, insects, and fungal.
It's easy to work with
It's durable
Con
It's pricey if you're on a string budget
---
3. European Green Oak
Look no further than European Green Oak if you're looking for a beautiful, long-lasting, on-trend pergola wood. European Green Oak checks all the boxes as the best wood custom pergola.
It is lovely, has excellent durability, and naturally resists insect infestation, rot, and moisture. It's a less maintenance wood, and you can let it age gracefully like fine wine to an elegant silvery grey.
Green oak is frequently used in structural construction as beams. Because the timber is freshly cut from the logs, moisture movement will occur as the wood dries out.
Consider this aspect when working the wood and make the necessary adjustments.
Pros
It offers sound insulation
It regulates the temperature of a pergola
It's durable so that the pergola will last for decades
Con
It's pricey but makes up for it in quality
---
4. Tropical Hardwood
You can never go wrong if you settle for tropical hardwoods. The primary types of tropical hardwoods are Iroko, Kapa, Cumaru Sapele, Mahogany, Teak, and Ipe.
These woods originated in Africa, Asia, and South America. They are a popular choice for a wooden pergola because they're durable and can withstand elements such as rain, snow, and insect infestation.
These woods are gorgeous even without staining and are used in the construction of boats and outdoor decking.
Pros
They're dense and withstand insect damage
Resilient to all elements
Resists rot and decay
Highly durable
Cons
Super expensive
Challenging to get
---
5. Modified Wood
Modified wood is a timber that has been chemically treated, compressed, or otherwise processed to infuse permanent properties that differ significantly from those of the original woods.
The goal of modified wood is to compensate for the shortfalls of standard lumber. The treatment improves the wood's performance.
The wood becomes more durable, and its dimensional stability increases considerably. Also, the treatment process makes the wood absorb minimal water and reduces shrinking and expansion.
Pros
It is biodegradable and therefore poses no danger to the environment
The wood does not warp, shrink, or expand
The wood resists moisture
Con
The wood is brittle if thermally modified
---
6. Hemlock
Hemlock wood is a softwood commonly used for light framing, sheathing, and pergola construction. It is lightweight, stable, and reasonably priced wood.
Hemlock is distinguished by its beautiful natural light reddish-brown color. Since it is a light wood, it is an excellent choice for small spaces such as wooden outdoor structures.
Hemlock wood is effortless to work with. It takes glue and screws without a fuss or muss, saving woodworkers time and money. It finishes beautifully and produces excellent results.
Pros
It takes stains well
Easy to work with
Very affordable
Fairly simple to maintain with a transparent stain
Cons
Unsuitable for humid areas since it does not resist insect damage
Since it is a softwood, it's not as durable as an oak pergola
---
7. Douglas fir
Douglas fir wood is medium-weight and relatively harder than other coniferous woods. It has minimal shrinkage and excellent stability.
The wood is both strong and pliable, and The wood is also resistant to fungal and insect infestation Douglas fir is durable even when exposed to the elements, making it an ideal choice for outdoor pergolas and any other outdoor structure.
Douglas fir trees are also known as Oregon pine trees, white fir trees, and California red fir trees. The Douglas fir wood produces a pleasant scent.
Douglas fir timber is more robust, durable, and capable of withstanding considerable impacts and weight loads.
So, your timber pergola will be able to withstand more severe weather and will last longer than other wood types. You can even use Douglas fir lumber for home construction.
Pros
Sturdy and durable
It resists decay
Simple to work with
Cons
It's pricier than other softwoods
It's easily damaged, so you've to stain or paint it to enhance its durability.
---
8. Redwood
If you are a DIY enthusiast and need a wood you can efficiently work with to build a pergola like a pro, look no further than Redwood. Redwood is stunning, long-lasting, and easy to work with.
Since the wood is solid but light, you can lift and work with it by yourself without disturbing your clan or neighbors. You can use your standard woodworking tools without any special equipment.
You'll adore the appearance of pergola redwood as it's so welcoming and full of character! Your pergola will even look more fantastic when finished with a top redwood sealer.
Pros
Effortless to work with
Vibrant color
Cons
High maintenance cost
It's expensive
---
Why is Red Cedar the Best Pergola Wood?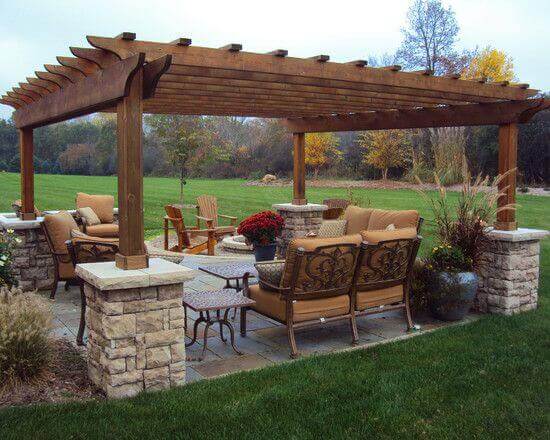 Magnificent Natural Color – Cedar's captivating reddish tones make it a favored wood species, especially for pergola. To maintain its natural beauty, apply a clear stain. Its durability and appeal make cedar the best wood for window sill.
Friendly to the environment – Adding chemicals to cedar pergolas to treat mildew and insects is unnecessary. As a result, you can be confident that the outdoor structure is safe for pets, kids, and people with allergies or sensitivities. Gardeners can also be satisfied that their plants will not come into contact with harmful chemicals that could be detrimental to people's health.
Ages Gorgeously – Although the rich reddish-brown color of Cedar is stunning when new, it also ages magnificently. The Cedar develops an appealing silverish patina as time passes due to exposure to the elements. This characteristic makes Cedar the best wood for a pergola, particularly when you consider how some wood types age and become rough and unattractive.
Cedar is also an option if you wonder what wood to use for raised beds in the garden.
Factors to Consider When Buying Lumber for Pergola
A pergola is an excellent addition to outdoor space, adding architectural interest and providing shade. It would be best if you researched thoroughly to achieve optimal value for your hard-earned money.
Here are some essential factors to consider when shopping for a pergola.
The amount of shade you want your pergola to provide
The shade offered by your pergola will be determined by its location in your backyard, plus the spacing between the rafters and planks that comprise the pergola roof.
The more closely spaced the slats and rafters are, the more shade protection they'll get. Add canopy shade or lattice to increase the amount of shade.
Even though a pergola offers filtered shade, there'll be hot and rainy days. A high-quality pergola kit may include a retractable canopy, allowing you to choose between shade and sunlight.
If you don't think about a ceiling until after you've constructed a pergola, you'll have to do the additional project to measure and install it.
Climate
The weather and other environmental factors in your locality directly impact your pergola. A pergola made of inappropriate wood will rot faster than expected if you reside in a humid climate.
Cedar gives you the best other wood options in such wet weather. It's rot and insect resistant and will look great without the considerable expense of different wood types. However, painting damp wood, even if it's cedar, can lead to paint failure and potential long-term issues, so it's important to ensure the wood is properly dried before applying any paint.
Pergola Kits vs Building a Pergola
You may possess superb DIY skills, but constructing a pergola that will last may be more tricky than you expect. Pergola kits provide a convenient way to build a high-quality pergola.
These kits come in a pre-packaged skid you can seamlessly assemble with the help of a friend. Use the plans the pergola kit manufacturer provides for reference.
Remember to speak to the authorities to ensure you're not breaking any code. Today's best pergola kits provide high-quality structures with superior materials, design, and style.
Read also: best wood to use for fences
Steel vs Wooden Pergolas
Deciding between a steel and wooden pergola requires weighing the pros and cons of each material. Also consider the cost, durability, and aesthetics.
Steel is a durable option, but this isn't always true. Wood can be sturdy when properly treated with regular maintenance.
Steel pergolas are more expensive than their wooden counterparts. They also don't need any regular maintenance unless you want to paint or treat the metal for added protection against rust and corrosion. This makes the long-term cost of ownership lower.
Wooden pergolas with cedar or redwood possess rustic charm. By applying the Japanese wood burning technique, they gain an artistic allure, creating a captivating and unique aesthetic that attracts admirers.
Steel pergolas can have a more modern, industrial look that may not be as visually appealing to some people.
When choosing a pergola, think about what you like, how much money you have, and the weather in your area. That will help you decide whether to get a steel or wooden one.
How to Protect and Maintain Your Wood Pergolas
Clean your pergola routinely
Clean your pergolas with a water solution and mild soap regularly regardless of the make or model. Regular cleaning prevents buildup and also enhances the general appearance of the structure.
Stain and seal pergolas
Wood may crack as time passes, and protective sealers wear thin. This exposes the wood to exacerbated fading, decay and splintering. When you notice the wood starting to wear, it's probably time to seal it.
Trim the vines occasionally
Climbers are commonly grown along with pergolas. A touch of foliage undoubtedly brightens the atmosphere. However, vines thicken and add unnecessary weight to the pergola.
Although most pergolas can withstand weights, it is advisable to trim the vines at least twice a year. This will lighten the load on the frame while leaving the vines alone.
Where to buy Wood Pergola
Though it may be challenging, you can buy wood and construct a DIY pergola. You can purchase wood pergola online.
Be sure that the site is reputable and has excellent customer reviews. Consider the size, location, the wood used, design, and installation to get the best deal possible.
Read more: 17 Places Where to Buy Wood for Woodworking
FAQs
How long does pergola last?
The lifespan of a pergola depends on factors like wood type, climate, maintenance, and construction quality. With durable woods like cedar or ipe and proper care, it can last 15 to 30 years or more. Regular maintenance, sealing, and addressing issues can extend its longevity.
Can you use modified wood to make kitchen spoons?
Modified wood is not the best wood for spoon carving due to potential safety concerns. It may not be food-safe and could leach harmful chemicals into food. Instead, opt for natural, food-safe woods like maple, cherry, beech, or bamboo, which offer durability and a smooth surface for safe cooking and serving.
Is red cedar a good wood for making bows?
Yes, red cedar is a good wood for bow making due to its excellent balance of strength, flexibility, and lightweight. It has been used traditionally by many indigenous cultures for crafting effective and reliable bows.
Is pressure-treated wood suitable for making an epoxy table?
Pressure-treated wood is generally not recommended for making an epoxy wood tabletop due to its chemical treatment, which can interfere with epoxy adhesion and cause discoloration. It is best to use untreated or naturally durable wood for epoxy table to ensure a successful and visually appealing result.
Is modified wood suitable for making a speaker box?
Modified wood might not be the best option for constructing a speaker box. While it offers enhanced durability and stability, its specific properties may not be optimal for sound quality. For the best wood for subwoofer boxes, hardwoods like Mahogany, Birch, or Oak are recommended due to their acoustic properties.
Conclusion
A pergola is an excellent use of outdoor space. You can use it for barbeques or simply relaxing in the half-shade, half-sun. Pergolas are undeniably beautiful and add a touch of elegance to a garden, deck, yard space, or patio.
They define areas, making them feel cohesive and intentional. The best wood for pergola should be durable, attractive, insect resistant, and require less maintenance.
The wood should also resist moisture to stop it from rotting due to constant exposure to sun, snow, rain, insects, and other elements that could destroy the wood.