Are you in search of the perfect adhesive for MDF paneling? Look no further. I tested nine products and uncovered the ultimate answer.
Prepare to be amazed as I unveil the top pick that outshines the rest. DAP 00157 4 oz Rapid Fuse Wood Adhesive has proven to be the best choice for your MDF projects.
I've delved into the nuances of this remarkable adhesive. I'll also guide you through the scenarios where this adhesive excels, ensuring you make the right choice for your needs.
Keep reading to discover the adhesive that will revolutionize your MDF paneling projects.
Our Top Picks
Best Glue for MDF Reviews
We considered the adhesion strength, ease of cleaning wood type, price-to-quality ratio, cure, and assembly time to develop the best wood glue for MDF.
We also researched real customer reviews to ensure our recommended products are well-loved.
1.
Best Glue Overall

– DAP 00157 4 oz Rapid Fuse Wood Adhesive
When choosing the best overall glue for MDF (Medium-Density Fiberboard), the DAP 00157 4 oz Rapid Fuse Fast Curing Wood Adhesive unquestionably takes the top spot.
The DAP 00157 is a game-changer for MDF enthusiasts. It sets in 30 seconds and cures in 30 minutes, making your woodworking projects more efficient.
Its repositionable feature sets it apart, allowing you up to 3 minutes to adjust before it locks your pieces in place with a clear bond. It dries clear and smooth without any weird bubbles or drips.
I've used this glue in my own MDF projects, and it's made things so much easier. The quick sticking and the ability to make adjustments saved me much time and frustration. It also works on wood, glass, rubber, and more, which is handy.
This adhesive is a revolution in woodworking efficiency. While it carries a premium price, remember you're investing in unmatched convenience and precision. The DAP 00157 offers unparalleled efficiency and precision. It's simply the best value for your money.
What We Liked Most
Lightning-fast bonding
Repositionable for precision
Versatile – works on various materials
Clear, no-foam bond
Quick curing time
What Could Be Improved
Slightly higher price point
Limited to 4 oz size, might need more for larger projects.
---
2.
Best Bang for the Buck

– Titebond 1414 16 Oz Titebond III Ultimate Wood Glue
Let's talk about the Titebond 1414 16 Oz Titebond III Ultimate Wood Glue, the Best Bang for the Buck.
While the DAP 00157 is an excellent choice for those seeking top-notch performance, the Titebond 1414 is the wallet-friendly alternative.
The Titebond 1414 is a budget-conscious woodworker's dream. I love it because it delivers solid performance without breaking the bank.
Titebond III Ultimate Wood Glue creates an incredibly strong bond, ensuring your wood projects stay together.
It's waterproof, making it suitable for both indoor and outdoor projects. It gives you versatility in your woodworking endeavors.
This glue provides more flexibility with a longer open time compared to some other wood glues. It allows you to take your time with more complex projects.
It is non-toxic, a crucial safety feature, especially if you're working on items that may come into contact with food or people.
The Titebond 1414 is considerably more budget-friendly than the DAP 00157. Also, while both glues are excellent, the Titebond 1414 has the upper hand regarding waterproofing.
The Titebond 1414 offers a longer open time, which can benefit intricate projects.
What I Liked Most
Budget-friendly option
Provides a strong bond
Waterproof for versatile use
Longer open time for complex projects
What Could Be Improved
Not as fast-setting as the DAP 00157
It may not perform as well as the DAP 00157 in extreme conditions
---
3.
Strongest Glue for MDF

– Gorilla Wood Glue, 18-ounce Bottle

Sale
Gorilla Wood Glue, 18 Ounce Bottle, Natural Wood Color,...
Complete Projects Fast: Requires only 20-30 minutes of clamp time, fully cured in 24 hours. Quickly creates an incredibly strong glue for wood projects.
Use Indoors or Outdoors: Passes ANSI/HPVA Type II water resistance. Can be used for all sorts of woodworking projects and repairs as an interior or exterior wood glue.
Versatile: Ideal for use on hardwoods, softwoods, and natural wood composites. Is a great wood super glue for a wide variety of wood types and materials. Perfect wood glue for furniture.
The Gorilla Wood Glue in the 18-ounce bottle is an undisputed champion for the strongest glue for MDF.
This product is the best for those seeking the absolute pinnacle of strength in their woodworking projects. Its extraordinary bonding power sets it apart is its.
Gorilla Wood Glue creates a strong bond that can withstand the test of time. Whether building furniture or crafting intricate woodwork, this glue ensures your creations stay intact.
It's compatible with various wood types and even natural wood composites. This versatility makes it the go-to choice for woodworkers dealing with different materials.
Gorilla Wood Glue passes ANSI/HPVA Type II water resistance standards, making it suitable for indoor and outdoor projects. It's the perfect solution for those who need reliability, rain or shine.
Thanks to its water-based formula, it's easy to work with and clean up. If you spill some while working, wipe it off with warm, soapy water.
While the DAP 00157 and Titebond 1414 excel in their own right, the Gorilla Wood Glue focuses on sheer strength. It's the top choice for woodworkers focusing on durability and outdoor use. None can quite match the robust bonding power of Gorilla Wood Glue.
What I Liked Most
Versatile – works with various wood types and composites
Unmatched strength for long-lasting projects
Weather-resistant for indoor and outdoor use
Dries to a natural finish for a seamless look
User-friendly and easy to clean up
What Could Be Improved
Requires longer clamp time compared to some competitors
It may not be the fastest-curing option
---
4.
Mdf glue and activator

– Titebond Instant Bond Wood Adhesive Thick

Sale
If you are a remodeler who takes loads of pride in the quality of your work and is looking for proper glue, buying this glue will be a big step in the right direction.
This glue works on MDF trim, Wood, plastic, and rubber, as advertised. You can use it to seal MDF and other wood-related projects. It is not messy and will not run or drip. It has a special applicator for ease of use and minimizes wastage.
So, you won't feel bad about glue wastage and that you can't do anything about it. This strong glue for Wood is better than most MDF adhesives.
To see how strong it is, rip a piece of Wood in half and try to put it back together using this Product. It will hold even if you try breaking it with your hands, slamming it on the workbench, or smacking it with a hammer.
Nothing will break its strong initial tack. You won't have any regrets and will be happy you made a great choice. This glue is thick enough to bead up on any wood repair.
You can apply it manually with a knife blade or toothpick. Apply the glue to one side of the wood repair, then spray your favorite spray activator to the side you are mating it to. It'll grab instantly.
Wait for one minute, and then sand lightly. The glue line will be unnoticeable if you properly match the two sides; the glue line will be unnoticeable.
What I Liked Most
It works as advertised.
It has superior strength because it holds superbly
It performs better than most MDF glues
What Could Be Improved
It works better than expected 
---
5.
Best Fast-Drying Wood Glue

– Krazy Glue

Sale
When it comes to finding the best fast-drying wood glue, Krazy Glue takes the spotlight. It is the ideal choice for those who want speed and convenience in their woodworking projects.
This product eliminates the need for overnight drying, which can be a game-changer for many woodworkers. In mere minutes, your wood pieces are securely bonded.
Krazy Glue's fast-drying formula works on a variety of wood types, making it suitable for a wide range of woodworking projects.
Unlike glues that need bulky clamps to hold pieces together while drying, Krazy Glue's quick bonding capabilities mean you can skip the clamps, saving time, space, and effort.
Whether you're a DIY enthusiast or a professional woodworker, Krazy Glue is perfect for intricate wood crafts where precision and speed matter most.
While the previous products each have their strengths, Krazy Glue sets itself apart by focusing on rapid drying. It caters to woodworkers who rank efficiency and swift project completion. Unlike the others, it eliminates the need for long drying times or clamps.
What I Liked Most
Lightning-fast drying, no overnight wait
Versatile – works on various wood types
No need for bulky clamps
Ideal for wood crafts
What Could Be Improved
It may not provide the same long-term strength as some slower-setting glues
Smaller bottle size compared to some other options
---
6.
Best PVA glue for MDF

– Elmer's Products, Inc E7000 Carpenters Wood Glue
When gluing MDF, it's brilliant to use a tried-and-true, old-fashioned option such as Elmer's Products Carpenters Wood Glue.
This PVA wood glue will form strong bonds between wood-based products such as MDF. And the good news is that it's one of the simplest glues to avoid MDF glue failure.
Elmer's Wood Glue's clamp time is twenty to thirty minutes. This timeframe enables you to reposition and assemble multiple joints at once so that you can finish your project quickly and move on to something else.
This also gives you ample time to clean up any glue oozing out of the joints. You'll need a damp rag or towel or a scraper.
It takes a day for the bond to cure fully. The bond formed will be much stronger than the Wood itself. This could be your go-to glue if you do a lot of woodworking.
Its bonds are as solid as a rock, hanging on MDF joints for dear life. It is easy to clean and has no odor. You can't go wrong if you prep the gluing surfaces appropriately and clamp them correctly.
What I Liked Most
It's excellent for price and functionality
Holds  well
It's a high-quality wood glue
What Could Be Improved
---
7.
Best long shelf life

– FastCap 80070 2P-10 Professional Adhesive Glue
FastCap 2P-10 Professional Jel Wood Adhesive Glue - Ideal...
Excellent For Filling - With its superior filling properties, this adhesive is perfect for effectively filling micro and medium cracks, ensuring a seamless repair every time.
Clear Results - It provides crystal-clear finish. Once dried, this adhesive becomes transparent, ensuring a flawless finish with zero visible glue lines.
Ideal For Woodworkers - Whether you're a professional woodworker or a DIY enthusiast, this adhesive is designed to meet your needs. It offers reliable bonding performance and ease of use for a wide range of woodworking applications.
MDFs are dynamic wood products that work with a wide range of glues. However, to ensure optimal compatibility, you must use the best MDF glue on the market.
And if you are looking for glue with a long shelf life, FastCap is a top candidate. These are excellent matches for the Medium Density Fibre Board.
However, opt for thick gel glue if you plan to use your glue for extended periods. And you may also need a clamp holder. Because the thick adhesive does not run, bonding on surfaces will be much less messy if you use it on them.
The glue is not limited to MDF; You can use it on other wood particles. If you want a ten-second bonding, combine it with an activator. You don't have to use an activator if you are not in a mad rush.
Without using any activator, it dries in about thirty seconds. So, if you are remodeling an object, you have a freaking thirty seconds to get your creative juices flowing.
what I liked The Most
It has a two-year shelf life
It is a great choice for vertical surfaces
It's a versatile glue and adheres to different wood particle boards
It's not messy
It has a very effective no-clog cap
What Could Be Improved
It would be best if you used an activator to get a ten-second bonding
---
8.
Best Natural Waterproof Glue

– Gorilla Ultimate Waterproof Wood Glue
Gorilla Ultimate Waterproof Wood Glue, 8 Ounce, Natural Wood...
Our Most Durable Wood Glue: The Gorilla Wood Glue Ultimate formula is incredibly strong and durable, but still easily cleans up with water post project.
Multiple Applications: It is great for outdoor woodworking projects where temperatures or moisture might be a concern, as well as interior projects that could benefit from the extended working time.
Waterproof: The Ultimate Wood Glue is waterproof and durable able to hold up in all weather conditions. It passes the ANSI/HPVA Type 1 water-resistance.
The Gorilla Ultimate Waterproof Wood Glue is the top choice when it comes to finding the best glue that can handle water and tough outdoor conditions.
This glue is the best waterproof option because it's strong, tough, and can handle moisture and weather. It's perfect for outdoor projects.
This glue is tough and can handle harsh outdoor conditions and water. It's not just for outdoor stuff; you can use it indoors too. It's great for professional builders and people who like DIY projects.
Gorilla Ultimate Waterproof Wood Glue resist water and can handle all weather. It's great for outdoor projects that might get wet in the rain or snow.
Some glues dry fast, but Gorilla Ultimate Waterproof Wood Glue gives you up to 15 minutes to work with it. That's helpful when you need to be precise.
It doesn't take forever to dry. You only need to wait 20-30 minutes with clamps, and it's fully dry in 24 hours.
This glue is different because it's excellent at keeping water out.
What I Liked Most
Incredibly durable and waterproof
Versatile for both indoor and outdoor projects
Extended working time for precision
Requires relatively short clamp time
Easy cleanup with water
What Could Be Improved
Not the fastest-drying wood glue
It may have a slightly longer curing time compared to some competitors.
---
9.
Best adhesive for MDF paneling

– E7310 Carp Wood Glue Max 16Oz
Thanks to Elmer's Carpenter's Wood Glue Max formula, DIYers, woodworkers, cabinetmakers, and carpenters can have confidence in the bonds and joints in their MDF projects.
I love using Elmer's Carpenter's Wood Glue Max formula for my MDF projects because this PVA glue bonds all types of Wood. The resulting strong bond is waterproof and resistant to heat, mold, and mildew. Keep in mind that MDF boards are not waterproof.
This MDF adhesive is much better than school glue and other glue products. Using this glue is as simple as using any Elmer product.
Just apply a thin layer of glue generously to both sides of the joint and clamp it for thirty minutes to allow it to set. Get rid of the excess glue with a moist sponge or a nice paper towel.
This glue takes two days to fully cure after setting. It'll dry to a gorgeous natural color you can sand and stain without problems.
When choosing the best glue for MDF, ease of cleaning and resistance to environmental conditions are still top priorities. And fortunately, this one from Elmer's has both.
And the good news is that you'll use it for a long time with a 16-ounce bottle. The ideal clamp time is twenty-five-thirty minutes, and it'll take an entire day to cure fully.
This glue is also very safe because it emits no tiny particles that could be harmful to your health. It is completely non-toxic.
However, what makes this Product one of the best choices is the stained formula which offers superior bonding and excellent strength.
What I Liked Most
You can use it for indoor and outdoor projects as it resists water, moisture, mildew, etc.
It creates a very strong and powerful bond
Minimum clamp time of 20-30 minutes
It has a painted formula for increased strength
What Could Be Improved
It's such a thick glue, and it can be challenging to squeeze it out
---
What's MDF?
MDF is made from heated and compressed sawdust, shavings, resin, and waxes to form uniform layers with no grain or tangles. MDF boards are stable but thick.
MDF is thicker than plywood and can be used as a building material in the same way that plywood is. It is denser and tougher than particleboard.
Most people prefer MDF for the reasons below.
Advantages of MDF Boards Over Real Wood
Unlike natural Wood, MDF boards do not contract or expand in response to temperature changes. The swelling in MDF as a result of moisture exposure is also negligible.
Because of its density, MDF holds screws and hinges better.
Medium Density Fiberboard has no grain and is simple to drill and cut without risking damage. Because of its high density, it is suitable for using machines.
Because of its smooth edges, you can easily cut and carve MDF into different designs.
It's resistant to termite and other insect infestations because it was treated with unique chemicals during production.
MDF boards have a smooth surface free of glitches and knots.
You can easily stain MDF to imitate natural Wood. You can also apply laminates and wood veneers to mimic the real wood look. Whether to paint door hinges or not depends on personal preference and the desired aesthetic.
It's easy to stain and color.
Because it is made from wood chips, it is less expensive than natural Wood. You get the look of real Wood without spending a lot of money.
Types of MDF Glue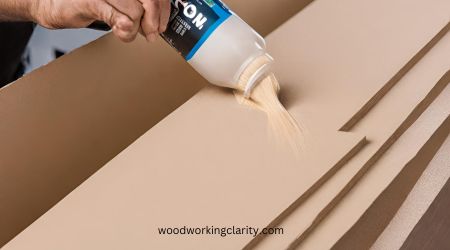 Three major types of MDF glue exist. While working on your project checklist, there may be far more options, but they are just variants of the three groups listed below.
1. PVA, or Polyvinyl Acetate
The most common types of wood glue are white and yellow PVA (polyvinyl acetate) variations. Both adhesives are excellent for indoor woodworking DIY projects.
The advantages of white glue are numerous.
They are economical, simple to use, non-poisonous, and have rapid drying times. These wood glues combine polyvinyl acetate particles with ordinary water glues.
The tiny PVA particles will then join to create an opaque, stretchy liquid that takes two days to set properly.
Whereas white PVA glue is authentic, yellow-based PVA glue is stronger and dries faster than watery white glue. When repainting or repairing woodworking projects, it's fairly effortless to sand over yellow glue.
In humid conditions, neither of these PVA glues will be farewell. As a result, unless otherwise stipulated in your Product, it is best to use PVA glue for indoor projects.
PVA is ideal for sealing and securing wood grain, tightening and strengthening fibers, thus making them a bit easier to sand.
2. Plastic resin glue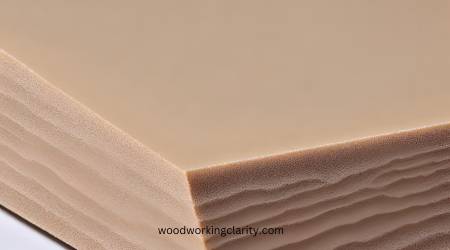 This type of wood glue is best suited for larger-scale projects such as furniture construction or outdoor carpentry. Because it contains urea-formaldehyde, this MDF glue is strong but highly toxic.
When handling these toxic substances, wearing protective equipment such as gloves and masks is necessary to stop you from inhaling the strong fumes, as they can harm your health. 
The wood glues are available in powder form, and you'll have to mix them with a suitable reactive agent, such as pure water or resin, to create a rigid plastic polymer-like bond.
The powder for plastic resin glues is available in various shades. So, you can pick a glue that matches the color of your woodworking projects.
Plastic resin glue can be challenging to remove because it's very resistant to thinners and paints. Even though the wood glue drying time is much longer, this water-resistant glue holds well once set.
Therefore, it's suitable for indoor and outdoor projects. Nonetheless, you need some experience using the glue as it's highly poisonous. The glue should not even have indirect food contact.
3. Epoxies
MDF wood works well with epoxies and resins. And because MDF boards are available in different sizes and shapes, these boards also make excellent surfaces for resin artwork.
Epoxies are a phenomenal two-part glue alternative for gluing MDF since they come in slow and quick-set options depending on your preferred drying time requirements.
Slow-setting epoxies can take up to two days to harden appropriately and require at least seven days to cure. Fast-drying or quick-setting ones can take one- to ten minutes to dry and cure in a few hours.
The disadvantage of using these materials is the cost. They are more expensive than standard wood glues. Understanding these variations helps you pick the best glue for your MDF projects.
Epoxy has the benefit of being waterproof and fills gaps and cracks in Wood very well. Some other wood glues will not adhere well if there is a gap between the pieces of Wood being glued together.
Some epoxy formulas cure slowly, while others take as little as five minutes to cure fully.
Factors to Consider When Choosing the Best Glue for MDF
Medium Density Fibreboard is a breeze to work with. It mills beautifully, is gentle on saw blades and drill bits, and when looking for the best paint for MDF, it offers excellent paintability, often surpassing many types of wood.
However, not every wood glue will work well with MDF. Consider the factors below to help you buy the best MDF glue.
– Application and adhesion strength
To spread the glue, use a brush or your finger. Avoid contact with your skin when using epoxy or plastic resin-based glue. Squeeze bottles and brushes are ideal.
Some wood glues, such as plastic resin glue, are toxic and do not directly contact food. Because MDF could be weighty, the resulting bonds must be strong.
Most PVA wood glues, plastic resins, and epoxies are excellent at bonding MDF to MDF or to real Wood. Even so, when adhering MDF to another surface (such as a wallboard), an all-purpose epoxy or plastic resin is the go-to option.
Epoxies and plastic resins create the strongest bonds in strength and durability. However, all glues form bonds that are a bit stronger than the MDF itself, so the fiberboard's authenticity ultimately determines the joint's integrity.
– Cure and Assembly Time
All glues operate on their timetable. Fast-drying glues bond immediately, and slower-drying glues give you ample time to assemble multiple MDF panels simultaneously.
Some MDF woodworkers use a combination of the two and benefit from a quick hold when assembling and a durable hold from a slower-drying glue.
It's critical to understand the distinction between setting and curing. Some types of glue are set in a couple of minutes; this is the original bond between the surfaces that binds them together.
Some glues, such as super glue, dry in as little as ten seconds, while others take thirty to forty minutes. Nevertheless, countless types of glue can take up to two days to fully cure.
Fully cure refers to the glue's time to reach its strongest hold. Super glues are a fantastic option if you're rushing and must seal MDF quickly. (Check out our guide on how to seal MDF for painting.)
Sometimes, you do not need more glue for professional results; you need quality wood glue.
– Easy to clean
The Assembly of an MDF  project can be a chaotic and strenuous time. There'll be some excess glue after all of the gluing, screwing, clamping, and doweling. Furthermore, most glues are easier to clean than other MDF adhesives.
PVA glue is extremely simple to clean. You can clean PVA glue that has not yet hardened easily with a wet paper towel or an old card scraper.
Paint thinner or acetone may be the only way to remove excess glue, though they can destroy the finished wood surface.
When using these MDF adhesives, seal off any areas where excess glue may run to save yourself the trouble of cleaning the dried glue.
How Do You Glue Two Sheets of MDF Together?
As earlier intimated, a Medium-density fiberboard, or MDF, is made from wood fibers, glue, moisture, and hydraulic pressure. The lack of grain in MDF is advantageous as it allows you to cut it in any direction.
Woodworkers and DIY enthusiasts use spline joints to connect two pieces of similar material. A spline joint is just a piece of Wood placed between two pieces of MDF to join them.
When you employ glue and clamps, an MDF joint is almost unnoticeable so long as MDF is thick. Gluing MDF boards together is simple.
Apply the MDF glue to both boards to the point where you want them to be joined and attached. Pre-drilling a few holes and screwing the MDF boards together before they dry. If you are dealing with stained Wood, here's how to use wood glue on stained Wood.
Apply a Thick Coat of Glue to Each MDF Board
Since MDF is porous, ensure you have enough glue on each board. Doing so enhances better bonding and stops the MDF joint from drying. Use a wood glue applicator bottle for dispensing to avoid messes.
In Edge Joints, Use Glues and Screws
MDF bonds are not as strong as some other wood bonds. That's why you need screws. To achieve a powerful bond, use screws, especially in corner joints.
Always choose a screw size that corresponds to the size of your MDF board.
Clean the Surface
Don't forget to clean the wood surface after you're finished. Excess glue on the surface can wreak havoc on your work. To complete this task flawlessly,  we recommend light sanding.
FAQs
What Is the Best Glue to Use on MDF?
Almost all PVA wood glues, plastic resins, and epoxies are excellent at bonding MDF to MDF or Wood.  Nevertheless, a multi-purpose epoxy or plastic resin is the best option when gluing MDF to other surfaces, such as glass or drywall.
Does wood glue work on MDF?
 Yes. MDF boards adhere well to any wood glue. Although making an MDF joint might be challenging, MDF can be glued to Wood with wood glue. Apply enough glue to both MDF surfaces for a stronger bond.
Why Is My MDF Glue Not Sticking to the Wood?
The blemish on the Wood could have been from a prior substance that lingered on the surface before you applied the finish. Before applying any glue, ensure the surface is thoroughly sanded or wiped clean; otherwise, dirt and dust can impede the adhesive's bond with your desired surface. Before applying glue, ensure the wood surface is thoroughly cleaned and sanded.
Why Is Cleaning Up the Glue Important?
Most MDF glues cannot blend seamlessly into your completed project without stainability, leaving behind ugly marks and unpleasant textures. Consequently, it is necessary to acquire wood glue that can be wiped away or sanded when dry for the best. For a more natural and seamless finish, opt for a material that is not stainable.
Can MDF glue be used to Attach Your Board to a Wall?
Yes. You can, but you need to use the strongest wood adhesive on the market. To attach the MDF panels to the wall, apply glue in a zigzag movement to the MDF and squeeze the panel tightly against the wall. Allow it to dry overnight.
Glue MDF together
MDFs are common in DIY and woodworking owing to their ease of availability and ability to carve out excellent shapes effortlessly.
Nevertheless, carpentry isn't just about quality wood. It's about using glue correctly and choosing the best glue for MDF.
We hope our comprehensive guide has taught you the art of picking a high-quality MDF glue. It's now up to you to go into the real world and select one ideal for your project.
Our top pick is DAP 00157 4 oz Rapid Fuse Wood Adhesive. It's affordable, strong, and appropriate for indoor and outdoor use.