MDF, short for Medium Density Fiberboard, is popular, especially due to its relatively low cost. The material consists of small wood fibers compacted with resin and wax under high temperatures and pressure.
MDF usually comes in smooth surfaces, which could make you wonder, is MDF paintable? The boards take both veneers and paint pretty well. MDF typically has a 150-grit smoothness from the factory, making it ready to paint.
But not all paint types can work with MDF, so you must know the best way to paint MDF and waterproof it to get the most out of it.
How to Paint MDF
Seal the edges of your MDF
Sand and Clean the Surface
Prime MDF for painting
Paint MDF Board & Cabinets
Applying your sealer
Clean MDF Surface
Apply Second Coat of Sealer
Sand Second Coat of Sealer
How to Seal, Prime, and Paint MDF Successfully
MDF is highly porous, especially at the edges. Painting is one great way to seal it and protect it from water and moisture damage. While painting MDF is simple, you must follow specific steps to do it correctly.
For instance, you need to apply a sealer to fill up the large pores before priming and painting it. More importantly, ensure you steer clear of any water-based or acrylic latex products when working with this material.
Otherwise, it can absorb the water in these products and swell, resulting in a warped bard. Such damage may be irreversible, so ensure you get it right from the get-go.
Thankfully, this guide provides everything you need to know about the process. In this section, you will find a detailed list of the supplies you will need to complete this task and a systematic procedure to follow—starting with sealing the MDF.
Tools & Materials
Protective hand gloves
Dust mask
Eye protection
Sandpaper, sanding pads
Tack cloth
Paint sealer
Solvent-based primer
MDF-friendly paint
Paintbrushes
Drop cloths
Preliminary Step: Preparing MDF for Painting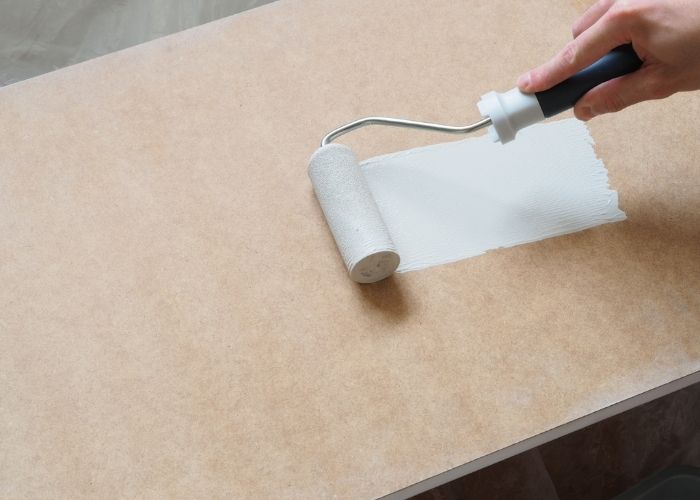 You will be using products that contain chemicals. Therefore, it is always advisable to wear protection and work in a well-ventilated area when handling such substances.
MDF generally produces a lot of dust when sanded. You don't want to inhale the dust as it can irritate your lungs, so ensure you wear a dust mask before you begin. You will also need to wear hand gloves and other protective items unless you are ready to start looking for what gets spray paint off your hands.
As part of the preparation, remove any items that might stand in your way during the project, and lay down a tarp or plastic sheeting to collect any sanding dust and liquid spills. The drop cloth will protect the floor and make cleaning easier.
Step 1: Seal the edges of your MDF
MDF boards can be custom routed or have a factory edge. You must seal the edges to accept paint properly, whichever type you have. They are typically more porous than the surfaces, so painting directly on them can get them to suck up the product.
Sealing will also ensure a smoother painted edge consistent with the rest of the surfaces. We recommend running a generous amount of drywall compound to form a solid coat over the edges to complete this step.
You can use your fingers to apply the drywall compound, then let it dry completely. This is also the time to fill any scratches and dents on the faces of your MDF boards with the drywall compound.
Painting the boards with such inconsistencies can make them appear only more conspicuous. Once dry, use 220-grit sandpaper to smoothen the edges and the faces where you applied the wood filler material.
After sanding, use a tack cloth to wipe down all the sanding dust and let it dry for a few moments.
Related: How to Paint Veneer Furniture
Sealing Materials to Use on the Edges
Before priming your MDF boards, you can seal the edges using any of these materials.
1. Drywall sealer
These sealers are loaded with binders and resins necessary for filling the porous edges of MDF, creating a uniform, even surface.
They are easy to apply; you can use your fingers or putty knife to do the job. Then, let them dry completely before sanding and wiping the sanding dust.
2. Acrylic paint sealer
Acrylic paint sealer also does an excellent job filling the pores in MDF edges, especially if it is heavy-bodied. The thick consistency means you need to apply only one coat and not multiple base coats on your project.
This sealer is suitable for all kinds of wood and faux wooden boards like MDF. Unlike drywall sealers, you want to keep the coat of acrylic paint sealer very thin to avoid running.
Also, consider choosing a color that matches your paint color or topcoat for consistency.
3. PVA wood glue
You could also use PVA wood glue to seal the MDF edges. So if you have some PVA glue lying around your garage or some other part of your home, you do not need to spend money on a different kind of sealer. You can use it instead.
When using PVA glue, check to ensure it is not waterborne. Then use a spray bottle or airbrush to apply an even coat on the edges you wish to seal.
Once done, leave it to dry, then scuff sand it to make it even and smooth to the touch. Here are other best MDF wood glues you can use.
Step 2: Apply MDF Primer
Priming MDF boards is essential in ensuring better and more even paint coverage. Ensure you use a solvent-based primer for MDF and not a water-based or latex option. The latter would cause swelling and warping of the board.
The best primer for this application should have the 'MDF primer' specification on its label. You want to stay away from multi-purpose primers too. They may not provide the desired results and might instead mess up your project.
You can apply the primer using a roller, paintbrush, or spray gun. Any of these should do the job perfectly, but a spray gun may cover the edges better, especially if the MDF has been shaped unevenly.
Two to three coats of the MDF paint primer should be adequate. And be sure to allow each coat to dry completely and sand between coats for better results.
The Best Primer for MDF
The best primer for MDF is a solvent-based primer. Zinsser or KILZ brands are good choices. Their great results may leave you unsure can you put paint over Kilz? However, it's recommended to proceed with a top coat of paint for a comprehensive and enduring finish on your MDF project.
Stay away from water-based primers because they might cause swelling of the wood fibers. As you result, you'll end up with an uneven surface that no amount of sanding would restore.
Our best choice is Zinsser Interior/Exterior Oil Primer Sealer. It is formulated for interior and exterior applications, so it will not restrict your use.
This paint primer for MDF is both a sealer and primer, with a high-hiding formula that blocks most stains and prevents any cases of color bleeding.
You can find this primer for MDF painting in a spray can and a tin option, so you can choose based on your preferred application method. However, the tin option gives you more of the product at slightly lower costs than the spray can option.
Nonetheless, spray cans are perfect for smaller projects that involve priming irregularly shaped surfaces. So, these are all factors you want to keep in mind when making your pick.
Whichever option you choose will be quick-drying on the exterior and interior surfaces, which can significantly speed up your project time.
Step 3: Painting MDF Board & Cabinets
You can proceed to paint once you have prepared the surface through the essential preliminary steps—sealing, sanding, and priming.
The paint must not be water-based or acrylic latex, just like the sealers and primers. The moisture in these paint types can penetrate the pores in your MDF boards and damage them by swelling and warping.
The best paint for MDF cabinets or boards is oil-based. It is perfectly compatible with your solvent-based primer, and you can thin it with a non-water-based solvent such as paint thinner. Unlike other wood paint types, oil paint is safe and ideal for the MDF material.
It is recommended to wear your protective gear when working with oil-based paint. A mask and eye protection may be necessary to protect you from the strong fumes these paint types typically emit.
Working in a well-ventilated environment will also help lessen the effect of such fumes from the paint. You can use paint rollers for this exercise or opt for a paintbrush or spray gun instead. Any of these applicators should do the job.
Alternatively, you could use a roller to apply the paint to the flat, smooth surface and brush or spray gun for the curved edges.
Regardless of your chosen applicator, always start with a base coat. This is ideally a very thin paint layer to allow it to dry quickly.
Let the base coat dry to the touch, then lightly sand it down before applying the second coat of the paint. You need to ensure each coat dries properly before adding a subsequent one. Otherwise, the layered coats may take longer than usual to dry completely.
Having noted a list of safety concerns, a major concern could be "do you paint the inside of cabinet doors?" Painting the inside of cabinet doors is fine, provided you use low-VOC or non-toxic paints.
Read also: Painting knotty pine paneling.
Best Paint for MDF Board
The best paint for MDF board is Oil-based paint. Oil-based paints are common and will work with any solvent-based primer on your MDF. Remember that you need to use paint thinner with oil-based paints. The paint thinner is also used to clean brushes and trays.
Our favorite MDF furniture paint is Rust-Oleum's Painter's Touch 2X Ultra Cover. As the name suggests, this product offers twice the coverage of standard paints.
Rust-Oleum 249126 Painter's Touch 2X Ultra Cover Spray...
Ideal for use on interior/exterior surfaces including wood, plastic, plaster, metal, masonry and unglazed ceramic
Oil-based formula is low odor, resist chips and provides long-lasting protection
Dries to touch in 20 minutes and covers up to 12 sq. ft. per can
That means you can get away with just a single coat after adequately sealing and priming the wood. The double coverage means you can finish the project sooner and cover more surfaces with less paint.
This can go a long way in saving you money. Whether your paint job is based indoors or outdoors, this paint will work for you; it is formulated for both indoor and outdoor use.
A coat of the Rust-Oleum Painter's Touch will go a long way in preserving your MDF project's beauty with its excellent resistance to fading and chipping.
Once you apply the coat, you can count on it to remain unchanged for the long haul.
It forms a durable finish on your boards, with its enamel formula giving the surfaces a soft finish.
Step 4: Applying your Sealer
The final step in this project is to lock in the color with a protective topcoat. Applying a hard-wearing coat of sealer over your paint will go a long way in making it scratch-resistant and waterproof.
It will also protect your MDF board from water rings and eventual discoloration. This is especially helpful for items that are handled frequently. This can mean the painted surface remains pristine for a long time.
For instance, household items like MDF furniture, shelves, or cabinets are frequently used. Applying a protective topcoat can make them resilient to take on any abuse without losing their color.
If you want to paint kitchen cabinets like a pro, this protective topcoat becomes even more crucial for achieving a flawless finish.
When applying the sealer, ensure you allow the paint to dry thoroughly before you seal MDF board. Once dry, you can scuff sand the painted surface before sealing over it or apply the sealer without sanding. 
In any case, the product you choose will come with all the application instructions. Ensure you follow these instructions to the letter for the best results.
You could go for a polyurethane finish, varnish, shellac, or lacquer. Any of these finishes will make the boards more durable and easy to clean and maintain.
Best MDF Sealer
1 qt Minwax 64444 Clear Polycrylic Water-Based Protective...
PROTECT WOOD SURFACES – Minwax Polycrylic Protective Finish protects and adds beauty to your interior wood projects, including woodwork, furniture, doors and cabinets. The clear top coat protects against scratches, spills, dirt and more.
CRYSTAL CLEAR FINISH THAT LASTS – The crystal clear finished offered in this protective coating is ideal for use over all Minwax Oil-Based and Water-Based Stains and colors, as well as all wood species including light woods like maple, ash and birch.
SEMI-GLOSS SHEEN – Give your wood projects a sleek finish with this semi-gloss clear varnish. It protects the natural beauty of the wood and offers a semi-shiny, sleek sheen for a bright, modern look. It's non-yellowing, non-ambering and low odor.
If you love the paint color you have chosen, you will love our pick for the best MDF sealer: MINWAX Polycrylic Protective Finish. It is water-based and dries to form a crystal clear topcoat.
The dried topcoat is protective against scratches, spills, grime, and any form of dirt. It is non-toxic and eco-friendly, which makes it ideal for sealing household items like kitchen cabinets.
The product comes in a can, so you can apply it using a paint roller, paintbrush, or sprayer.
In addition, its ultra-fast drying formula allows you to recoat in just 2 hours, which is quicker than most products in its range.
Since the sealer is available in various sheen levels, you can choose what you find most appealing. For example, you can opt for a high-gloss or gloss option if you prefer your MDF boards shinny.
Alternatively, you could go for satin and matte finishes if you prefer low sheen surfaces.
What is MDF Used For
Medium Density Fiberboards have a wide range of uses across different environments, including households and industrial setups. It is commonly used to make low-cost furniture due to the relatively lower cost of these boards compared to real wood.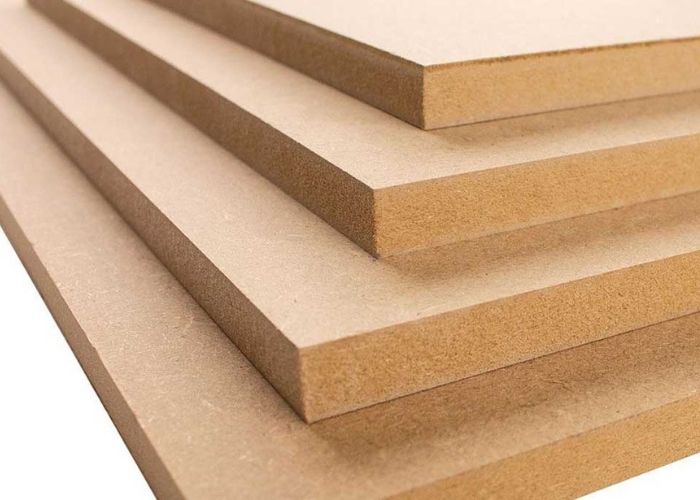 MDF boards are generally less expensive than solid wood yet significantly strong and durable. Their durability makes them ideal for most applications traditionally set aside for slid wooden boards.
Since they lack knots and are convenient to cut, they are ideal for carpentry and trimming work. Today, MDF is the most preferred material for building shelves in homes.
They can be shaped into various curves and angles, making them ideal for constructing kitchen cabinets and cupboards. Some MDF types are designed to be ultra-lightweight but just as durable as standard-weight options.
These are typically used to build projects that must be constantly moved, such as mobile homes, tradeshow booths, event setups, and theater set construction.
Finishing MDF FAQs
Does MDF need to be primed?
MDF is a composite material that is generally porous, especially on the edges. Therefore, priming the MDF board and properly sealing it is essential in preparing it for painting.
In addition, the sealer and primer help lock in the contents of the MDF composite, preventing them from being released. Priming also helps seal the many pores in these boards, significantly reducing paint wastage.
Painting MDF board without primer is not recommended. It can lead to sucking up of the paint into the pores, causing delayed drying.
Can you paint MDF?
Yes, MDF is paintable. MDF boards are already sanded from the factory to 150-grit smoothness that accepts paint pretty well. The material consists of sawdust mixed with resins and compacted under high temperatures and pressure.
The result is a porous composite material that accepts veneer and paints very well. It is also inexpensive and easy to cut, which is advantageous and makes it suitable for numerous different uses. Painting can be a great way to match the composite material to the rest of the décor when used for kitchen cabinets, furniture, and more.
How to seal MDF before painting
You can use a drywall sealer or an acrylic paint sealer on the MDF edges to prepare them for priming and painting. You can also seal the MDF edges using PVA (polyvinyl acetate) wood glue or oil-based primers.
Any of these materials should get the job done. The most common way to seal MDF boards is to use a drywall sealer. The material dries into a hard, sandable material and can be used on the edges as well as to fill any grooves on the surfaces.
What paint to use on MDF?
Always stick to oil-based paints when dealing with medium-density fiberboards. They are made of sawdust and resin composites that water can damage irreversibly.
So you want to avoid using any acrylic latex or water-based paint when MDF is involved. Hover, oil-based paints use solvents for thinning, which cannot cause warping and swelling on these composite materials.
These paints are also compatible with solvent-based primers that are the only type recommended for MDF.
Can you paint MDF cabinets?
Yes. Painting MDF cabinets is completely possible. You just need to seal the edges first because they are typically very porous.
MDF is made of sawdust, wax, and resin and compacted together under high temperatures and pressure, leading to faux wooden boards with highly porous edges.
However, the surfaces are typically smooth right from the factory, allowing easy painting. When panting these boards, ensure you use a solvent-based primer and oil-based paint.
Do not use any water-based or acrylic latex primer or paint. The boards can suck up the moisture in these products, swell, and get damaged.
What does MDF look like?
​​MDF, short for 'medium-density fiberboard,' resembles actual wood cut into well-shaped boards straight from a tree. However, they are not made up of actual wooden boards, but recycled pieces of wood pressed together with an adhesive under conditions of high temperatures and pressure.
Can I use latex paint on MDF?
Using latex paint is not recommended for MDF boards since the product is water-based. The moisture in the latex paint can cause the boards to swell.
MDF boards require the use of an MDF primer undercoat or initial sealer to cover and protect the edges that are typically more porous than the surfaces. The primer must be solvent-based or oil-based. Some experts feel that you can use any paint, including latex paint on MDF, once the piece is primed with the right product.
How to paint pre-painted MDF?
With a pre-painted MDF piece, all you need to do is sand it down using 80-grade paper. Next, apply a thin coat of oil-based paint as an undercoat and let it dry, then finish with a top coat of your choice. You do not need to use a primer in this case.
Can you stain MDF?
Yes, you can stain MDF. But the finished look of a stained MDF piece is not as aesthetically appealing as natural wood. This is because MDF does not have any wood grain to it. It also does not absorb stain as well as real wood. In any case, ensure you apply a polyurethane coat over the stain for the best results.
Can spray paint MDF?
Spray painting MDF is one of the best treatments for this material. The spray can allow for nice and even coverage, distributing the paint into each pore, nooks, and crannies.
A can of spray paint-primer combo will give the best results. Consider applying multiple light coats, allowing each coat to dry properly, and sanding it lightly before applying the subsequent one.
Can you use acrylic paint on MDF?
You can paint MDF with acrylic paint of any quality and realize great results. Acrylic paint is chemical-based, meaning it does not contain water that might enter the pores in MDF and cause it to swell. And the ultimate acrylic cabinet paint will deliver the best results on any MDF wood.
Read also: Acrylic paint on cardboard
Can MDF trim be painted?
Painting MDF trims with your preferred paint after priming them can create a desirable finish. When painting MDF trim, you may use a paint sprayer for better coverage or opt instead for the good old paintbrush to do the job. Using a roller may not be a good idea for an intricately carved trim, but a sprayer and paintbrush should do the job perfectly.
Does MDF paint well?
MDF boards come already sanded and smooth from the factory, with a hard, even surface that takes paint and veneer very well. You just need to seal the edges first and apply a solvent or oil-based primer before painting your MDF pieces.
Is MDF safe when painted?
MDF consists of urea-formaldehyde adhesives used as the bonding agent in creating the panels. Some people raise concerns about the possible health risks of this compound in MDF, but painting and sealing the boards with a non-toxic product should guarantee the safety of MDF.
Can you sand mdf?
Yes, sanding MDF edges and board is recommended before painting. Ensure safety measures such as wearing gloves and masks. This is because MDF produces a lot of dust when sanded. And you don't want to inhale the dust which is likely to irritate your lungs.
How to Finish MDF Summary
MDF is straightforward to paint if you know the procedure and products to use. This article provides all the supplies you need when painting MDF, along with a step-by-step guide to walk you through the process.
We hope you find this tutorial helpful for your next MDF painting project. Leave a comment in the comments section if you have any thoughts to share.