The benefits of learning woodworking are endless. For one, the number of highly trained woodworkers is the lowest in recent history. As a result, the demand for skilled professionals in the industry is very high, and pay is excellent.
Moreover, woodworking is a precious technical skill whether you're a professional or not. It allows you to fix your furniture and even make a few new ones if you wish. You can also make it a hobby.
The best part – it's easy to learn woodworking! So, which are the best woodworking schools in the world?
What Are Your Special Skills?
Before you find a school, you may want to ask yourself the following;
Are you genuinely interested in woodworking?
Why do you want to learn woodworking?
Ideally, you should only enroll in a woodworking course if you're genuinely interested and perhaps even excited about working with wood.
Where to Find Beginner Woodworking Classes Locally
If the introspection reveals an underlying burning desire to work with wood or at least learn woodworking, the next step is to begin searching for the best classes and programs to start training.
Although you can begin your search anywhere, I recommend you prioritize the best local woodworking classes for familiarity before taking a course. The following are five excellent traditional woodworking schools to consider;
The local home depot
If you're lucky enough, there's a chance your local Home Depot offers woodworking programs that you can complete in a few days or workshops that run for a few hours each weekend.
Typically, these workshops range from installing tile to plumbing repairs. However, the majority have at least a few furniture-making projects to help you learn the basics of woodworking. So it's the first place you should check.
Related read: Will Home Depot cut wood for me?
The Local Art Center
Most communities have an art center where thousands of people enroll each year to learn side skills such as jewelry making, photography, and making stained glass. Check with your art center if they offer woodworking programs.
Alternatively, check for carpentry workshops or fancy names such as cabinetmaking, joinery, and dovetailing. All these refer to woodworking.
Continuing Education Programs
Many community colleges and high schools in the world offer continuing education in a wide range of fields where knowledgeable community members teach classes for free.
Spare some time to check the programs on your local high school or college's continuing education calendar. Do they have woodworking, carpentry, joinery, or any other woodworking course? You can head there in person or check the institution's website.
Woodworking colleges and clubs
Fortunately, many communities have woodworking clubs where you can learn valuable advanced skills programs.
A key advantage of joining a local woodworking club is that you can connect with other local woodworking enthusiasts, many of whom are willing to take newbies under their wings. Some may even offer you a job!
Woodworking clubs also boast many top professionals with extensive practical knowledge. So, you'll be in good company.
Attend woodworking shows
Finally, you can also kickstart your woodworking "career" by signing up for local woodworking shows and events. Many local clubs and national companies host such events throughout the year.
Although the events only last a few hours or a weekend at most, participants can look forward to impactful demonstrations and previews of standard hand and power tools. You'll also get the chance to see a few completed products.
Learn More: Common Woodworking Pitfalls
Start with YouTube Videos and Online Classes
Besides enrolling for local woodworking courses, it's also highly recommendable to subscribe to one or two YouTube channels.
Any of the following seven channels and online woodworking schools can be invaluable as you take your first steps in woodworking.
Best online Woodworking Classes
Craftsy
Craftsy is home to creative doers who believe in the power of sharing. The platform comprises industry professionals and passionate employees with only one goal – to answer any of your questions.
It's a very resourceful platform too. You'll find tailored project kits, step-by-step expert instructions, and multiple video lessons to help you learn everything you want to know about woodworking.
Become a member of Craftsy today and enjoy more than 1,500 video classes by industry experts. Members get 24/7 access to classes and can follow along, ask questions, and stay connected with the craft community via live events, newsletters, etc.
Heritage School of Woodworking
The Heritage School of Woodworking offers free and premium woodworking videos for beginners, intermediates, and experts. It has more than 120 different cases, workshops, and seminars and has recorded more than 16,000 sign-ups in the past 20 years.
The platform has many advantages over other online woodworking classes. First, the free videos can be valuable if you're just getting started and not prepared to spend on video lessons yet.
Secondly, you can purchase the courses on DVD to watch at home in your free time.
Above all, the Heritage School offers pre-cut woodworking kits and supplies so you can learn foundational woodworking projects more quickly.
Instructables
The Instructables workshop is another excellent place to learn woodworking online. It provides a wide range of hands-on projects to help you build your confidence and skills. Each lesson explores a new area in woodworking and builds on the previous topic.
The best part is that Instructables keeps off expensive power tools like table saws, lathes, and planes – because DIYers and first-time learners rarely have these tools. Instead, it focuses on simple hand-held power tools. It makes learning more fun and within reach.
Sign up today to become a member and learn about basic woodworking supplies, making perfectly straight cuts, drilling perfect holes, sanding, wood shaping, and other common woodworking topics.
Popular Woodworking University
Popular Woodworking Video is a collection of videos on all possible woodworking techniques that you can try in the workshop today.
These videos are made by industry experts, including Roy Underhill, Christopher Schwarz, and Graham Blackburn, and are available to watch any time and as many times as you wish.
I love that the platform allows you to "Build a Project" so you can follow up on your interests and learn with greater ease. You can also choose a specific technique or tool and view all the videos in the selected category.
Each video is purchased separately and priced differently, so you don't have to spend hard-earned money on the content you don't need.
Taunton Workshops
Taunton Workshops is one of the most exciting online woodworking classes. First off, it has endless resources, from beginner tutorials to advanced guides for industry professionals.
The Sketchup Guide for Woodworkers (the Basics) is especially valuable when making your first steps in the trade.
Additionally, you can learn about the primary wood tools machine, one at a time, as the platform has at least one video for each unique tool. Talk about an easy way to learn! It also has similar resources for woodworking materials.
Above all, you can join individual classes or opt for multi-class bundles. You can also filter classes based on instructors.
Woodworkers Guild of America
The Woodworkers Guild of America (WWGOA) is arguably the most popular platform on this list. It's built purposely to help woodworking enthusiasts learn everything they need to know without necessarily stepping into a physical classroom.
The platform offers in-depth woodworking how-to videos, downloads, instructional classes, and woodworking plans, all tailored to help beginners get started with woodworking. You'll also find helpful books to complement your efforts.
Become a member today and get access to expert learning material in a few clicks. Registration is free.
Learn Advanced Skills at a Woodworking School
When you're ready for the next step, you can enroll in woodworking classes at recognized woodworking trade schools. The following are the best woodworking schools in each US state and selected countries globally.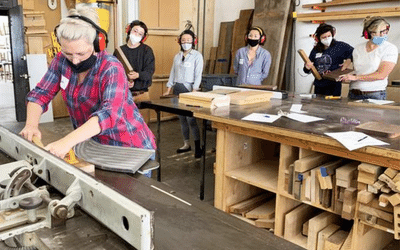 Best Woodworking Schools in the World
Let's start with the top woodworking schools or furniture-making schools around the U.S.
Alabama
The Alabama Center for Advanced Woodworking Technology
The Alabama Center for Advanced Woodworking Technologies is an instruction in Phil Campbell, Alabama.
It comprises industry professionals and prioritizes helping interested candidates to advance their education in woodworks and manufacturing. Students get DVDs for learning as well as other resources from the institution's website.
It's located at 145 State Highway 129, Haleyville, AL 35565. Feel free to contact the school at (2-5) 4686-3575.
Woodworking degree programs in Arizona
The Southwest School of Woodworking
Located in Phoenix, AZ, the Southwest School of Woodworking is the only comprehensive woodworking school in the southwest.
It teaches woodworking and craftsmanship to students at all levels and boasts a low teacher-to-student ratio for the highest impact. In addition, the faculty includes resident and visiting professionals.
Regular woodworking specializations in topics such as design, finishing, inlays, and veneering. However, the school also offers a Master's class to refine learners' skills and work experience. You can contact the school at 480-734-0274 for inquiries.
The Arizona State University-Tempe
About 13 miles from Phoenix, another school, the Arizona State University (ASU), also offers woodworking classes in Tempe. Indeed, ASU is one of only a few universities that offer Bachelor's and Master's degree programs in woodworking.
The programs are available at the Herberger Institute School of Art, where learners can access a 3,700 square foot woodworking studio. The studio contains multiple tools used in carving technology, bending, fabricating, and turning.
Woodworking schools in California
Bakersfield College
Californians have a wide range of options when selecting woodworking schools in the world. Top of the list is Bakersfield College in Bakersfield.
The school enrolls more than 17,000 for-credit students and offers classes, certificates, and degrees in different areas of woodworking.
Beginners must complete six credits in cabinetry, furniture making, or woodworking to earn a Job Skills Certificate. Afterward, you can take the Associate in Science degree.
Cerritos College
Cerritos College is a public community college in Norwalk, California. It's housed on a 27,000 square-foot space and offers degrees and certificates in 87 study areas, including woodwork.
The woodworking school offers more than 50 classes, including architectural millwork, furniture making, veneering, and cabinetry.
The school has more than 20 faculty members and boasts a modern lab with more than 100 machines.
Los Angeles Trade Technical College
Located in Los Angeles, the Los Angeles Trade and Technical College currently serve over 15,000 credit students from its downtown LA campus.
Full-time students can enroll in a daytime certificate or an Associate of Science program in millwork and cabinetry through the Construction, Design, Manufacturing, and fine woodworking department.
Meanwhile, evening programs include an Associate of Art in cabinetry and millwork and a certificate program in construction technologies.
California State University – San Bernardino
The State University of Bernadino is a very popular school in California. It receives over 17,000 matriculating students and was recently ranked the 17th best top public school in the West.
Its woodworking classes are available to prospective candidates via the Bachelor of Arts in Studio Art program. Through the program, undergraduates can take two 5credit courses in beginning and advanced woodworking and furniture design.
Palomar College
Finally, the Palomar College, located about 35 miles north of San Diego, has a full-fledged Cabinet-Making and cabinet, guitar making technology, and furniture technology Department.
Palomar college facilities offers more than 50 classes annually and boasts over 25 teachers and 11 teaching assistants, though most teachers are part-timers.
Palomar college offers associate programs as well you can earn up to 54 credits from their cabinetmaking and furniture design certificate program and at least 27 credits from the millwork certificate program.
Woodworking schools in Colorado
Red Rocks community college of Fine Woodworking
The Red Rock School or Red rocks community college of Fine Woodworking Is located along 13300 W. 6th Avenue, Lakewood, Colorado (80228), though it has a second campus along 55th Avenue, Arvada.
The Lakewood campus sits on 5,000 square feet and comprises six classrooms, machining areas, a finishing lab, and a computer lab for computer-aided design works. It also has a laser lab and a CNC lab.
Machines and power tools in the labs include table saws, band saws, chop saws, jointers, radial arm saws, and routers. (Find out the purpose of a jointer in our article.)
Anderson Ranch Art Center
The Anderson Ranch Art Center serves more than 55,000 students every year, enrolled in ceramics, printmaking, and sculpture, among other programs.
The furniture and woodworking program is one of the standout courses at the school, offering classes in cabinetry, wood bending, kinetics, and carving, among others. (Read more on wood bending in our article, "How to bend wood with water without breaking it.")
Most of the activities happen at the Maloof Wood Barn, which comprises an assembly room, machine room, and bench room. The center is located in Snowmass Village, CO 81615.
Woodworking Studio
Woodworking Studio in Denver offers three woodworking programs, i.e., beginner, intermediate, and private. Beginner classes are offered once per month and alternate between a table and bookshelf project.
Meanwhile, the intermediate class is offered every Wednesday from 6-9 pm. Woodworking skills technology taught in the beginner classes include how to use woodworking tools and power tool safety.
Learners also study joinery and glue training techniques. Finishing is taught in the intermediate class.
Fine woodworking schools Connecticut
Connecticut Valley School of Woodworking
The Connecticut Valley School of Woodworking at 249 Spencer St., Manchester, provides a wide range of hands-on woodworking classes.
You can enroll for one or two-day weekend classes, series classes that take place on or two nights per week for up to 12 weeks, or an intensive, week-long program.
Courses offered include fundamentals in furniture making, fundamentals in cabinet making, woodturning and cabinet and furniture technology.
The Nautical Arts Workshop
The Nautical Arts Workshop is located in Deep River, Connecticut. It offers hands-on woodworking classes inspired by the area's rich maritime heritage.
It would be an excellent school if you'd love to learn how to make bentwood ditty boxes, cut boards, Adirondack chairs, scrimshaw chairs, sea chests, small sea chests, side tables and general chair manufacturing.
The Woodworkers Club of Norwalk
The Woodworkers Club of Norwalk offers hands-on classes in woodworking and demonstrations to help learners grasp concepts faster.
Each month, the club organizes a basic woodworking carving, turning, and finishing workshop, where everyone is invited.
Of course, it has the second-largest woodworking program woodshop, with all the advanced tools you need to hone your trade. However, what makes it different is that you can rent the tools for use back home!
Florida woodworking school
Hillsborough Community College
The Hillsborough Community College, through its Dale Mabry Campus in Tampa, offers several certificates and degree programs in architecture and building.
You can even enroll in the Associate of Builders and Contractors (ABC) Apprenticeship program, offered in alignment with the National Center for Construction Education and Research (NCCER). It is one of the schools offer apprenticeship programs.
George Stone Technical Center
Interested students living in Pensacola can acquire woodworking skills and certifications by enrolling at the George Stone Technical Center. Occupational courses offered include construction, cabinetry, and carpentry.
The school has more than 300,000 square feet dedicated to woodworking classrooms, laboratories, and mechanics.
Fort Myers Technical College
The technical college in Fort Myers forms part of the Lee County School District and offers many courses in several vocational areas.
The 1,200-hour course in carpentry covers topics on on-site preparation, formwork, cost estimation, and cabinetry. You need to complete general education requirements which include a high school diploma or GED. You're also required to take a TABE test.
Accredited woodworking schools in Georgia
The Savanna Technical College
Savannah Technical College (Savanna Tech) is a public community college in Savanna, one of the best carpentry schools Georgia. Although you won't find woodworking or carpentry courses in its main program list, the school has a Weekend Workshop program covering many woodworking areas.
These include an introduction to wood graining and marbling, an introduction to hand tools, an introduction to woodturning, faux finishing, and timber framing. It's located in Decatur.
Southern Crescent Technical College
The Southern Crescent Technical College in Griffin, phone (770) 212-5730, offers a diploma in carpentry that runs for three terms and requires 40 credit hours to graduate.
The program emphasizes a combination of carpentry theory and practical applications and teaches, among others, construction print reading, site layout, ceiling/roof framing, interior/exterior finishes, and advanced residential finishes. You must be at least 16 years old to enroll.
Columbus Technical College
Located in Columbus, GA, the Columbus Technical College offers a 42-credit-hours Carpentry (Residential Carpentry) Diploma RC12. This is a sequence of courses that prepare the learner for a career in residential carpentry.
The four-semester program includes topics such as construction print reading, ceiling and roof framing, and advanced residential finishes and decks. Students can also opt for a carpentry internship.
Idaho
The College of Southern Idaho (CSI)
CSI has a unique woodworking program in the Department of Trade and Industry. The program aims at training students to become employable as cabinetmakers, wood window makers, woodworking machine operators, and finish carpenters, among others.
It offers three main certifications, i.e., a Woodworking Technology, Basic Technical Certificate, Intermediate Certificate, and an Associate Degree of Applied Science.
Illinois
Kaskaskia College
Illinois has several excellent universities, community and technical woodwork colleges where you can learn woodworking. One of the top woodworking schools on the list is the Kaskaskia College located in Centralia, which offers woodworking classes as part of the basic carpentry certificate programs.
The two-semester program covers many areas in woodworking, including framing and finishing as well as blueprint reading, roofing, and siding. Besides the several professional certificate programs, learners can also enroll for the Associate Degrees in Carpentry.
Northern Illinois University
Northern Illinois University offers several studio classes in sculpture through its Art Department. For instance, the intermediate sculpture class teaches how to start wood carving techniques and even allows learners to build wood products.
After that, you can enroll in the advanced program to learn how to use power tools to create projects.
South Suburban College
The woodworking program at the South Suburban College in South Holland is a continuing education program that offers non-credit classes for beginner and advanced woodworkers. It specializes in cabinetmaking and basic woodwork construction.
Students can expect to learn many things, including how to use and handle power tools and create wooden projects.
Indiana woodworking schools
Marc Adams School of Woodworking and Time-Honored Crafts
If you ask for a woodworking school in Indiana, the first answer you'll get is usually Marc Adams School. Located along 5504 East 500 North Franklin, Indiana 46131-7993, it's a highly advanced school with modern facilities and a proper faculty.
Indiana University offers a master's program, a fortune fellowship, and a Lacer Fellowship program. Applicants must be 16 to 25 years old.
Indianapolis Art Center
The Indianapolis Art Center in Indianapolis offers beginner, intermediate, and advanced programs in woodworking to hone your skills and prepare you for the labor market.
For instance, the fall beginner program, which begins in Early October, teaches woodturning, wood carving, how to design and build simple furniture,
It's located along the banks of the White River in the Broad Ripple neighborhood in Indianapolis.
Woodcraft of Indianapolis
Located in Indianapolis, Woodcraft of Indianapolis, available at 1-800-535-4482 or [email protected], offers a series of woodworking events and workshops all year.
Just head to the website, select your skill level and when you'd like to start attending classes, and you'll have several upcoming workshops from which to select. The enrollment cost is indicated against each workshop.
For newbies, I recommend finding beginner classes in woodworking and joinery. Beginner classes cost as little as $100.
Kentucky
The Ted Harlan Woodworking School
The Ted Harlan Woodworking School is an educational institution found in Louisville, Kentucky. It offers three woodworking programs, introductory, intermediate, and advanced. The introductory program, which lasts eight weeks, familiarizes students with wood lathes, safety, turning tools, sharpening, and prepping.
Meanwhile, the intermediate class focuses on the Roubo Workbench and constructing a jewelry box. Finally, the advanced program dwells on the rotating project.
Woodworking schools in maine
Center for Furniture Craftsmanship
The Center for Furniture Craftsmanship in Rockport, ME, offers four mutually enhancing, hands-on programs to address the educational needs of a broad audience. These range from a one to two-week workshop through comprehensive 12-week programs.
It even has a fellowship program that offers advanced creative opportunities to emerging professionals and established woodworkers.
Eastern Maine Community College
Eastern Maine University College is one of the best woodworking schools in New England. The college offers an extensive woodworking program via the Fine Woodworking and Cabinet Making Concentration course in Building Construction Technology.
Options include one and two-year programs tailored for different occupational needs. An AAS degree is required for admission.
Maine College of Art and Design
Finally, you may also want to check with the Maine College of Art and Design to see if they offer the specific course you're looking for.
Generally, the school's Woodworking & Furniture Design program is a 4-year course that teaches introduction to woodworking in years 1&2 and advanced concepts in the remaining two years.
Woodworking college programs in Maryland
Maryland Institute College of Art
Baltimore's Maryland Institute College of Art offers a BFA program in interdisciplinary sculpture that allows students to enroll in various courses that deal with wood. MFA sculpture students can work on wood-based projects in the modern lab.
However, it's not just one lab, though. The college has five different fabrication studios, including a woodshop.
Towson University
Towson University is located in Towson along 8000 York Rd. and offers a bachelor's degree program in art and design with a focus on sculpturing that you should also consider.
One of the courses within the Bachelor's program covers wood and wood carving concepts. The program also has courses covering wood fabrication, figure modeling, drawing, and modern design. The school even offers sculpture internships.
A Workshop of Our Own (WOO)
A Workshop of Our Own (WOO), located at 1780 Union Avenue, Baltimore, offers in-person and virtual classes so you can learn woodworking at your own pace.
You can opt for a monthly or yearly subscription program. Both start at $25. Alternatively, you can purchase classes without becoming a member. However, members get 10% off classes, a complimentary safety class, and access to member-only events.
Woodworking schools in Michigan
Western Michigan University
Western Michigan University is located in Kalamazoo and is known as one of the best for woodworking training. It offers a four-year comprehensive fine woodworking apprenticeship programs covering most woodworking topics, from basic skills to advanced-level concepts.
It's the perfect woodworking program for people who are serious about carving a career in woodworking. Learners need to commit 8-10 hours per week.
Northern Michigan University
This is another excellent college if you're interested in woodworking. It's located in Marquette on the southern part of Lake Superior and offers woodworking courses through its Bachelor of Fine Arts degree program, which focuses on woodworking and furniture design.
The college gives students pursuing furniture making or woodworking access to various tools and machines to facilitate learning.
University of Michigan
Finally, the University of Michigan in Ann Arbor also makes an excellent choice when hunting for a woodworking school. It offers an extensive course on wood and furniture. The course is available as an elective within the Bachelor of Fine Arts program.
Students must make at least two pieces of furniture every semester to demonstrate their abilities and prove that they're benefiting from the program.
Woodcraft schools in Minnesota
Saint Paul College
Saint Paul College is part of the broader Minnesota state colleges and universities system which offers comprehensive courses in various areas, including woodworking and furniture design.
The college offers a Carpentry Diploma program where students learn about woodworking tools, safety practices, blueprints, and finishing, among other skills.
Hennepin Technical College
The Hennepin Technical College in Angel Hoglund Brooklyn Park has a special carpentry program for day and evening students. It also has a cabinetmaking and wood product design course as well as a woodworking technology program.
The programs are offered at the Eden Prairie and Brooklyn Park campuses and are open to all – even if you're entirely new to woodworking.
Minnesota State University
Lastly, the Minnesota State Uni also offers an excellent woodworking program – the Woodworking Major. The course prepares students to lay and shape stock, assemble wooden articles, and mark, bind and saw wooden products.
Students can choose from four specific programs, including cabinetmaking and furniture design and manufacturing.
Cabinet making schools in Missouri
Ranken Technical College
Ranken Technical is a private technical college in St. Louis, Missouri. The college offers programs in five main areas, i.e., automotive, electrical, manufacturing, construction, and information technology.
For those interested in the carpentry program, it's found in the construction department. The Higher Learning Commission accredits the program.
Mineral Area College
Located at the MAC office, 5270 Flat River Road, Park Hills, Missouri, Mineral Area College offers an Associate of Applied Science in Construction/Building Technology, which teaches many woodworking concepts.
Indeed, the first course in the first semester deals exclusively with construction carpentry skills. Later, students also learn layout and framing as well as finishing.
The American Woodworking Academy
Finally, Missourians can also enroll in woodworking classes at the American Woodworking Academy in Fenton.
It offers three woodworking programs. However, you must begin with the Master Woodworking Program that targets beginners. The Master's program teaches woodworking fundamentals, basic cabinetmaking, basic furniture making, joinery, etc.
Montana
The University of Montana
The University of Montana offers a detailed four-year course on Arts and Furniture. The program is part of the institution's mission to enhance students' critical thinking, ethical living, and creative exploration.
Enrolled students enjoy highly impactful education and can engage and converse well with others. You'll even learn about woodworking entrepreneurship.
New Hampshire
The Guild of New Hampshire Woodworkers
The Guild of New Hampshire Woodworkers is one of the most popular institutions in New Hampshire, consistently producing passionate professionals in the woodworking industry. It organizes multiple learning opportunities, from physical to symposiums to virtual meetings, to make education simple and accessible.
The best part about the Woodworkers Guild of America is the low fees and access to industry professionals. It also offers financial aid on programs and merchandise.
New Jersey
New Jersey School of Woodwork
The New Jersey School of Woodwork is one of a handful of woodworking schools in New Jersey that offer specialty woodworking courses. The school has a mission that blends well with students and offers hands-on programs to learn in a relaxed, conducive environment.
It's located along 37 E Washington Ave Washington, NJ, and offers three different classes based on difficulty and skill level.
Ocean County Vocational-Technical School
The Ocean County Vocational-Technical School based in Toms River offers shared-time building and construction technology and cabinetmaking programs. The two-year programs take 900 hours to complete and are mainly offered as shared-time courses for high-schoolers.
The custom woodworking/cabinetmaking course helps students develop basic woodworking skills and design and make cabinets, tables, bookcases, etc.
American Woodcarving and Art School
The American Woodcarving and Art School is a nontraditional school in Wayne that offers regular and weekend classes and workshops for interested learners. It also plans regular seminars where industry professionals speak.
Learners typically meet for three hours per week for a period lasting no more than two years. Fees start from $150 per month, plus a one-time $25 kit fee.
New York
Buffalo State SUNY
SUNY has a Design Department that offers both a Bachelor of Science and Bachelor of Fine Arts degree in wood and furniture design.
However, all students start with the Bachelor of Science program. After that, one can stay in the Bachelor of Science program or apply to join the Fine Arts course.
Mohawk Valley Community College
At the Mohawk Valley Community College, learners can pursue the certificate in carpentry and masonry program offered at the Rome and Utica campuses. The course targets students interested in the construction trade.
It captures a wide range of topics, including wall building, wood framing techniques, roof design, and door installation.
Morrisville State College
Finally, New Yorkers interested in woodworking may also consider Morrisville State College. It offers two comprehensive woodworking courses.
First, you can enroll for the furniture production and business concentration which focuses on cabinetmaking and running a cabinet shop.
Alternatively, you can enroll in the finish carpentry option, which focuses on construction and wood product building.
North Carolina
Penland School of Craft
The Penland School of Craft offers workshops from 1-8 weeks, taught by visiting instructors in studios within the institution.
The program covers various topics, from furniture design and construction to wood sculpture and joinery. Students can also look forward to learning boat building, woodcarving, and cabinetmaking, among others.
The North Carolina Furniture School
The North Carolina Furniture School offers one-day classes, 2-day workshops, and 3-day masterclasses in woodworking if you live around Farmville. Additionally, it offers one-week woodworking intensives for beginners to advanced professionals.
The school is complete with the necessary equipment, wood, and supplies, so you don't have to worry.
Southwest Community College
The Southwest Community College (SWCC) offers a carpentry program under the Fine Arts department. The carpentry program is designed to train students to construct residential structures using everyday building tools and materials.
Additionally, learners also learn advanced power tools. Specifically, you can look forward to learning cabinetry, blueprint reading, interior and exterior trim, and residential planning and estimation.
Surry Community College
The Surry Community College is another excellent choice when looking to study woodworking in North Carolina. It has a special program known as "Construction Management Technology," which focuses on carpentry property management.
The program prepares individuals to apply technical knowledge and skills to layout, cut, fabricate, install, erect, and repair wood fixtures and structures.
Guilford Technical Community College
Finally, you'll also love the carpentry program from Guilford Technical Community College (GTCC). The hands-on program trains students in several fields and culminates in students building a house from footing to the roof with the help of a nonprofit partner.
You'll also learn to operate small equipment and operate standard construction equipment and tools.
Woodworking school in Ohio
University of Cincinnati – Main Campus
The University of Cincinnati offers a wood technology program under the minor and certificate program. Students enrolled in this program learn hands-on technology and the fine art of woodworking.
You can also look forward to learning furniture construction, cabinetmaking, and other woodcrafts. The program is open to beginners and experienced professionals. Learners meet for about three weeks, one day per week for the entire semester.
University of Rio Grande
The University of Rio Grande also offers a Fine Woodworking program to prepare and enlighten students with the skills necessary to become successful woodworkers.
Learners select from two options – a one-year certificate in fine woodworking or a two-year associate degree in fine woodworking.
Whichever the choice, students learn important math, science, and communication skills to increase their marketability once they graduate.
Columbus State Community College
The Columbus State Community College (CSCC) offers at least four programs that teach carpentry fundamentals.
However, if you only want a course that focuses on woodworking from start to end, then you should consider either the Carpenter Apprenticeship readiness Certificate or the Carpentry Module Certificate.
Oregon
Central Oregon Community College
The Central Oregon Community college offers a Fundamentals of Woodworking program that teaches basic concepts in woodworking, such as the various woodworking tools, sharpening the tools, and safety. Students also learn wood selection.
The best part is that the school has a generously equipped workshop with small class sizes for maximum learning impact.
Woodcraft of Portland
Woodcraft of Portland is located along 12020 SW Main Street Tigard, OR, and offers ongoing classes in carpentry and woodworking all year round.
The classes are highly specific. So, you'll need to plan accordingly. However, if you can create a reasonable timetable, you'll be able to learn the basic concepts fast.
Pacific Northwest Carpenters Institute
Finally, I also recommend the Pacific Northwest Carpenters Institute. The carpentry program at this institution is sponsored by Willamette Carpenter Training Center Inc., a nonprofit based in Portland, Oregon.
I love that the course teaches carpentry skills and imparts apprenticeship knowledge, so you're completely ready for the job market the moment you get out of school.
Pennsylvania
Clarion University of Pennsylvania
Clarion University is a public university in Clarion, Pennsylvania. It's one of the four universities that form the Pennsylvania State System of Higher Education.
The university offers woodworking classes via the Associate of Applied Science in industrial technologies program at the Venango campus. One of the concentrations is carpentry and construction tech.
Delaware County Community College
Established in 1976, the Delaware Community College offers a Certificate in Proficiency program that dwells on residential carpentry.
The program teaches roofing, siding, carpentry design, framing design, blueprint reading, and many other concepts.
Bucks County Community College
Finally, Bucks County has an excellent certificate in furniture and cabinetmaking program offered at the local community college. The course is available through the Department of The Arts.
Students can also opt for the transfer program in fine woodworking offered at the Hicks Art Center in Newton.
Furniture making schools in Rhode Island
Rhode Island School of Design
The Rhode Island School of Design is a private art and design school in Providence, RI. It is close to 150 years old, having been founded in 1877.
Learners interested in woodworking should check with the Furniture Design Department, which offers a Bachelor of Fine Arts and Master in Fine Arts. The Bachelor's program lasts four years, while the Master's program takes two years to complete.
IYRS School of Technology and Trades
IYRS is a private nonprofit school with a 3-acre campus on Thames Street in Newport, Rhode Island. It specializes in training young people for careers in crafts and other common trade courses.
Though primarily focused on boats, the Boat Building and Restoration course teaches fundamental woodworking skills, from hand and power tools to joinery and CAD.
The Allan Breed School of Woodworking
The Allan Breed School of Woodworking is one of the best woodworking schools in Rhode Island (RI). It has many classes, including Introduction to Hand Tools, that teach the subtleties of design and construction.
Students learn both theories and hands-on techniques, guided by highly experienced professionals.
Furniture carpentry school in Tennessee
Lonnie Bird's School of Fine Woodworking
The Lonnie Bird's School of Fine Woodworking is one of the top woodworking schools in wider Tennessee. Although it's located in Dandridge, Jefferson Country, students come from all over the state to hone their craft at Lonnie Bird.
It boasts small class sizes (limited to just six people) and highly experienced instructors, including Lonnie himself, who has more than 40 years of experience in carpentry and general woodworking.
Tennessee Technological University
Located in Nashville, TN, Tennessee Technological University is the only school in Nashville that offers best formal education programs in woodworking. It gives students the chance to earn a Certificate of Completion in Wood or Bachelor of Fine Arts with Concentration in Wood.
Most of the core course work occurs at the university's Appalachian Center for Craft which has several studios where learners can practice their craft.
Vanderbilt University
The Vanderbilt University's Divinity School carpentry program started in 1995 to foster conversation about religion, gender, and sexuality.
It is a four-year degree program that seeks to promote scholarship, support educational activities on campus, and foster more profound community dialogues.
If you're wondering whether it's worth considering, the carpentry program had ten graduates in 2019.
Furniture Building schools in Texas
Austin Community College District
The best woodworking school in Texas is the Austin Community College District. The college has two locations offering woodworking classes, i.e., Austin and Round Rock, offering complete certificate programs in woodworking and carpentry.
The programs teach students to make cabinets and furniture, read blueprints and precision joinery.
Utah
Utah Valley University
Utah Valley University offers cabinetry and architectural woodworking course targeting craftsmen who desire to work in the milling and construction industries.
Students who complete the course can make highly customized cabinets in residences, banks, department stores, and restaurants. You'll also learn how to get into self-employment.
Colleges with woodworking programs in Vermont
The Vermont Woodworking School
The Vermont Woodworking School is a woodworking and furniture-design trade school offering a semester-based immersion program.
It also offers various woodworking intensives and workshops. The school is located on a three-story historic barn turned modern woodworking facility with 40 benches and modern tools.
Vermont Woodworking School is located along 148 Main Street, Fairfax, VT 05444. You can call the institution at (802) 849-2013.
River Valley Technical Center
If you're not a fan of the Vermont Woodworking School, another excellent institution to learn woodworking in Vermont is the River Valley Technical Center (RVTC), located in Springfield.
It offers multiple woodworking programs, from beginner to advanced levels. For instance, beginners can kickstart their woodworking careers by enrolling in the Carpentry Level 1. After that, you can proceed to Carpentry Level II then consider Associate's degree programs.
Northern Vermont University
But, if you're keen on taking your woodworking skills to the next level, then you should strongly consider enrolling for an undergraduate degree in Fine Woodworking and Furniture Design at Northern Vermont University.
The undergrad programs are offered at NVU-Johnson in collaboration with the Vermont Woodworking School.
Woodworking schools in Virginia
Patrick Henry Community College
The Patrick Henry Community School located in Martinsville offers a non-credit fine woodworking and woodturning certificate program that students can complete in as little as two years.
Learners can expect to learn how to design and build custom furniture, construct wood accessories, and even start a woodworking business.
South Virginia Community College
Another community college in Virginia that offers a woodworking course is the South Virginia Community College found in Richlands. It also offers a two-year program that culminates in a carpentry certificate.
Students can look forward to learning building frameworks, reading building codes, installing floors, laying bricks, and constructing roofs.
Woodcraft of North Virginia
If you live in the north, Woodcraft of North Virginia is another excellent woodworking program. It's located in Battlefield Shopping Center 1076 Edwards Ferry Road, NE Leesburg, Virginia 20176.
The best part about this school is that it's one of only a few colleges with woodworking programs for all age groups, from kids as little as under 10 to professional woodworkers.
So if you want your teenager to learn some kid's wood projects, you know where to go.
Washington
Port Townsend School of Fine Woodworking
The Port Townsend School of Fine Woodworking is located along 200 Battery Way on buildings 315 and 304, Port Townsend WA, 98368.
It offers practical long and short-period courses round the year where you can learn basic woodworking skills to hone your craft.
For instance, one of their programs, Foundations of Woodworking, runs for 12 weeks starting fall. Meanwhile, the Introduction to bowl turning course only lasts two days. The choice is yours.
Ebanista School of Fine Woodworking
Ebanista is found in Seattle along 300S Orcas St. and offers three different programs, i.e., core, 10-week, and weekend, depending on your availability.
The 10-week programs are the most in-depth and run for ten straight weeks – no breaks. Meanwhile, the core classes last 4-10 weeks and cover pretty much all woodworking basics. Weekend classes are meant for students and adults who might be busy on weekdays.
Seattle Central College
Finally, you can also enroll at the Seattle Central College for woodworking programs offered at the Wood Technology Center.
Available programs include cabinetmaking and architectural woodworking, carpentry, boat building and repair, and pre-apprenticeship construction training.
The center even offers a full-time, day associate of Applied Science degree programs in architectural woodworking.
Wisconsin
Fox Valley Technical College
Fox Valley Technical College is a public technical college in Grand Chute, Wisconsin. It's part of the broader Wisconsin Technical College System and serves Appleton and Fox-City residents. Just like wisconsin indianhead technical college.
The college's Woodworking Technician 1 program teaches the foundations of woodworking. It also allows beginner learners to explore wood species and woodworking materials.
Western Technical college
Also part of the Wisconsin Technical College System, the Western Technical College is located in La Crosse. It serves 11 counties and enrolls over 5,000 students yearly.
Its cabinetmaking program that runs from fall is one of the standout courses. Worth ten credits, the program offers an introduction to design concepts and construction methods. It also covers woodworking tools, industry-standard machinery, and safety.
Southeast Wisconsin Carpenters Training Institute
The Southeast Wisconsin Carpenters Training Institute serves as a one-stop-shop for training, instructing, and preparing learners who form the core of well-paid professionals employed as cabinetmakers, carpenters, floor coverers, interior systems carpenters, and millwrights.
Their programs run all year round. You can visit the institution at N25 W3055 Paul Road Pewaukee WI 53072.
Vondriska Woodworks
Finally, Vondriska Woodworks in Hammond offers woodworking courses in cabinetmaking, furniture making, lathe turning technology, and CNC work. The hand-made items are sold at the institution's shop in Hammond.
It's unique for many reasons. But it's especially noteworthy that class sizes at the institution are limited to 10 or fewer for the highest instructor impact.
See Also: Best Wood Lathe for Turning Bowls
Cabinetry school in Florida Australia
Perth Wood School
Perth Wood School offers woodworking lessons, hands-on workshops, and other resources to help learners build their projects. The workshop is fully equipped with timber, tools, and consumables.
The school is located close to the Perth CBD and boasts excellent staff, comprising some of the country's most experienced teachers.
Melbourne School of Fine Woodworking
The Melbourne School of Fine Woodworking (MSFW) is a not-for-profit woodworking club located at Box Hill in the Eastern Suburbs of Melbourne. It provides ongoing daytime and evening classes, specialist workshops, and project-based courses in furniture making.
The school boasts a well-equipped workshop with benches and hand tools for each student. It also has a separate machine room. It's open to anyone above 18.
The Sydney Community College
Finally, the Sydney Community college is another excellent destination for anyone seeking to learn woodworking in Australia. The college's Woodwork Course for Beginners provides a foundation for woodwork projects with a DIY focus.
The college is located on 2A Gordon Street, Rozelle NSW 2039. You can also contact the customer desk at [email protected].
Canada
Northern Alberta Institute of Technology (NAIT)
The Northern Alberta Institute of Technology offers three woodworking courses, i.e., CAMBM145 – Woodworking Skills, CABM200 – Furniture Design and Techniques Level 1, and CABM301 – Introduction to CNC Woodworking.
Classes start at $55 (Canadian Dollars). However, you're guaranteed to learn valuable woodworking skills in a supportive and fun atmosphere.
The Humber College
The Humber College located in Ontario also has an enticing woodworking course – Industrial Woodworking Technician – that you may want to consider.
The Diploma program, found under the Faculty of Applied Sciences and Technology, runs for three semesters, taking a full year in total.
Students can look forward to learning skills in basic cabinet making, building traditional furniture, and using power and hand tools.
Woodworking Center of Ontario
Established in 1988, the woodworking Center of Ontario is among the leading woodworking centers in Ontario. It has produced countless industry leaders and talented craftsmen and women.
It offers three woodworking programs, i.e., Woodworking Technology (3 years), Woodworking Technician (2 years), and Cabinetmaker (apprenticeship).
The Woodworking Technology program incorporates a co-op term where learners apply their skills in a real-world production facility or shop.
Germany
Woodworking Academy
The Woodworking Academy in Berlin offers an introductory woodworking workshop that offers guidance and support to take your first steps in woodworking. You'll also complete a project yourself under expert supervision.
All interested candidates must first take the 1.5-day Working with Wood workshop to attend a guided practice open workshop.
Ireland
Bevel Woodworking School
The Republic of Ireland has many excellent woodworking schools. However, the Beaver Woodworking School is the best of the lot.
Located in the beautiful Fethard on Sea, Co. Wexford, Bevel was founded by Tommy Kelly. The school offers wood carving courses, weekend woodworking courses, furniture making courses, woodworking training courses, and carpentry classes.
UK
Peter Sefton Furniture School
If you hope to take your woodworking classes in the UK, the best place to start your search is the Peter Sefton Furniture School. The school is located on the Threshing Barn, Welland Road, Upton Upon Severn WR8 0SN, UK, and offers short and long-term woodworking courses.
It has an extensive and well-equipped modern machine workshop, naturally lit and spacious bench workshop, and various hand and power tools.
The London School of Furniture Making
The London School of Furniture Making (LSF) runs a furniture making and design course for beginners, seasoned amateurs, and professional woodworkers.
The entry-level classes include Hand-Cut Joinery Level 1&2, Hand Planes and Planning, and Portable Power Tools/Routing.
However, students can also create their classes, take taster classes, or opt for flexible classes.
Rowden Atelier School of Fine Woodworking
The Rowden Atelier School of Fine Woodworking is located along College Road, Shebbear, Beaworthy EX21 5RE, United Kingdom, and is considered one of the best woodworking schools in the UK.
It offers several professional courses, including a twelve-month professional designer/maker program in wood craftsmanship and a six-month professional program.
The Chippendale International School of Furniture
The Chippendale International School of Furniture was founded in 1985 and is located right outside Edinburgh in Scotland.
It offers complementary, intermediate, introductory, and professional woodworking courses that provide a comprehensive grounding in all aspects of furniture design and cabinet making. Applications are ongoing.
Tom Trimmins Woodwork
Finally, the Tom Trimmins located at Freightliners City Farm, Sheringham Rd., London N7 8PF, offers multiple professional woodworking courses that you should also consider.
For instance, their Joinery for Furniture program costs just £450 but teaches everything you need to know about joining furniture.
It gets better; you'll work with different wood types, such as white beech, oak, walnut, ash, and tulipwood.
FAQs
Is woodworking worth the money?
Yes, woodworking is worth the money. Woodworking is a hobby that can bring you joy and satisfaction, as well as create useful items for your home or to give away as gifts. Not only that, but it's also a great way to learn skills such as tool use, construction techniques, and problem-solving.
Can you make a good living from woodworking?
Yes, you can make a good living from woodworking. There are many opportunities to make money as a hobbyist, professional craftsman, or even by starting your own business. Depending on the type of woodworking you do and the markets in which you operate, it is possible to have a profitable career that provides financial stability.
Furniture Making Schools Summary
That's it – 99 of the best woodworking schools across the globe where you can learn carpentry and furniture making, among other woodworking skills.
Remember that it makes more sense to select a school close to you. Otherwise, you may have to relocate temporarily.
Also, ensure to assess the faculty, workshops, range of tools, and other considerations such as post-school support when choosing.
To add any school or suggest any modifications, please leave us a comment.