The wooden kitchen cabinet is a standard sight in many homes. It beautifies the area while providing critical storage space. Additionally, homeowners love wooden cabinets because they are durable and cost-effective.
Unfortunately, building the right wooden kitchen cabinet isn't as straightforward as many think. In particular, finding the right types of wood for cabinets is a nightmare because of the kitchen's damper, hotter, and humid conditions.
We've made this guide to make it a little easier to pick the best wood for kitchen cabinets.
What is the Best Wood for Kitchen Cabinets?
The best and most popular wood types for kitchen cabinets are pine, oak, hickory, cherry, and maple. The first three (pine, oak, and hickory) are more readily available and affordable. Meanwhile, the latter two (maple and cherry) are considered luxury wood and, therefore, pricier and more difficult to find.
Factors to Consider When Choosing Kitchen Cabinet Wood Types
The best woods for kitchen shelves and cabinets share a few characteristics that you should prioritize when shopping;
Water and rot resistance
Kitchen cabinets are highly exposed to moisture, water, and other liquids, including wines and fruit/vegetable juices.
Unfortunately, excessive exposure to liquids predisposes kitchen cabinets to rotting and accelerated decay. Therefore, the best wood to build cabinets should be highly resistant to water, rot, and decay.
Dimensional stability
The kitchen experiences wild temperature changes. The temperatures can shoot to 100+ degrees during cooking and fall significantly after that.
Unfortunately, rapid temperature changes can cause dry wood to expand, contract, and ultimately lose shape. Therefore, it's wise to find dimensionally stable wood that resists warping or other shape changes.
Durability
What's the estimated lifespan of the cabinet? 10 years? 30 years? Some wood kitchen cabinets can last much longer. However, it depends on the type of wood.
For instance, hard, strong cabinets made from wood types with exceptional wear and tear resistance can last 50+ years.
Aesthetics
There are many types of wood cabinets. Which one are you interested in? For instance, do you have a specific color and grain pattern in mind? Alternatively, you may opt for custom cabinetry.
If so, remember that custom cabinets work best with unique cabinet wood species to complement your decor style. Finally, you can opt for painted cabinets.
In this case, factors such as wood grain become less important. Instead, you need to focus on finding paint-grade wood.
Wood Cabinets: Pros and Cons
Pros
Stylish and timeless look
Durable
Variety
Eco-friendly
Easy to customize and refinish
Resistant to household chemicals
Heat-resistant
Cons
Expensive
Require maintenance
Susceptible to damage
Prone to warping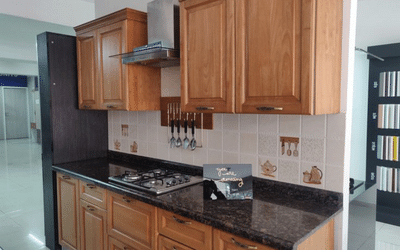 The Top 17 Wood Types for Kitchen Cabinets
With the four considerations above in mind, we've identified nine wood types t consider for your next kitchen cabinetry project.
The first eight are excellent candidates for solid wood cabinets, while the last is a great choice if you want engineered wood alternatives.
1. Red oak
Oak is one of the most popular woods for making kitchen cabinets. It's a strong, durable wood species and beautiful too. Moreover, oak is highly resistant to moisture and moisture-related damages.
So, my first recommendation is red oak, arguably the most valuable species in the oak family. Red oaks, named after their red fall colors, are deciduous hardwood trees native to North America.
The trees grow to an incredible 100 feet tall, with circumferences of up to 25 inches. The oldest known trees reach 500+ years. The main advantage of red oak wood cabinets is durability.
Red oak is a very hard wood species at 1290 lbf on the Janka scale. Therefore, it doesn't break, dent, or scratch easily. The cabinets can last 50+ years with good maintenance.
Secondly, red oak is very beautiful. It has a light brown heartwood and dark brown or reddish-brown heartwood with hints of pink.
Therefore, red oak cabinets don's struggle to stand out. In addition, a distinctive wide grain pattern makes it even more unique.
Pros
It's hard, strong, and very durable
It's easy to finish and stain without blotching
It's easy to sand with a pad or block
A distinctive color sets red oak apart
Cons
It becomes stained too quickly
It has large pores, thus requires proper sealing
---
2. White oak
As we've seen, one of the major downsides of red oak wood is the extra-large powers. All types of wood have pores. However, large pores open the wood to water logging, which accelerates rotting and decay.
Water logging can also cause warping and swelling as temperatures change. Savvy woodworkers have mastered the art of letting red oak dry for a long period, typically up to 30 days, to minimize the water-logging issues.
However, white oak is the perfect fit if you'd be happy to consider a closely similar wood species from the same tree family.
The two are nearly the same. Both have light brown sapwood and dark brown heartwoods. However, white oak is a little darker. It also has a straight grain pattern with a medium to coarse texture like red oak.
However, it's better than red oak in three areas. First, white oak is more water/rot resistant. Secondly, it's harder (1320 lbf), thus more durable. Finally, it has a greater bending strength than red oak, meaning it's less likely to break under load.
Pros
It's beautiful and highly desirable
White oak is strong, hard, and durable
It's more water and rot-resistant than red oak
It's a fast-growing, highly sustainable wood species
Cons
White accepts less tains than red oak
White oak is more expensive than red oak
---
3. Hard maple
Maple is another darling among woodworkers. It's a durable wood that resists scratching and everyday wear, making it a good wood for cabinet making.
Additionally, maple wood has a beautiful color and attractive uniform grains that blend well with modern kitchen styles hence the best wood for painted cabinets.
However, not all maples are ideal for kitchen cabinetry. So, I recommend the sugar maple. Sugar maple is hard maple. Hard maples are generally harder than soft maples.
The sugar maple, for instance, is rated 1450 lbf on the Janka scale. Therefore, it resists scratching and damage more than soft maples.
Interestingly, sugar maple is very easy to work with. It's easy to cut and nail and takes stains, and finishes exceptionally. Another key advantage of hard maple is aesthetics.
Sugar maple is available in various warm colors, from neutral beiges to reds, browns, and chromatic grays. More importantly, it boasts a softer texture than most hardwoods, resulting in smooth cabinet surfaces that easily sand and stain.
It's also notable that maple has a very consistent grain pattern. Although it comes with figured grains, including birdseye, rippled, wormy, and tiger patterns, it has few imperfections.
Pros
It's easy to customize and personalize
Hard maple is strong and highly durable
It has a beautiful color and consistent grains
Maple cabinets are low-maintenance
Cons
Maplewood comes with a higher price tag
It is sensitive to extreme temperatures
---
4. Cherry
Cherry wood cabinets are popular in high-end homes – and for a good reason. First, Cherry is one of the best cabinet wood because of its super attaractive. Moreover, cherry wood is strong (950 lbf on the Janka scale), durable, and rarely scratches or dents.
Cherry wood colors range from blonde to reddish-brown. However, the wood darkens over time, especially when exposed to light. The good news is that you can stain and restain cherry cabinets whenever you wish to restore the original color.
It has a closed, fine grain pattern, much like maple. However, two things that particularly stand out about cherry wood are its customizability and shock resistance.
Cherry wood steams easily, making it easy to bend, personalize, and customize. It's also easier to carve than many hardwoods. It is also high shock-resistant. Therefore, it doesn't dent or break easily.
Unfortunately, cherry wood is very expensive. So, you should be prepared with a sizeable budget if you desire cherry cabinets. Additionally, cherry color variations are a big headache for woodworkers.
Pros
Cherry cabinets are strong and durable
It's a beautiful wood with attractive grains
Cherry wood is highly shock-resistant
It is highly customizable and personalizable
Cons
It is expensive
It is difficult to clean
---
5. Bamboo
Bamboo wood is one of the best wood for cabinets because it's a very hard and durable material. Bamboo cabinets are becoming more popular because they offer a clean, modern look.
Besides, bamboo is a strong wood, a good choice for kitchen cabinets, and can withstand a lot of wear and tear. It is also a very versatile material and can be stained or painted to match any décor.
However, bamboo is a bit more expensive than other woods, but it is worth the investment because it will last for many years.
Pros
Very hard and durable
Eco-friendly and sustainable
Offers a clean, modern look
Easy to care for and maintain
Versatile
Cons
Costly
Hard to find
Variation in quality
---
6. Birch
Birchwood is a controversial choice in the cabinetry world. Though sufficiently strong and beautiful, many people criticize it for being perishable.
Moreover, birch wood splits a little too easily. Nevertheless, it's still one of the most common choices for kitchen cabinets for a few reasons.
First, birch wood comes in a middle ground pale white to reddish-brown or yellowish color that suits most decoration styles.
For instance, it does well in modern styles and works in traditional styles too. Unfortunately, not many wood types are that versatile.
Secondly, birch wood is more affordable than premium alternatives, such as maple and cherry. Though more expensive than red and white oak, it's more affordable than maple and cherry.
It's especially a good alternative for maple as the colors nearly resemble. Finally, birch wood is highly workable. An 80 to 400-grit sandpaper allows you to sand down birch to a fine texture.
The wood also turns, flues, and finishes well. A stain coat protects it from weather, allowing birch cabinets to stay for many years.
Pros
Birch cabinets are beautiful
Birch fits many interior decor styles
It's an affordable alternative to maple
Birchwood is highly workable
Cons
It tears and splits too easily
It's sensitive to extreme weather
---
7. Hickory
Hickory is a tall, strong tree that grows naturally in many parts of the world, including the US. It comes in various shades, from blondish white to dark grey and deep reddish-brown, with natural twists and knots.
Three reasons make hickory one of the best wood types for cabinets. First, hickory is extremely hard and durable. Indeed, it's the hardest and strongest wood on this list at 1820 lbf on the Janka scale.
Therefore, denting, splintering, and scratching are rare on hickory cabinets. So, hickory cabinets can last a lifetime with proper care. Secondly, hickory's unique appearance and strength make it the perfect choice for rustic styles.
It's a white to brown or light reddish-brown wood (heartwood) with straight grains that feature figured curls and patterns and multiple twists and knots, which work exceptionally in the farmhouse and rustic styles.
Above all, hickory is essentially maintenance-free. You're free to stain or paint your hickory cabinets. However, you can also let the cabinet take care of itself – and it will.
The only downside is that hickory's extreme hardness makes it challenging to cut/saw, and nail. This wood for axe handle is also near impossible to carve.
Pros
It's the most durable option on this list
Hickory cabinets are essentially maintenance-free
It makes the perfect rustic style cabinets
It's highly resistant to scratches and damage
Cons
It doesn't suit modern styles
It's challenging to work with
---
8. Walnut
Walnut wood cabinets aren't very common – mainly because of price. However, budget allowing, it's one of the best materials for kitchen cabinets thanks to its natural beauty and tight grain patterns.
Walnut is extremely beautiful. Persian walnut and black walnut varieties, in particular, stand out from the rest. Both offer a dark brown color with swirls and inviting fine grain patterns that are hard to find in other woods.
A clear coat of spar varnish to protect the cabinet from UV light is recommended. Another major advantage of walnut wood kitchen cabinets is durability.
Walnut is rated 1010 lbf on the Janka scale, making it sufficiently hard to withstand everyday use. Moreover, it doesn't scratch or dent easily and resists water and other liquid spills.
Walnut is also moisture and rot-resistant. These qualities allow walnut cabinets to stay for many years. Finally, walnut kitchen cabinets are easy to maintain. You don't need to restain or wax the surfaces as with other hardwoods regularly.
Instead, you only need to regularly dust them with a dry lint-free rag to wipe off the accumulated surface dust. Don't use any cleaner. Alternatively, wipe the surfaces with a damp cloth.
Pros
It's a beautiful wood with enchanting grains
Walnut cabinets are highly durable
It's a water-resistant wood
Walnut wood is low-maintenance
Cons
Walnut wood is pricey
It's not readily available
---
9. Pine
Pinewood is another good wood for kitchen cabinets if you're hellbent on a real lumber. Most people avoid softwood cabinets because of perishability.
Additionally, softwoods are generally weaker than hardwoods. However, pine is the perfect compromise as it offers sufficient durability at an affordable price.
White pine is rated 420 lbf on the Janka scale, making it strong enough to withstand minor bumps. So, it should remain in good shape as long as you care not to hit it hard with blunt items.
It also has a high bending strength of 9,400 psi to compensate for the low hardness rating. So it doesn't break too easily. Another key advantage of pinewood kitchen cabinets is the aesthetic appeal.
Knot-free pine comes in a consistent, creamy white color that works excellently in modern decor styles. Alternatively, you can opt for knotty pine when working on a rustic or farmhouse style.
Most importantly, pinewood's smooth texture takes paint very well. So, you can paint it to suit your style better. Beware, however, that pinewood is far more delicate than the hardwoods discussed above.
So, it needs greater care and protection. For instance, it scratches easily, and its light color readily shows all scratch and dent marks. So, use it wisely.
Pros
It's beautiful with a consistent color
Pinewood is readily available and affordable
It's soft and highly workable
It boasts excellent finishing properties
Cons
It dents and scratches easily
Pinewood easily shows surface scars
---
10. Cabinet-grade plywood
The rise of engineered wood as an alternative to real wood in general cabinetry is hard to overlook. For instance, laminate cabinets (made of wood particles and melamine) and wood veneer are common cabinet woods.
The same applies to Medium Density Fiberboard (MDF) and plywood. These engineered boards are hard, strong, and durable. Moreover, they are easy to work with and more affordable than solid wood. They are commonly used to make plywood bathroom vanities and cabinets.
Cabinet-grade plywood is particularly one of the best plywood for cabinets. It's thick plywood that's very strong and durable. Most boards are 1/4 to 3/4 inches thick, depending on where you want to use them.
What is the ideal cabinet wood thickness? The thickest boards are ideal for framing, while thinner sheets make lightweight cabinet doors and drawer boxes. Unfortunately, plywood sheet grades and evaluation criteria can be confusing.
For instance, you must understand face grades, the number of knots per square meter, and flatness. So, it's best to solicit the help of a more experienced counterpart.
Pros
It is affordable and easy to find
It's soft and highly workable
Plywood takes all types of finishes
It makes repairs and upgrades very easy
Cons
Plywood is weaker than solid wood
Plywood is highly susceptible to weather
---
11. Poplar
Poplar is a type of wood that is commonly used for making cabinets. It is a relatively hard wood, which makes it durable and resistant to damage. Poplar is also a light-coloured wood that can brighten up a kitchen.
This wood is known to be soft, although it belongs to hardwood category, which means that it dents and scratches easily. This is not the best option if you're looking for wood that will last long without showing signs of wear and tear.
Go for this choice of wood if you're on a budget and you want a light-coloured wood for your cabinets.
Pros
Easy to work with
Less expensive
Has a light color to brighten up the kitchen
Takes paint so well
Cons
Relatively hard, which means less durable
Dents and scratches easily because it is too soft.
It's not long-lasting
---
12. Mahogany
Mahogany is a type of wood often used to make furniture and cabinets. It is a very strong and durable wood, making it ideal for kitchen cabinet.
Mahogany is also a beautiful wood with a rich red color that can add elegance to any kitchen. It adds beauty to your kitchen and even more, as it ages, mahogany gets even more beautiful, developing a deep, rich color.
Only a few individuals use the wood because of its high price. However, if you have the budget, mahogany is definitely the way to go!
Pros
High strength and durability
It is beautiful with rich red color
It is a relatively rare wood, so it can be seen as a luxurious material.
Cons
Expensive
Requires a lot of care
It is a relatively hard wood, so it may be difficult to work with for some people.
---
13. Alder – cheap wood for cabinets
Alder wood inhibits the properties for both hardwood and softwood . Alder is a popular wood to use for kitchen cabinets because it is easy to work with.
It has a smooth grain pattern and is a lightweight wood. This means it is easy to maneuver and work with, making it a good choice if you're doing your own cabinet installations or refinishing.
Alder is also a relatively cheap wood, so it is a good option if you are working with a tight budget.
Staining or painting alder is very easy if you plan on applying a finishing coat.
Pros
Easy workability
Smooth grain pattern
Lightweight
Has bending strength
Cons
Extra soft
Less strong and durable
Chips and cracks easily
---
14. Ash
Ash is a hardwood typically light in color, with a straight grain. It's often used in furniture and is also known as one of the best wood to make cabinets.
You can customize it to your liking, creating beautiful designs. Ash is also strong and moisture-resistant, making it ideal for high-use areas like kitchens.
Since it is light weight, Ash is easy to work with and doesn't require special tools or equipment.
Pros
Ash is very strong and durable.
Has beautiful grain pattern that can be stained or finished to suit your taste.
Relatively inexpensive hardwood.
Customizable
Cons
Susceptible to damage from water and moisture.
It can splinter easily.
Rare to find
---
15. Beech
Among the best hardwoods that are found for cabinetry, beech is highly recommended. It is a strong wood that can withstand pressure, making it ideal for high-traffic areas in the kitchen, like the cabinets.
Beech is also known to be very easy to clean, so you won't have to worry about dirt and grime building up over time. It has great finishing properties, so you can stain it or paint it to match any kitchen décor.
Every wood working tool works well with beech, making it a dream to work with for carpenters and woodworkers.
Pros
Strong and durable
Easy to work with
Shock resistant
Cons
Extremely heavy
Affected by moisture and water
Costly
---
16. Spruce
Spruce is a popular choice for making different types of wood cabinets because it is relatively inexpensive and provides a nice, clean look.
It has a straight grain pattern and is a light- to medium-weight wood. This means it is easy to work with, and even a newbie can learn to work with it.
Spruce is also a soft wood, so it is easy to work with if you are doing your own cabinet installation or refinishing. In terms of stability, spruce does not easily warp and twist, so it can be used as industrial cabinet material.
Pros
Has a uniform texture
It is flexible
Easy to work with
Cons
Less hard and resistant
Poor weather resistance
Affected by insects easily
---
17. Douglas
Douglas is a good lumber for cabinets and the best wood pergolas because it is a strong and sturdy wood. It has a bold grain pattern and is a medium- to heavyweight wood.
Douglas fir is also one of the more affordable hardwoods. This means it is easy to find and use for your kitchen cabinets. It is also a relatively soft wood, so it is easy to work with if you are doing your own cabinet installation or refinishing.
Unfortunately, It is not highly durable in terms of moisture and heat, but it has high finishing properties, making it a good choice for kitchen cabinets.
Pros
Strong and sturdy
Bold grain pattern
Affordable
Easy workability
Cons
Too soft
Less durable
Regular maintenance
Vulnerable to insect attack
---
RTA vs Pre-Assembled
Ready to Assemble cabinets and pre-assembled cabinets both have their own advantages and disadvantages. Here is what you need to know before settling on one.
Ready-to-assemble cabinets are the more affordable option. This is because the cost of labor is shifted to the customer. Pre-assembled cabinets require more labor and are often more expensive.
RTA cabinets come in pieces and need to be put together. You need tools and knowledge about carpentry or you will need to hire someone to help you assemble and install them. Pre-assembled cabinets are ready to install right out of the box, which can save you time and hassle.
RTA cabinets offer a greater degree of customization, as you can choose the exact size, style, and finish that you want. Pre-assembled cabinets are available in a more limited range of styles and sizes.
The quality of both RTA and pre-assembled cabinets can vary depending on the manufacturer. Some RTA cabinets are made of cheaper materials and may not be as durable as pre-assembled cabinets.
However, there are also high-quality RTS cabinets available that can be as durable as pre-assembled cabinets.
Read Also: How to Protect Wood From Water in Bathroom
Wood Alternatives
While wood has been the most popular material for kitchen cabinets, there are a number of alternatives that can provide a similar look and feel. Here are some of the most common wood alternatives for kitchen cabinets:
Laminate: Laminate is a popular choice for cabinets due to its durability, affordability, and ease of maintenance. It comes in a variety of colors and patterns, including some that mimic the look of wood.
Thermofoil: A vinyl material that is applied to MDF or other engineered wood substrates. You can mold it into a variety of shapes and styles, and make it look like wood.
Stainless steel: Stainless steel is a popular choice for contemporary and modern kitchen designs. It is durable, easy to clean, and has a sleek, industrial look that adds a touch of sophistication to any kitchen.
Glass: Glass-front cabinets can add a touch of elegance to any kitchen design. They can either be from clear or frosted glass, and are used to display dishes or decorative items.
Acrylic: Acrylic cabinets are made from a synthetic polymer that is lightweight, durable, and easy to clean. They are made in a variety of colors and styles and are usually made to look like wood.
Also Read: How to Make Old Wooden Drawers Slide Easier
Wood Cabinet Finishes
There are a number of finishes available for wood cabinets, each of which can provide a unique look and feel. Here are some of the most common wood cabinet finishes:
Stain: Stain is a popular finish for wood cabinets because it allows the natural beauty of the wood grain to show through. They come in a variety of colors, from light to dark, and are used to enhance the natural color of the wood or to create a more dramatic effect.
Paint: This is a versatile finish used to create a variety of looks, from classic to contemporary. It comes in a variety of colors and you can use it to create a smooth, glossy finish or a more textured, matte finish. (Here are a few tips for painting kitchen cabinets white like a pro).
Glaze: Glazing is a finishing technique that involves applying a thin layer of colored glaze to the surface of the cabinet. It creates either a distressed or antique look, or adds depth and dimension to the cabinet's finish.
Varnish: Varnish is a clear, protective finish used to enhance the natural beauty of the wood grain. It is applied in a glossy or matte finish, and protects the wood from scratches and other damage.
Laminate: Laminating is a finishing technique that involves applying a thin layer of material to the surface of the cabinet.
Next read: Best wood for wood burning
FAQs
What is the most durable wood for kitchen cabinets?
Hickory, one of the most durable hardwoods, is an excellent choice for cabinets and a walking cane. Its strength ensures minimal cracks, dents, or nicks in hickory cabinets. Furthermore, hickory's remarkable water resistance and resistance to decay make it the best wood for a walking cane, guaranteeing longevity and reliability for years to come.
Best wood for modern kitchen cabinets?
Pine, oak, hickory, maple, and cherry are the most popular woods for kitchen cabinets. Pinewood cabinets are particularly common in modern kitchens because the wood's creamy white hue perfectly complements modern styles. White oak is another very popular choice for modern kitchen cabinets.
Also, read about pine wood as a sauna wood type.
What is the most expensive type of wood cabinets?
Maple is the most expensive type of wood for standard kitchen cabinets. It's an extremely durable wood that can take a beating. Moreover, maple lumber doesn't change color during its lifetime. That said, a more luxurious wood choice for high-end kitchen cabinets is cherry. Its rich dark reddish-brown color makes cherry wood highly-priced.
Is maple a good wood for cabinets?
Maple is a good wood for cabinets because it has a soft grain and is relatively easy to work with. It is also a durable wood and can withstand everyday wear and tear. Maple is widely known as the best wood to use for outdoor signs and sign frames.
What type of wood are my cabinets?
To determine the type of wood used for your kitchen cabinet, you can examine the structure, feel the texture, and look closely at the material. If you look at the structure, you'll likely notice that different woods have different patterns. Mahogany, for example, has a very intricate grain pattern, while pine has a more uniform appearance.
If you feel the texture, you may be able to determine whether the wood is smooth or rough. Maple is generally smooth to the touch, while oak is rougher. You may also want to check the cabinet wood colors. Finally, if you look closely at the material, you may be able to see small pores on the surface. Woods with large pores (like oak) are more likely to show signs of wear.
What are the best screws for cabinet installation?
The best screws for cabinet installation are strong, durable, and designed specifically for this work. Some of the top options include pan head screws, trim head screws, and Euro screws. These screws have specific features such as a flat head, sharp point, and self-drilling capabilities that make them ideal for cabinet installation. Ultimately, the best screw for your project will depend on the type of cabinet and the installation method used.
Can plywood be used to make raised garden beds?
Yes, plywood can be used, but it may not be the best wood to use for raised beds for long-term use. Plywood is affordable but not naturally resistant to decay or moisture for garden beds. Choose rot-resistant woods like cedar, redwood, or cypress for durability and longevity. Meanwhile, A plywood birdhouse is an affordable and practical choice for crafting a cozy home for birds.
Types of Wood for Kitchen Cabinets Summary
Pine, maple, cherry, hickory, and oak (white and red) are the most popular types of kitchen cabinet woods. They are strong, durable, and beautiful wood types.
Moreover, all five are relatively easy to find. However, birch, walnut, and cabinet-grade plywood are excellent alternatives.