If you're thinking about learning how to carve wood, you'll need to get your hands on some good carving tools.
But with so many different options on the market, knowing which ones are the best for beginners can be tough.
In this blog post, I have discussed some of the most popular tools needed for wood carving and provided my top picks for beginners.
So whether you're just starting out or looking for an upgrade, keep reading for all the necessary information!
But first, let's check out the styles of woodcarving.
Common Woodcarving Styles
After many years of woodcarving and exploring new and intriguing carving styles, I'll share four simple woodcarving styles to help you with your baby steps.
Whittling (hand carving) – The most popular wood carving style that uses whittling knives to whittle figures, shapes, forms or utensils. The easiest to learn and most exciting when etching letters on wood. And the tools cost peanuts.
Beginner relief carving – This style uses chisels and gouges to carve objects that rise out of wood; the outcome is a picture. It is more methodical as it uses different tools and techniques and can be unforgiving in case of an error. The carving is best done on a flat piece of wood.
Chip carving – A technique used to create neat geometrical and symmetrical designs and patterns from thin wood planks. As an advanced style of wood carving, it uses a perfect set of knives to whittle away at blocks.
Power carving – This form of woodcarving involves using power tools such as angle grinders and rotary tools to create art.
Types of Wood Carving Tools
Like any chisel work, having the perfect set of beginner-friendly power and hand tools brands will give you the edge to create a masterpiece with precise cuts and an open thumb. Kidding!
Knives
Now this is the main course, actually, the meat and cornbread of this article. Knives for carving wood are the cornerstone of any woodworking art and an essential tool to do everything you need to trim, round and smooth out your block of wood.
In this section, I will share the most common beginner-friendly woodcarving knives to help you curve sharp and design intricate art pieces. You probably won't need all the knives, at least for now.
1.
Best Spoon knife

– BeaverCraft Wood Carving Gouge Chisel

Sale
BeaverCraft Wood Carving Gouge 7L/22 Wood Carving Chisels...
Long Bent Gouge: BeaverCraft gouge works perfectly for spoons and bowls. The spoon gouge is designed for cutting deep recesses, hollowing out bowls and spoons, doing ornamentation and round surfaces
Spoon Chisel Very Sharp: be careful during woodcarving and wear cut-resistant gloves. A bowl carving chisel needn't be sharpened when you get it because our spoon knives can be used right out of the box.
Spoon Carving Gouge High Carbon Steel Blade: a bent gouge can help make incredible things and its steel is very tough, made for wood carving. The blade is designed to work without a mallet!
If you're looking to get into whittling, let me tell you about the Beavercraft knife. Trust me, you can never go wrong with this simple blade and a block of wood to chop away the hours in a fun and fulfilling way.
If you're interested in starting with carved pieces like cups, bowls, spoons, or kuksas, then this knife is your best option at a reasonable price. As a beginner, it's important to have an ergonomic and easy-to-use tool, and the Beavercraft knife fits the bill perfectly.
With its oak-covered ergonomic handle that feels comfortable in the hand, you can expect some truly magical results in your woodcarving projects.
Not only will you achieve amazing results, but you'll also have an enjoyable experience using this knife. It's the perfect choice for beginners who are just starting out and want a reliable and user-friendly tool for their woodcarving endeavors.
What I Liked Most
Carbon steel resistant to corrosion
Proper steel hardness  
Ergonomic handle
What Could Be Improved
Razor sharp blades (wear cut-resistant gloves)
---
2.
Best Whittling knife

– BeaverCraft Sloyd Knife

Sale
BeaverCraft Sloyd Knife C4s 3.14" Wood Carving Sloyd Knife...
General Wood Carving Knife: designed specifically for green and general woodworking. Thin tip is used for delicate cuts and allows working in tight areas. The rounded part allows making slicing cuts.
Whittling Knife Carbon Steel Blade: is made of high-carbon steel and hardened to proper firmness. Our wood carving tools are sharpened and polished so you can use it right from the box.
Sloyd Knife Sheath: you receive not only a knife, but the leather sheath as well. Made out of genuine leather, it will make your knife safer and store it well to fulfill stylistic and practical needs.
As a woodcarver, I know that wood whittling can be done with just a trusty pocket knife. However, I also understand that using specially designed whittling knives can make the process even faster, more exciting, and more accurate.
One of my favourite tools in my woodcarving arsenal is the BeaverCraft knife. It's perfect for DIY whittling and wood carving, and it's a great option for beginners who are looking for an affordable yet reliable tool to start with.
When I'm ready to dive into the bare basics of woodcarving but don't have a big budget for expensive tools, the BeaverCraft knife is a fantastic choice. It offers a fast learning curve at a great price, and the high-quality steel blade makes carving a breeze.
The ergonomic handle is comfortable to hold and allows for precise control, making my carving experience enjoyable and satisfying.
Whether I'm a beginner just starting out or an experienced woodcarver looking for a budget-friendly option, the BeaverCraft knife is a decent choice for my whittling and woodcarving projects.
It's a reliable tool that helps me create beautifully carved pieces without breaking the bank.
What I Liked Most
Best value $10-$20
Faster learning curve
Great for delicate cuts and in the round curving
What Could Be Improved
Safety can be an issue
Blades require regular sharpening
---
3.
Best Hook knife

– BeaverCraft Hook Knife
BeaverCraft Hook Knife SK2 Oak 1.2" Blade Wood Carving Spoon...
Hook Knife for Wood Carving: spoon carving hook knife has been optimized for quick accurate cuts and to allow effective edge engagement and adequate hand clearance.
Spoon Knife Razor Steel: the blade is made of high-carbon steel and is hardened to proper firmness. It is sharpened and polished to be used right out of the box.
Spoon Hook Knife Edge: the cutting edge of our hook knives is very sharp and durable to cut both softwoods and hardwoods such as oak or walnut.
If you're looking for premium wood carving and whittling knives, BeaverCraft is definitely the way to go. As a professional carver, I can personally attest to the quality and performance of their tools.
One of my absolute favourites from BeaverCraft is their hook knife. Without a doubt, it's the best carving tool that I own and use for any hollowed work.
The sharpness of the blade combined with the ergonomic handle, which is longer than the blade itself, provides ease and a hand-crafted feel during carving.
The shape and steel quality of the blade is optimized for accurate cuts and detailing, as well as effective edge engagement. BeaverCraft Hook Knife excels in all these areas, making it a perfect choice for beginners who are right-handed.
When it comes to finding the best hook knife for my carving projects, BeaverCraft is my top pick. It's a high-quality tool that meets all the requirements of a professional carver, and I highly recommend it to anyone looking to invest in a premium carving knife.
What I Liked Most
High-quality steel
Affordable hook knife
What Could Be Improved
Size of the blade is larger than the standard
---
4.
Best Wood-carving knife

– BeaverCraft Cutting Knife
BeaverCraft Whittling Knife C2 6.5" Whittling Knife for Fine...
Chip Carving Knife: thin pointed tip of the knife can be used for delicate wood cutting. It's a great tool for small workpieces or little details. This compact tool can make carving easier for you!
Wood Carving Knife Cutting Edge: very sharp. Fine cuts of small detail carving knives are very smooth. Be careful with this wood carving detail knife, it has a fine blade which can hurt you quickly.
Whittling Knife Ergonomic Handle: knife wood carving handle is made of hardwood oak and finished with natural linseed oil. It allows a long period of comfortable wood carving without hand fatigue.
As a novice woodcarver, I've learned that starting with a single blade is the best and easiest way to learn new techniques. That's why I recommend BeaverCraft knives as a great option for beginners.
When it comes to fine chipping and detailing, this wood carving knife is perfect for getting started. Although some people may not initially like the thicker blades on BeaverCraft tools compared to standard blades like Flexcut, I found them to be ideal for beginners.
The thicker blades are firm and less likely to get damaged with prolonged use, which makes them a great choice for beginners who are still learning proper technique.
I see BeaverCraft knives as a stepping stone to a wide variety of tools that are fit for any woodcarving need.
While they may be thicker than other blades, they are undeniably a hard tool to pass up for beginners who are looking for a durable and reliable option to learn and practice woodcarving techniques.
I highly recommend them as the first wood carving knife for anyone who wants to get started with this rewarding hobby.
What I Liked Most
Excellent steel quality
Great prices
What Could Be Improved
Regular honing is needed to keep it sharp
---
Best wood carving knife set
1. Flexcut Beginner Palm & Knife Set
Sale
I know the importance of having a set of knives that can easily and quickly chip away large parts of the block. That's why my favourite knives for beginners are, without a doubt, the Flexcut variants.
These knives come with longer and thicker blades that are complete with a full tang, making them exceptionally handy when you want to rough out wood to carve.
The quality of the blades is top-notch, allowing for smooth and precise cuts, which is crucial for beginners who are still honing their carving skills.
The only real downside I have noticed with the Flexcut variants is that they tend to be more expensive compared to other options on the market.
However, the price is a reflection of their excellent quality, and in my opinion, they are worth the investment. These knives are designed to last a lifetime, making them a great long-term investment for any aspiring woodcarver.
I recommend considering the Flexcut variants. Despite the slightly higher price tag, their quality and durability make them a top choice for beginners and experienced woodcarvers alike.
The set features:
Flexcut beginner palm and knives
All-purpose cutting knives
Detail Knife
2 Palm Tools (KN600)
What I Liked Most
Variety of tools to choose from
What Could Be Improved
Relatively expensive
Blade is thicker than competing brands
---
2. The Gimars Upgrade 12 Set
Gimars Upgrade 12 Set SK5 Carbon Steel Wood Carving Tools...
All Knives that a beginner needs to fall in love with wood carving. This 12 different shape size set is the perfect starter gift.small, safe and stays sharp enough until the beginner graduates to more professional tools with great value.
Well Made from High Quality SK5 Carbon Steel with Electrolylic Coating and Razor Sharp Blade,Perfect general wood carving projects with stencils and patterns,touching up antique furniture, any miniature or micro models, spoons, bowls, box or animals, such as eagles, fish, bears or even elephants. Works on linoleum, clay sculpture and soapstone too.
Enough variety of the tips in different 12 sizes-deep gouge, medium gouge, shallow gouge, narrow straight chisel, wide straight chisel, rounded chisel, 4 angled knives / chisels, parting tool, pinpoint tool.Great for beginners whether it's kids or adults.
As an ardent woodcarver and whittler, I enjoy using the more enormous sets of wood carving tools. But, I chose to include this set for those beginners looking for an all-in-one pact that will come in handy even in their future carving projects.
The Gimars Upgrade 12 Set has everything you need to fall in love with wood carving.
You get enough variety of different 12 shape sizes-deep gouge, Shallow gouge, medium gouge, rounded chisel, wide straight chisel, narrow straight chisel, 4 angled knives/ chisels, pinpoint tool and parting tool. It's also an excellent addition to wood building kits for kids.
What I Liked Most
Everything you need in a single box
Affordable price
No safety issues
What Could Be Improved
Requires honing out of the box
Handle causes blisters
---
Gouges
A gouge is a common woodworking handtool with a distinctive shape that resembles the scoop of a spoon. It has curved edges and concave curves perfect for creating shallow or deep hollows in wood.
Also comes in handy when you want to make fine curved edges with an aesthetic appeal.
1. Gouge chisel – BeaverCraft Wood Carving Gouge
Sale
BeaverCraft Wood Carving Gouge 7L/22 Wood Carving Chisels...
Long Bent Gouge: BeaverCraft gouge works perfectly for spoons and bowls. The spoon gouge is designed for cutting deep recesses, hollowing out bowls and spoons, doing ornamentation and round surfaces
Spoon Chisel Very Sharp: be careful during woodcarving and wear cut-resistant gloves. A bowl carving chisel needn't be sharpened when you get it because our spoon knives can be used right out of the box.
Spoon Carving Gouge High Carbon Steel Blade: a bent gouge can help make incredible things and its steel is very tough, made for wood carving. The blade is designed to work without a mallet!
By far, my favorite wood carving gouge chisel on the market is the BeaverCraft woodcarving gouge chisel. Needless to say that it is the one tool that lies next to my multi-tool set on my belt and accompanies me everywhere I go.
If you're looking for a versatile, purpose-built blade, you absolutely can't go wrong with this gouge chisel. Being a special wood carving tool, it allows you to make different cuts in one go.
However, this blade is often used to cut deep recesses, hollow out bowls and make round faces in larger projects hence not essential to have or start with. I recommend a single-blade knife for wood carvers that are new to the craft.
---
Gouge Set
1. Schaaf Wood Carving Tools Chisel
Whether sculpting, wood carving or ornamenting, get the Schaaf Wood Carving Tools Chisel Set for a variety of gouges and chisel tools.
Caricature figures, wood spirits or house signs? Start any project with razor sharp steel blades, palm-sized chisels and angled-gouges for your DIY art or woodcarving project.
The Schaaf Wood Carving Tools Chisel kit features some of the most common types of blades for both woodturning beginners and hobbyists—it accommodates everyone.
I love the fact that they added a beginner wood carving eBook, now even novice carvers like you can polish the edges and get carving. Well presented in a heavy-duty tool case for easy and safe storage. I recommend it.
What We Liked Most
Don't dull quickly
Sturdy, hefty blades
Great prices
What Could Be Improved
Honing and stropping required
---
2. Boolavard set of chisels – best wood carving set for beginners
12pcs Wood Carving Hand Chisel Tool Carving Tools...
SHARP CHISEL HEADS - Wood carving chisel sets comes sharpened and honed out of the box.
QUALITY CARBON STEEL - Our wood carving tools are made from hardened steel to last for years.
PERFECT FOR WOODWORKING - Professional wood carving set works great for wood carving and woodwork.
Aside from the Schaaf chisel set that I like to use and experiment with, I found that the Boolavard set of chisels and gouges is a lot of fun as well.
Wood carvers have an amazing experience creating art using this wood carving kit with assorted blades from Boolavard.
The 12pcs wood carving hand chisels is a great starter set perfect for professional woodworking and ideal for beginners.
If you're looking for a general-purpose set of hand chisels and gouges to add some finer details to your projects in no time, this is the absolute best option on the market today.
For the price, Boolavard hand chisels are very hard to beat. They are also excellently crafted from tip to handle.
What We Liked Most
Pocket-friendly price
Great for beginners
Hardened steel
Chisel heads sharp and honed out of the box
What Could Be Improved
---
3. Schaaf Wood Carving Tools Expansion Chisel set
Schaaf Wood Carving Tools, 7pc Expansion Chisel Set with...
Razor Sharp - These tools are professionally hand sharpened so they are truly ready to carve with out of the box
Learn to Sharpen - Professionally sharpened profiles give beginners a template for sharpening their gouges
Last a Lifetime – Schaaf Tools prides itself on using high-quality materials. Sturdy, hefty blades are designed to withstand heavy mallet use. European style octagonal ash wooden handles prevent tools from rolling off your workspace.
Certainly a great head start and beginner woodcarvers should get themselves this set and try their hand at bowl or spoon carving.
This Schaaf Wood Carving Tools Expansion Chisel set contains full size gouges for both beginner and professional wood carvers. Maybe not the prettiest girl at the ball but she'll surprise you with a dance and show you some good time.
If you're looking for the best wood carving tools for beginners to start creating intricate designs of kitchen items like spoons and soup bowls, grab this girl and enjoy the changes.
What We Liked Most
High-quality blades
Great prices
Sturdy, hefty blades
Excellent wood carving tools set for beginners
What Could Be Improved
---
V-tools
To a woodcarver, V-tools are essentially chisels and gouges joined together to form definite wings that make the V-shape. While this description sounds simple, that's not it.
Every woodcarver has it—the V or 'parting' tool on their carving bench, ever-ready and extremely useful in any style of relief carving.
V tools are fundamental carving tools that are small in size but detail-oriented. They have edges that look more of a downward curve than a U-shape ideal for various art situations that involve different angles and functions.
While they perform similar functions as U-shaped tools, they are better suited for intricate woodworks that require smaller cutting edges.
Wood Carving Mallet – basic wood carving tools
Mallets are essential woodworking tools just like chisels, knives and gouges. By design, they are hammering tools with a striking head (softer than steel) that drives dowels, chisels and other carving tools during sculpturing.
Mallets are made of dense bronze, brass, urethane, wood or a combination of materials.
1. The ROBERT LARSON 170-1012 Wood mallet
As an avid woodworker, I whittle, chisel and carve wood so quietness is paramount. I use this 12 oz model on my wood. And I just cannot hit it softer because then I will not get the kind of indention that I need in my wood projects.
The ROBERT LARSON 170-1012 Wood mallet is the best solution to the special needs of all woodcarvers. The head is made of robust polyurethane that makes it unbreakable. And it is unbelievably quiet and efficient—just what you need.
Just imagine hitting the same tool, using the same amount of power and getting the same results. That's the ROBERT LARSON 170-1012 Wood mallet for you. Honestly, it's amazing and I recommend it.
What We Liked Most
Extremely silent than all-wood mallets
Gentle on tool handles
Sturdy and durable
What Could Be Improved
The plastic covering the head is softer than wood making it a bit less effective
---
Veiners
A veiner is a specialty wood carving tool ideal for creating deep gouges in wood. While I am at it, one of the observations I've made is that it makes U-shaped impressions when pushed into wood.
That explains why many call it a U-gouge in that it also resembles the shape of a gouge. Wood carving veiners have longer sides compared to gouges. Each blade measures one millimeter and it's the deepest and most curved of all gouges.
It produces thinner lines and fine details of elements like fur, hair and similar ornamental shapes. It's perfect for small carving projects like adding detail to furniture legs.
Safety Equipment
The art of wood carving is likened to a dance between a sculptor's hands, sharp carving blades and occasional slip-ups, the outcome can be bloody. It's crucial to practice proper wood carving safety to protect yourself from injuries.
Safety equipment for woodcarvers includes safety gloves, goggles/face shield, masks, finger tapes, woodworking apron and earplugs.
1.
Protective finger tape

– BeaverCraft Cut Resistant Tape
BeaverCraft Cut Resistant Tape Adherent Wrap Tape No-Cut...
Self Adherent Tape - Security Comes First: take care of your fingers with the self adherent tape during working with sharp tools and protect your hands from injuries, cuts, etc.
Cohesive Tape Durable Material: be sure that it will successfully go through a long time of your carving process and will fulfill your requirements in protection.
Finger Tape Comfort: if you are looking for both comfort and security during your work, you're on the right page. The wood carving tape provides convenience and security.
Sooner or later, a woodcarver (especially beginners) will suffer a slice on their finger. Use a protective finger tape if you don't want your sharp blades to bite so bad.
Unfortunately, a finger tape is the unsung hero in the realm of carving. I whittle and carve a lot and sometimes having gloves on isn't enough.
With this tape strategically wrapped on my fingers and palm, it definitely does the job for me—and way better than my safety gloves.
And I must give testament that I have had a couple of slips along the way and was saved by the BeaverCraft Cut Resistant Tape; my all-time favorite.
NOTE: Wrapping the tape around your fingers doesn't guarantee safety. You still have to be careful and ensure safety.
---
2. Wood carving gloves – DEX FIT Level 5 Cut Resistant Gloves
DEX FIT Level 5 Cut Resistant Gloves Cru553, 3D-Comfort Fit,...
HIGHEST CUT PROOF. Protect your hands from cuts and punctures while handling sharp metals, knife, blade, glass, plastic sheet, paper, construction materials, mandolin slicer, and cutting meat. Qualified ANSI Cut A5
COMFORTABLE ALL DAY LONG. Cru553 work gloves fit snug without constricting your fingers. Their 13-gauge cool yarn is made of HPPE and Spandex to give you second-skin dexterity, precision and protection
HIGH PERFORMANCE IN ALL CONDITIONS. Need to grab slippery tools or knives? Our foam nitrile rubber coating is anti slip even on greasy or wet surfaces. Water based and touchscreen friendly, it passed the FDA food contact coating test
Regardless of whether you're a novice carver or veteran, mistakes and the cuts they cause are inevitable. Most woodcarvers wear safety gloves, but others don't.
And why so if gloves enhance safety? Blame it on limited dexterity given that many cut resistant gloves are stiff and make whittling or carving difficult.
Whether you're using carving knives, chisels, gouges, scroll saws or other wood carving tools, protective gloves will safeguard your hands.
Straight away, I recommend Dex Fit Level 5 Cut Resistant Gloves. Don't go carving or whittling without these on.
I actually own a pair of these and it's the hit for me. They have saved me from cuts a dozen times when my fingers bumped against moving blades.
What We Liked Most
Tough
Good grip
Lightweight and comfortable
What Could Be Improved
Low cut resistance
Not durable
---
Rasps & Rifflers
"Always have the rasps and rifflers handy" was one piece of advice a seasoned woodcarver gave me when I was starting out. They're indispensable and in this section, I will briefly tell you about their difference and how to use them.
First, do you need all the two? Yes. Both tools perform extremely well at removing small amounts of wood and with their differences, you need both and in different versions.
Rifflers, also called riffler rasps have teeth that resemble those on rasps. Each end of the riffler has variously-shaped cutting surfaces. When you need a fine shape for your concave and hard-to-reach surfaces, simply hold these in the middle.
Woodcarvers use rasps more than rifflers. Why? Their teeth, which resemble small mountain peaks, cut through wood more aggressively and with little if any clogging or tear-out.
Enjoy better controlled-cutting carving when easing edges, shaping gunstocks and tuning joinery. Their randomly spaced teeth mean you have smoother surfaces at the end.
Tool Set
FLEXCUT Carving Tools
You will be hard pressed to find a better wood carving tool set than this anywhere. It's a delight to have on your carving bench. Flexcut's wood carving tool set consists of nine best palm curving tools for intricate cuts.
The tool kit is a great head-start for a beginner looking to create amazing art with detail. If you need a set of blades for general-purpose whittling and carving from the fine point, the straight edge and ergonomic hardwood handles, this kit will do the trick.
The best part though is its price and quality. Flexcut will have your loyalty.
What We Liked Most
Ergonomic palm-fit handles
Razor-sharp hardened steel blade
What Could Be Improved
---
Carving Woods
Woodcarving is an exciting pastime. But choosing the best wood for your carving project can be a nightmare.
With the available natural options—too soft like Basswood or full of knots like pine, the other woods ideal for your carving needs include walnut, butternut, maple, red oak, cherry, tupelo and mahogany.
Basswood carving blocks
Basswood Carving Blocks - 5ARTH Large Beginner's Premium...
🎄【Natural Basswood】Every one of our wood blocks uses natural basswood. Every project only undergoes preliminary cutting and sanding. Its soft, fine, even texture makes it easy to work with, while its pale, inconspicuous color doesn't detract from the carved patterns of the finished product.
👋【Discover Carving World】Our smooth basswood blanks help you to learn how to whittle wood and discover fun things in carving. The Basswood carving kit is perfect for unique gift sets for beginners to experts, for kids to practice hands-on skills.
👍【Satisfying Creative Size】After understanding the customer's needs, we chose the size with the highest satisfaction. 10 Piece Set with Two 6 "x 2" x 2 "and Eight 6" x 1 "x 1". Large enough to meet your creative needs.
Without the correct type of carving block, you'll have to put up a real fight trying to bring your carved creation to life. In my years of woodcarving experience, basswood still stands out as the best wood for carving, and a popular choice wood for beginners.
Basswood or Linden (its other name), is a soft wood that is extremely easy to work with. Whether you need the block for chip carving, whittling or cutting, basswood will hold the detail well.
Typically, basswood carving blocks are food-safe and cope well with oil stains. Hence it's fantastic for making woodwork art pieces like bowls, spoons, ornamental plates and other kitchenware. It's also allergenic-free with almost no odor.
---
Qualities of the Best Beginner Wood Carving Set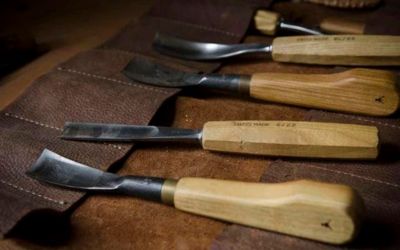 If you're a beginner woodcarver, the best way to get started is to invest in a good set of wood carving tools. However, with so many options out there, beginners may find it difficult to select the most essential tools, and end up confused and stuck.
It's important for beginner carvers to get tools with higher quality that can last and give them the confidence and feel for the craft. In this section, I will focus on the five factors that spell good quality in woodcarving tools—for beginners.
As you gain more skill and experience, you can add more rotary tools(see: Dremel tool for wood carving) and power tools to your repertoire. I recommend Ramelson carving tools. They check all the five factors below.
Grip
It's only natural for a beginner carver to want to use carving tools that feel cozy with every hold but without hand blisters, pain or cramping.
Be sure to look for carving tools with ergonomic handles which give a secure but firm grip for hours of carving. If you're using unfinished wood, go for the best paint pens for unfinished wood, as they will help create a smooth finish with minimal effort.
Versatility
The best woodcarving tools for beginners are those that are safe and versatile, coming in a range of shapes and sizes. Versatile wood carving tools like knives allow beginners to be creative as they experiment through the basics of the art.
They also allow you to grow your woodworking skills and do a lot more in carving. Get versatile tools in your repertoire and have fun exploring more projects.
Blade material
Those who are just starting out in woodcarving need tools with blades made of durable and high-quality steel that can hold up to any wood. Ideally, hardened blades last longer even with frequent proper sharpening and honing.
Edge retention
Wood carving tools like chisels, whittling knives and chip carving knives require excellent edge retention to make those delicate cuts.
They should come sharpened and ready for use, and be easily resharpened when the cutting edge grows dull and without damaging the cutting edges.
Tang
Any carving tool with a handle has a tang that is, the way in which the steel blade is attached to the handle. Wood carving tools have partial and complete tangs.
For beginners, tools with a complete tang are ideal as the steel blade is embedded all the way through the handle hence reducing risks of hazards.
What to Consider When Buying Wood Carving Sets for Beginners
One of the many challenges that carvers face when trying their hands at the craft is choosing the best wood carving tools for beginners. With a myriad of wood carving tools on the market, it can be overwhelming.
As earlier mentioned, beginners require tools that are of high-quality, durable and easy to hold and maneuver—and of course which won't cost a leg and an arm.
Here are some things to remember when buying your beginner wood carving tools.
Size
Wood carving tools come in different sizes and this is where it all starts—size. The choice of size is largely determined by the type of project you intent to create.
The size of your carving tools will also dictate the grip and how comfortable your hands will be during carving; and ultimately the efficiency of your art.
While larger-sized tools allow the carver to turn good volumes of the chip, small or medium sized tools ensure better control. With this in mind, I would recommend medium sized carving tools for beginners.
Type of tool – set or individual piece
There's nothing like visualizing an image and bringing it to reality without the right type of tools. But I envy you because you're starting in luck; at a time when the right type of tools is just a click away; whether purchasing them locally or internationally.
You can buy the best tools and only what you need. When choosing a tool set, ensure it has all the essential tools with the right sizes. You really don't want to spend on a tool kit that will lie idle in your repertoire.
Sweep and Width
The sweep and width of blades of your wood carving tools are generally determined by your project's needs.
Keep in mind that the sweep dictates how curved your craft will be. Ideally, the lower the sweep number, the flatter your edges become.
As such, to get deep groove cuts, always choose higher sweep numbers from #5 to #11. Sweeps #12 and #13 represent 60 degree and 90 degree V-gouges respectively.
Depth
Depth may seem insignificant in woodwork, but it's an important element that can save a lot of time. Depth has two parts—the overall depth and the depth per pass. The overall depth refers to how deep your tool will carve your project or its elements.
On the other hand, depth per pass is a cut setting on your power tool that determines how deep your tool will carve down into your block of wood on each pass.
Build
Hardened and well-built tools with blades that retain sharpness and handles that deliver a firm grip are essential.
Since some of these tools will be hit with mallets, it goes without saying that the blades and handles should be made of durable and quality material that can withstand this pressure.
Read also:
How to bend wood with boiling water.
FAQs
What are the sweep numbers of wood carving tools?
Before you order your wood carving tools or kit, you must be exactly sure with their numbering system. Well, you are here, right? I will try demystifying what the sweep numbers are.
Sweep is simply the curved shape of a cutting edge. It can also be the radius of an arc. All carving tools have one number encrypted on the blade and two numbers on their handle.
The number on the blade is the sweep number while the two marked on the handle signify the sweep number and the width of the cutting edge in millimeters (mm).
The higher the sweep numbers the deeper the curve or radius. Note: Low sweep numbers begin with number 1 flat chisel or gouge.
Example: A gouge encrypted 7/16 indicates sweep number is #7 with a width of 16mm. This can also be translated into inches. The 16mm will then change to 5/8 inches.
Because I have perfected my art, I have prepared a drawing of sweeps to help with your choices. (Excuse the quality of my drawing).
What do the numbers on the handles of the wood carving gouges mean?
Wood carving tools have two numbers on their handles. The first number is the sweep which shows the blades curvature while the second indicates the width of the cutting edge and is usually in millimetres.
Best Wood Carving Kit for Beginners Summary
So, if you are looking for the best wood carving tools for beginners, we hope our various wood carving tools review has helped you.
We highly recommend the products we have listed and think they will help you on your way to becoming a skilled carver.
Remember to always take into account what type of wood you will be working with and the specific project you are undertaking before making your final purchase decision. With the right tools and some practice, soon you'll be able to carve anything you set your mind to!